Do you know what MyDrivingTab.com is?
MyDrivingTab.com is a web domain that is listed as a browser hijacker in our data base. It means that when this search engine appears on your browser, you most probably have experienced an intrusion of a very disturbing kind. The problem with hijackers from this family is that they do not really enter your computer uninvited. These programs can only be installed if you agree to it. Thus, you must have solicited the installation unawares. And, likewise, you can remove MyDrivingTab.com from your system, too. So there is no need to keep the program on your PC any longer.
Luckily, this browser hijacker is not extremely wide-spread. Also, it does not target all popular browsers. So far, we have found that it only affects the Chrome browsers. On the other hand, even if you do not use this browser, the installer file for the browser hijacker CAN be dropped in your system. And if that happens, it is not just this program you should be wary about. The point is that the most common freeware and adware distribution method is bundled downloads. We believe that MyDrivingTab.com also gets distributed in software packages. Thus, from that, you can infer that there are multiple unwanted applications on your PC, and you need to take care of them all.
Aside from the bundled downloads, MyDrivingTab.com may also arrive via "pop-ups." What we mean are the random pop-up ads that appear on various commercial and shady websites users happen to visit on a regular basis. It is very important that you trust your better judgment and stay away from unfamiliar sites that could be part of the adware and malware distribution system. In other words, employing safe web browsing habits is just as important as acquiring a legitimate antispyware tool to protect your system from various threats.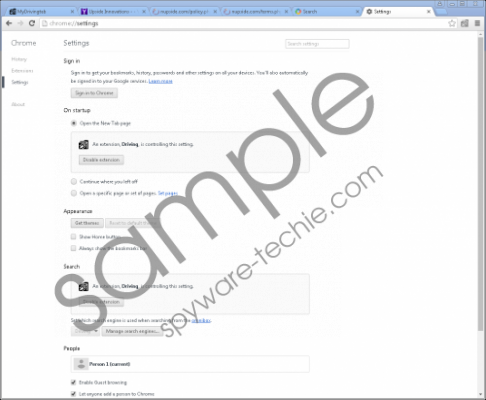 MyDrivingTab.com screenshot
Scroll down for full removal instructions
What's more, MyDrivingTab.com also has an official homepage. The page is located at lp.mydrivingtab.com. Also, the extension that is associated with this hijacker can be found on the Chrome Web Store. This sort of gives you an impression that the extension and the search engine that comes with it should be legitimate and reliable. After all, if you check the official homepage, you see lines that say with this extension you can "easily search maps and satellite images, and instantly get map driving directions, avoid heavy traffic by using the live traffic report to see busy roads or highways," and so on. The question is, however, how the creators of this extension imagine a driving person use this tool. After all, it is not a mobile app; it is a browser extension. Would you keep your browser on all the time just to get some directions? That is highly doubtful.
The thing we are certain about is that the moment this extension gets added to your browser, it also changes your search engine, and the new tab settings to drivingtabsearch.com. As you can see, it is different from the main domain. Also, at first, it might seem that drivingtabsearch.com is a decent search engine and it is okay to keep it. However, you will soon notice discrepancies in the way this search engine displays information and provides search results. Most of them will be modified according to your web browsing history. Yes, this is the deal you get when you install a browser hijacker: It tracks your online activity.
Although browser hijackers are not inherently malicious to the core, can be easily exploited by cyber criminals. There are many security loopholes that can be used by hackers, and you should not give them a chance.
Remove MyDrivingTab.com right now and then get rid of all the other unwanted applications that are bound to be installed on your PC. You can delete this browser hijacker by removing the extension associated with it; although, if you want, you can also reset your browser settings to default. However, take note that by restoring your browser settings, you will lose all of your bookmarks, and so on. If you do not like this option, you can also scan your PC with a licensed antispyware tool and then terminate the unwanted software automatically. It is your call, but you should always choose what is best for you and your system.
How to Remove MyDrivingTab.com
Press Win+R and type %LOCALAPPDATA% into the Open box.
Click OK and open the Google folder.
Go to Chrome\User Data\Default\Extensions.
Delete the jdigjcbddplllkabeiadllgifopeipnl folder.
Scan your PC with the SpyHunter free scanner.
In non-techie terms:
MyDrivingTab.com is a website that is one of the many distribution sources for the drivingtabsearch.com hijacker. This hijacker was installed on your PC when you downloaded the MyDrivingTab extension. It goes without saying that you need to remove everything related to this extension from your computer immediately. Be sure to leave us a comment below if you have any questions about computer security.