Do you know what MyDownloadManager is?
MyDownloadManager Search and MyDownloadManager Start are two browser extensions for Google Chrome that you might want to remove because they are next to useless. Our security analysts have tested these applications and based on the results classified them as potentially unwanted programs. We have decided to review both of them in this description because they promote each other, but you can use only one of them as well. Our primary concern regarding these applications is MyDownloadManager Search's ability to hijack your browser's homepage. Now, if you use it, then you can be subjected to questionable promotional links. Therefore, we invite you to read this whole description and decide whether you want to delete these extensions.
Knowing a program's origins is always useful when determining whether it can be trusted. In the case of these particular extensions, things look rather shady. They have a dedicated promotional website at Mydownloadmanager.com, but it has almost no information about the origins of the programs' developers or owners. All we know is that you can contact the developers via email or mail (PO Box 105603 #32118.) This email box is located in Atlanta, USA and it seems that the people in charge of this application made sure to stay in the shadows by opening an anonymous mailbox. So from the outset, it seems that this program comes from a shady group of developers that do not want to go public.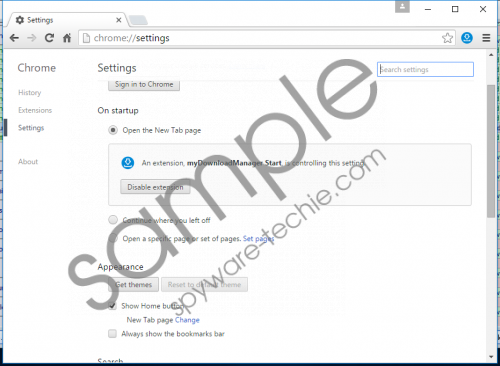 MyDownloadManager screenshot
Scroll down for full removal instructions
Our malware researchers say that these browser extensions may be promoted using adware-type software that features links to MyDownloadManager's download in the form of pop-ups. However, this information has yet to be confirmed. Nevertheless, we are certain about the host website of these programs. Our malware researchers have found that you can download them from the Chrome Web Store at https://chrome.google.com/webstore/detail/ecgpcdemcmdihjfdmaiifnpbikdmbcmb and https://chrome.google.com/webstore/detail/ppnniaipapodjlmeclhnbnigcabkjbch. This is not the first time the Chrome Web Store hosts downloads to shady software and potentially unwanted programs get on there much too often. However, we want to make it clear to you that MyDownloadManager is not malicious, but it could be given it shady origins. Now that you know where is comes from let us jump into the functionality of these programs.
Let us begin with MyDownloadManager Start. According to the information found on the Chrome Web Store, this extension can "manage your downloads directly from your Chrome browser." You might think that this program can enhance your browsing, but this is untrue. The fact of the matter is that it does not add any additional functions, at least those that are useful. The only thing our analysts found unique about this download manager is that it can filter the list of downloaded files by type, such as .jpg, .exe, zip, and .doc. All other functions this program claims to perform are already built into Google Chrome.
MyDownloadManager Start is an extension that is set to hijack your browsers homepage and new tab page and replace it with Apps.searchalgo.com/search which redirects all search queries to Searchalgo.com, and this search engine will redirect the queries to Yahoo.com. Our researchers are very concerned with this fact because Yahoo is prone to do business with shady entities and allow them to customize Yahoo's search results to include promotional links and ads that may not be legitimate. Therefore, you might get subjected to malware downloads or scam websites, so you should consider removing this application.
In conclusion, both MyDownloadManager applications have nothing to offer and can only obstruct your browsing experience, especially when one of them is configured to hijack your browser's homepage and new tab page. There are two ways you can get rid of these programs. The first may is to remove them via your browser's settings and the second is to delete manually the folders that contain files of these extensions. However, we recommend that you try the first method first and resort to the second one if something goes wrong.
Remove the extensions from Google Chrome
Open the browser.
Press Alt+F.
Click More tools.
Go to Extensions.
Find extensions.
Click Remove.
Delete the extension files manually
Press Windows+E.
In the resulting window's address bar enter these addresses.

C:\Users\user\AppData\Local\Google\Chrome\User Data\Default\Extensions\ecgpcdemcmdihjfdmaiifnpbikdmbcmb
C:\Users\user\AppData\Local\Google\Chrome\User Data\Default\Extensions\ppnniaipapodjlmeclhnbnigcabkjbch

Delete the contents of these folders.
In non-techie terms:
MyDownloadManager Search and MyDownloadManager Start are two useless applications that you ought to get rid of. The Start extension is supposed to be a download manager but in reality its functions are already present in Chrome, so it is simply useless. The Search extension is a bit different in terms of safety. It is set to hijack your browser's homepage to make you use its custom search engine. However, this search engine might include shady promotion links in its search results that could compromise your computer's security. So do not hesitate to remove these extensions.