Do you know what MyBestOffersToday is?
MyBestOffersToday is a variation of well-known adware applications such as freeSOFTtoday and Onesoftperday. The official websites that promote these applications are extremely similar just like their behavior on the PC. Thus, it is likely that the same group produces them. All of these programs are marketed in a way that might seem very appealing at first. As long as you run MyBestOffersToday or any of its counterparts on your operating system, you are promised to get one free application per day. In reality, that one free application each day is not worth it because your web browsing experience will be disrupted, and you will be exposed to various virtual threats. Remove MyBestOffersToday immediately to avoid any further internet-based infections.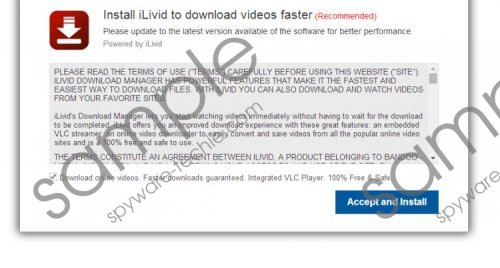 MyBestOffersToday screenshot
Scroll down for full removal instructions
It is very likely that MyBestOffersToday is distributed via bundled software. It is possible to download this particular application from the official website, but numerous users report that MyBestOffersToday infected their systems without their knowledge. It is probably because a lot of users skim trough the installation processes. These days installers are frequently filled with loads of applications that might not be in your desire to install. While installing any program onto your PC, you should always pay extra attention and choose the advanced installation. In most cases if you have chosen the advanced method, you should be able to see all the bundled application and should be able to cancel the installation of them. Furthermore, our research team at Spyware-Techie.com firmly urges you to download software from official websites only as it is your best bet to avoid dubious bundled installers.
As soon as MyBestOffersToday gets onto your operating system it will create an additional Windows process named mybestofferstoday_widget.exe that you might not notice. You might close the MyBestOffersToday application, but the process will remain running in the background. The additional process is used to present you with adverts while you browse the web. In most cases an adware application and quite a few other internet-based infections are inserted into the AppData and/or Program Files folders. If you suspect that MyBestOffersToday is present on your system, you should check the processes running on your system using the Task Manager and the AppData/Program Files folders. The ads and pop-ups that are displayed could contain redirect links to potentially malicious websites. You could be redirect to a website implemented with an arbitrary code execution exploit meaning that, juts by landing on such a website, your system is likely to get infected. Avoid clicking on any adverts provided by MyBestOffersToday.
The removal process of MyBestOffersToday is not that tricky and even users with no prior knowledge about malware removal should be able to execute it without any problems. After manual removal, it is advisible to check your system for any potentially malicious leftovers of the infection just to make sure that the adware was deleted entirely.
How to remove MyBestOffersToday from your PC
Remove MyBestOffersToday from Windows 8
Access the Metro UI menu.
Then right-click on the background and select All apps.
Select Control Panel.
Click Uninstall a program.
Select MyBestOffersToday.
Then click Uninstall.
Remove MyBestOffersToday from Windows 7 and Windows Vista
Tap Windows+R keys.
Then type Control Panel into the text box.
Click OK.
Select Uninstall a program.
Now select MyBestOffersToday and the double-click it to uninstall.
Remove MyBestOffersToday from Windows XP
Click the Start button.
Select Control Panel.
Now click Add or Remove Programs.
Select and remove MyBestOffersToday.
In non-techie terms:
MyBestOffersToday is a useless application that only exposes your system to other potentially malicious applications. Furthermore, if you wish to keep your system clean and secure, the removal of MyBestOffersToday is essential. If you want to save time and delete MyBestOffersToday automatically follow the instructions provided below.