Do you know what MyBeginning123.com is?
If your browser was corrupted by MyBeginning123.com, other infections might have found their way into your operating system. This ELEX hijacker does not have an official installer, and you are most likely to find it packaged along with third-party programs. Although other hijackers are unlikely to be bundled along with the threat, adware, potentially unwanted programs, and Trojans could be. Hopefully, that is not the case, but you should install a legitimate malware scanner to inspect your operating system. If any infections are found, you need to make sure you research them. In case your research reveals more serious infections, you have to focus on them first. All in all, it is crucial that you delete all infections, and removing MyBeginning123.com is important as well. Please read this report to learn everything you need to know about this threat, and if we fail to answer all of your questions, add them to the comments section.
MyBeginning123.com belongs to the same group of malware as MyLuckySearching.com, Initialpage123.com, SearchesSpace.com, and other well-known hijackers. All of them redirect to Yahoo Search. If you believe that to be a beneficial feature, you are mistaken. First of all, the hijacker redirects to a third-party search engine without your knowledge, and that is a bad sign. Even if you are redirected to Yahoo Search or another well-known search provider, you have to focus on the illegal redirecting first. According to our research, all search queries are redirected via search.gg, which is another unreliable search engine created by Search Engage Ltd. (this company is also linked to Search.hr, which is a browser hijacker as well). If you choose to ignore the fact that you were redirected to a different site without authorization, you have to be cautious about the search results that are displayed because they could have been modified by MyBeginning123.com to showcase the content that belongs to affiliated third parties.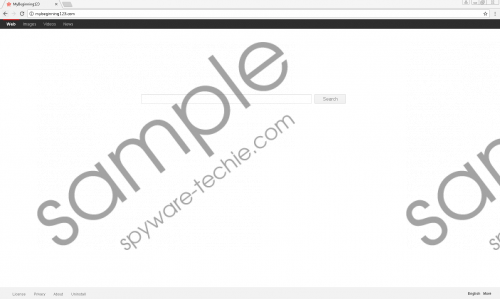 MyBeginning123.com screenshot
Scroll down for full removal instructions
Web cookies are employed by virtual services and software to record information about the users and their interaction with the services/software. Some cookies record browsing history, as well as data about browsers and computers. This type of information is classified as non-personally identifiable. Other cookies can record personally-identifiable information (e.g., email address, credit card information, login details, etc.). Although it is stated in the Privacy Policy that MyBeginning123.com cookies do not record private data, we cannot guarantee that this is the same with third-party cookies that could be installed. Whether they are placed by the hijacker or you let them in yourself by interacting with the unreliable search results, we advise deleting them. You can do that via a menu that shows up when you open your browser and tap keys "Ctrl+Shift+Delete." Select the box representing cookies and clear the data.
Since MyBeginning123.com should only corrupt the homepage, we are sure that you are capable of erasing it manually. Though you can do that via your browsers, we suggest following the instructions below because they reveal how to eliminate hijackers from your browser's files, and that is something you might have use for in the future; especially if you do not install reliable security software. Speaking of this software, you should consider employing it if you wish to keep your operating system malware-free in the future. If you install it, you will have MyBeginning123.com deleted automatically, which can be extremely convenient if other threats are active and require elimination too.
Remove MyBeginning123.com from browsers
Google Chrome
Tap keys Win+E keys together to launch Windows Explorer.
Enter %LocalAppData%\Google\Chrome\User Data\ (or %UserProfile%\Local Settings\Application Data\Google\Chrome\User Data\ for those using Windows XP) into the bar at the top.
Open the Default folder (if there are several profiles, open your Chrome profile folder).
Delete the files called Preferences, Secure Preferences and Web Data.
Internet Explorer
Tap keys Win+R keys together to launch RUN.
Type regedit.exe into the dialog box and click OK to access Registry Editor.
Navigate to HKEY_CURRENT_USER\Software\Microsoft\Internet Explorer\Main.
Double-click the value called Start Page to open it.
Remove the URL of the hijacker and enter the desired start page URL. Click OK.
Mozilla Firefox
Tap keys Win+E keys together to launch Windows Explorer.
Enter %AppData%\Mozilla\Firefox\Profiles\ into the bar at the top.
Open your Firefox profile folder (the name is random).
Open a file called prefs.js (use Notepad) and overwrite the hijacker's URL found in it.
In non-techie terms:
MyBeginning123.com does not look menacing, but it is not a reliable search tool because it can showcase sponsored content that might be represented by unreliable advertisers. The hijacker redirects you to Yahoo Search without your permission, which might help you realize that something is not right even when the search results look inconspicuous. Because the hijacker does not offer any useful services, you should not postpone its removal for much longer. You can delete it manually using the simple instructions above, or you can leave this task for a legitimate anti-malware tool. We advise the latter option if multiple threats are found and if your operating system is unguarded, which makes it extremely vulnerable!