Do you know what My Web Shield is?
My Web Shield is an advertising-supported program (adware) that is advertised as a Modern Network Protection Tool. This program allegedly can protect you against malicious and unwanted content when you browse the web. Although it might warn you about certain dangers (it does not fully work), this adware can also showcase third-party advertisements, and they can be both unwanted and malicious. Needless to say, this program sort of contradicts itself, and that is why it was brought to our attention. Our research team has thoroughly inspected this advertising-supported program, and the conclusion is that it is best to delete it. Do not worry if you do not know how to successfully remove My Web Shield because this report was created to help you out.
According to research, the suspicious My Web Shield is officially represented at mywebshield.com and ru.mywebshield.com; however, neither of these pages offers an installer. Unfortunately, it is most likely that the installer of this adware is distributed by unreliable parties that might bundle it along with other ad-supported programs, PUPs, hijackers, Trojans, tracking cookies, and other pieces of software that you do not want running on your PC. So, if you have installed My Web Shield, it is important that you inspect your operating system to check if malware is present, and we advise using a legitimate and up-to-date malware scanner for that. Although we advise removing the adware without any hesitation, you should focus on the removal of the most dangerous infections first. But do not forget that the adware deserves attention as well. Note that a malware scanner can identify it as "Trojan.Zadved."
According to the Privacy Policy statement at mywebshield.com/privacy_policy.html, My Web Shield can use third party services to showcase advertisements. In fact, this allegedly useful protection tool is nothing more than an adware helper that was created to showcase third-party content. Have you already noticed suspicious pop-ups and banners? Hopefully, you have not interacted with them. We do not claim that this would lead to troubles in every case, but the risk is there. Unfortunately, the advertisers using My Web Shield are completely unpredictable, and it is possible that malicious and misleading ads will be introduced to you. In case you have interacted with the suspicious advertisements, make sure that you have not invited other threats in or gotten yourself scammed. Needless to say, if malicious components were placed on your PC due to your interaction with ads, the scanner will find them as well.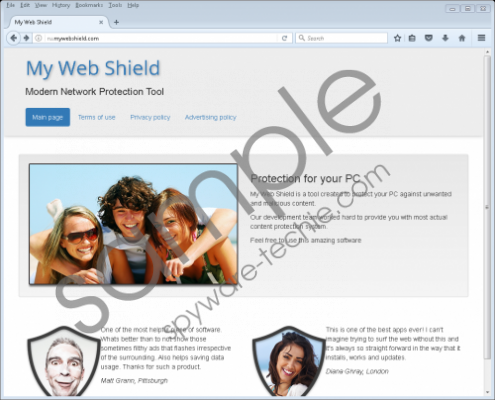 My Web Shield screenshot
Scroll down for full removal instructions
If you uninstall My Web Shield via Control Panel like any other application, some components will be left behind, and, of course, you need to delete them as well. If you want to erase this advertising-supported program manually, you need to make sure that you eliminate leftovers as well. Check out the guide below to learn all about the process. Remember that even if you can delete My Web Shield manually, that does not mean that you can eliminate all other active threats, as well as protect your operating system all by yourself. Have you thought about using anti-malware software? If you have not, you should because it can clean your PC and keep it guarded in the future. If you do not protect your operating system, you might face malware sooner than you think.
Remove My Web Shield
Windows XP
Move to the Taskbar and click the Start button.
Open the Control Panel menu and then move to Add or Remove Programs.
Select the undesirable program and then click Remove.
Windows Vista, Windows 7, Windows 8, or Windows 10
Simultaneously tap Win+R keys on the keyboard to launch the RUN dialog box.
Enter control panel and click OK to open the menu.
Navigate to the Uninstall a program menu.
Right-click the undesirable program and then choose Uninstall.
Eliminate these leftovers
Launch Explorer by tapping Win+E keys.
Enter %PROGRAMFILES% into the bar at the top to open the folder.
Right-click and Delete the folder named My Web Shield.
Enter %WINDIR%\system32\drivers into the bar at the top.
Right-click and Delete the file named mwescontroller.sys.
Empty Recycle Bin.
In non-techie terms:
My Web Shield is an advertising-supported program that poses as a virtual security tool that allegedly can guard you against unwanted and malicious content. Ironically, it showcases third-party advertisements that can be irritating and misleading. Obviously, that is the main reason to remove My Web Shield from your operating system. We also suggest erasing this adware because it does not work as promised, and we are sure that you can find much better and more reliable tools to guard you. In fact, anti-malware software is very versatile. It can eliminate existing threats and keep them away in the future. If you use this software, you will definitely be protected when facing potentially harmful and unwanted content.