Do you know what My Symptom Checker is?
My Symptom Checker is a piece of software that promises to provide users access to medical symptoms and more. It claims that users could quickly check and search medical symptoms and causes, view a list of medical topics and trusted treatments, learn more about drugs and supplements, access a collection of diet and fitness tips, and get advice on health if they install it. It does look beneficial at first sight, we have to admit, but we still do not recommend installing this extension. Research has shown that it is a typical potentially unwanted program (PUP). It will not steal any personal details, it will not automatically download new threats, and it will not log your keystrokes. Generally speaking, it will not act like real malware on your computer; however, it will apply changes to your Google Chrome browser, and you could undo them only by disabling My Symptom Checker. If you are not happy about these changes applied to the web browser you use every day, you should not postpone the removal of this browser extension. You should not keep it also if you do not know anything about its installation, i.e. if you suspect that it has affected your browser without permission. Since My Symptom Checker is not sophisticated malware, you should be able to remove it yourself without any difficulties.
My Symptom Checker is definitely not the most beneficial application. The thorough analysis carried out by our experienced specialists has shown that it only changes a homepage and New Tab URL on Google Chrome browsers it affects. The page it sets looks like an ordinary search tool at first glance because it contains a search box and returns search results. Below the search box, users can find the so-called quick-access buttons: Symptom Checker, Common Symptoms, Medications, Food, Fitness, Living Healthy, and Find a Doctor. They open third-party pages users can access themselves without the help of My Symptom Checker, which is why we have some doubts about the program's usefulness. If you have not found it useful either, remove My Symptom Checker without hesitation. It is not the only reason you should get rid of it as soon as possible. It has turned out that the search tool promoted by this browser extension is not fully reliable either because it shows the modified search results to users. They do not differ much from the rest of Yahoo! search results displayed after a search query is entered, so it is not very likely that you will never click on any of these modified search results if you use this search tool to perform web searches. In the worst-case scenario, you might even be taken to dubious websites after clicking on any of these modified search results, so, in our opinion, it would be smart not to use it to search the web at all.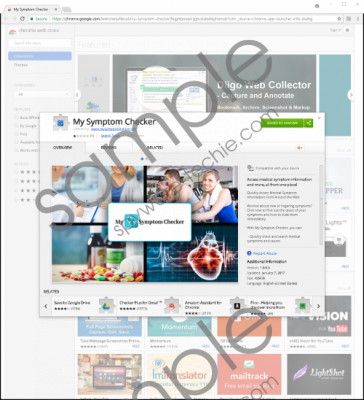 My Symptom Checker screenshot
Scroll down for full removal instructions
If you have found My Symptom Checker on the list of extensions, there is a possibility that you have installed it yourself from http://www.mysymptomchecker.net/ (its official website) or Chrome Web Store (https://chrome.google.com/webstore/search/My%20Symptom%20Checker?hl=en-US). Alternatively, it could have been installed on your computer next to other programs, for example, freeware. If you have nothing to do with its installation, you should remove My Symptom Checker right away. Do not let similar software to enter your system illegally – install security software on your computer if you are sure you could not protect the system from malware alone.
Luckily, My Symptom Checker is not a real malicious application, so you should be able to erase it quite easily – through the add-ons manager. If you have never deleted an undesirable browser extension before and do not even know how to access this manager, you should use our instructions provided below. If this still does not help you to erase it, let a trustworthy antimalware tool to do this job for you.
Delete My Symptom Checker
Google Chrome
Open Google Chrome.
Press Alt+F.
Click More tools and click Extensions.
Select the My Symptom Checker extension from the list and click the trash button.
Click Remove in the confirmation box.
In non-techie terms:
My Symptom Checker is not a browser extension you should install even though it is promoted as a beneficial tool that provides access to medical information. In reality, it is even not as useful as it claims to be. Additionally, it has been categorized as a potentially unwanted program by specialists. One of the reasons it has fallen into this category is the fact that it might be spread bundled and slither onto users' computers unnoticed. If you suspect that this has happened in your case too, delete it mercilessly.