Do you know what Muzic.io is?
Muzic.io promises users that it will enable them to listen to hundreds of online radio stations. It says that there are only two things that users need to do: first, they have to install Muzic.io on their systems and second, they need to have a Google Chrome web browser installed on their systems. Once users download and install Muzic.io from the Chrome Web Store or another source, they immediately notice a new folder whose name consist of random letters, i.e. ibipigkkmpjlklbnjkkkdgihkmejfffe if they follow this path C:\Documents and Settings\user\AppData\Local\Application Data\Google\Chrome\User Data\Default\Extensions. In addition, they see a new extension added to their browsers. It has the same ID (ibipigkkmpjlklbnjkkkdgihkmejfffe) as the software at the Chrome Web Store, which indicates that it is the same piece of software. In the opinion of our specialists, it is not the best idea to keep the Muzic.io installed. We will enlist all the reasons why you should get rid of it further in this article.
At the time of writing, there are 10 621 Google Chrome users who have downloaded the Muzic.io extension from the Chrome Web Store using this link https://chrome.google.com/webstore/detail/muzicio/ibipigkkmpjlklbnjkkkdgihkmejfffe and decided to keep it. There is a group of people who find this software rather useful; however, the majority of them agree that Muzic.io is an annoying application. The reason for that is simple - Muzic.io provides users with commercial advertisements. It even informs users about that in its Privacy Policy:
Users may find advertising or other content on our Service that link to the sites and services of our partners, suppliers, advertisers, sponsors, licensors and other third parties
Actually, it is not very surprising that Muzic.io displays commercial advertisements because it is very similar to another well-known adware program Baboom. Specialists have also observed that Muzic.io uses the same server as other programs, for instance, Amazing Tab (amazingtab.com), Baboom.audio (baboom.audio), and Down Checker (downchecker.com). It is very likely that all these programs are somehow related, e.g. it might be that they belong to the same software developer.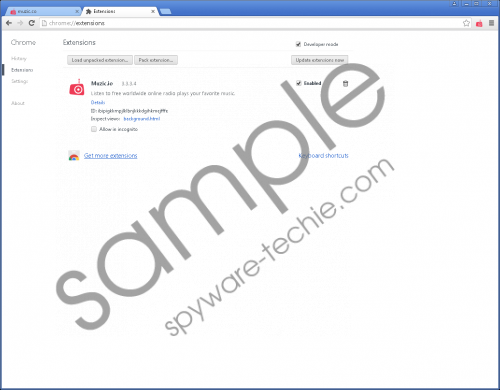 Muzic.io screenshot
Scroll down for full removal instructions
Even though Muzic.io does not look like an extremely bad program, specialists still say that its commercial advertisements might expose users to threats. To be more specific, you might be taken to some kind of untrustworthy web page after you click on a single advertisement presented for you by Muzic.io. Not all commercial advertisements are associated with bad web pages; however, it is impossible to recognize those that are linked to untrustworthy web pages. According to our specialists, there is a very huge possibility that Muzic.io will also record all kinds of details about your browsing habits and your device. According to the information we found in the Privacy Policy, the Muzic.io extension will collect non-personal information, including type of browser, the type of user's device, language preferences, clicks and visited pages, their contents, and search logs. The majority of details are automatically transmitted by the user's device; however, Muzic.io might use cookies as well. If you fear that your privacy might be violated, you should remove the Muzic.io extension as soon as possible.
The majority of users download Muzic.io from the Chrome Web Store; however, it seems that it is spread in software packages as well. Of course, it is not the only program in the package, which means that other untrustworthy applications might have slithered onto your computer together with Muzic.io. If it is really true, you should find and eliminate those additional programs as soon as possible because they might download much more harmful applications if compared to adware. After doing that, make sure that you install a security tool on the system.
Below provided instructions will help you to remove Muzic.io fully. After you finish the removal process, do not forget to scan your system with an automatic malware remover, such as SpyHunter. It will check whether there are no other infections for you. You can delete Muzic.io automatically from your system as well. Just make sure you use a trustworthy malware remover.
Delete Muzic.io
Follow the path C:\Documents and Settings\user\AppData\Local\Application Data\Google\Chrome\User Data\Default\Extensions.
Locate the ibipigkkmpjlklbnjkkkdgihkmejfffe folder and delete it fully.
Go to c:\Documents and Settings\user\AppData\Local\Application Data\Google\Chrome\User Data\Default\Local Storage, find the following files, and remove them completely:
chrome-extension_ibipigkkmpjlklbnjkkkdgihkmejfffe_0.localstorage
chrome-extension_ibipigkkmpjlklbnjkkkdgihkmejfffe_0.localstorage
In non-techie terms:
You should keep your security tool enabled 24/7 if you do not want to allow other ad-supported programs to enter the system. Security specialists say that users should also stop downloading programs from third-party web pages and installing them carelessly. It is not advisable to click on ads that offer to update existing software or download a new "useful" application.