Do you know what Mustang Browser is?
Yes, Mustang Browser is a browser, but not just any browser. Our security experts have deemed it as a potentially unwanted program that you might want to remove. The removal is not mandatory, because this program in not considered malicious. It is located somewhere in the grey zone between malicious and non-malicious software. Mustang Browser has been developed by an unreliable software developer that has built in a potentially malicious browser extension, created by another unreliable company -- an extension that might display advertisements. So, if you do not want to subject your computer to unreliable and intrusive ads, you might want to find another browser.
There are plenty of browsers you can choose from. You can use Internet Explorer, which is built into the Windows operating system. You can also get Firefox, Chrome, Opera, Safari, or another less known browser. Nevertheless, Mustang Browser is closely related to Google Chrome, because it is based on Google's Chromium browser project. Mustang Browser looks almost the same as Google Chrome, but it has a few drawbacks that Chrome does not. The number of people downloading this browser is steadily increasing and there is a good reason for this. The browser's developers made sure that their new product is featured on all major freeware distributors that include Soft32.com, Softpedia.com, Softonic.com, and Cnet.com. However, it also has its own dedicated download website at Mustang-browser.com. Mustang Browser was created by a company called Rafo Technology Inc, which is also responsible for releasing DealWifi. Interestingly, it seems that the name is fake and that it is used for different products. For example, one of its known aliases is Beijing Muxing Technology Co. Ltd.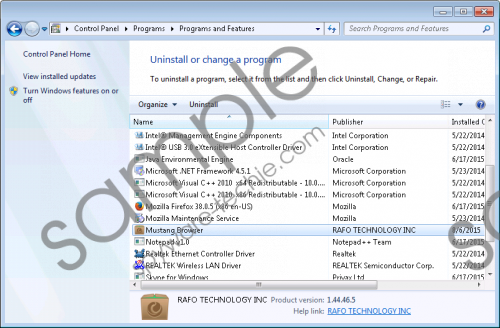 Mustang Browser screenshot
Scroll down for full removal instructions
Now, Mustang Browser works rather well and might not appear suspicious. However, it comes bundled with a browser extension called MustangDeals, which is supposedly a shopping assistant. In truth, it is an adware application that has been based on the Superfish platform. Superfish is a company located in Palo Alto, California, USA. It was founded in 2006 and it became rather well-known after the Lenovo security incident of 2014 when Superfish Visual Search software was pre-installed on Lenovo laptops and it caused many security issues. After that, the company changed its name to JustVisual.com. So, if you value your security, you should not expose your computer to applications developed by highly unreliable companies. Even though the browser's legal documents make no mention of ads, they might still be shown.
In conclusion, Mustang Browser is an unreliable application that might display commercial advertisements. It has been created by an unknown company that likes to stay in the shadows. Furthermore, it is linked to another infamous company that provides advertising services by developing adware programs. Mustang Browser has one of those adware programs that pose as shopping assistants. If you do not want to subject your computer to unreliable content, then you should remove Mustang Browser from it as soon as possible and get yourself another browser.
How to Uninstall Mustang Browser
Windows XP
Open the Start menu.
Open the Control Panel and click Add or Remove Programs.
Find Mustang Browser.
Remove.
Windows Vista and 7
Open the Start menu.
Open the Control Panel and click Uninstall a Program.
Find Mustang Browser and right-click on it.
Uninstall.
Windows 8 and 8.1
Move the mouse cursor to the lower left of your screen.
Open the Start Screen.
Type Uninstall in the search box and then go to Settings.
In the search results, click Uninstall a program.
Find Mustang Browser.
Uninstall.
In non-techie terms:
Mustang Browser is regarded as a potentially unwanted program, because it has been developed by a company known for developing unreliable software. Our researchers suspect that Mustang Browser can display commercial advertisements via its extension, which was created by a previously scandalous adware developer called Superfish. We recommend that you avoid this application and get yourself an established web browser that can be trusted.