Do you know what MusicOptimizerLab is?
MusicOptimizerLab is an adware application, and it should not be allowed to remain on your system. This program may try to convince you that it can provide you with something useful, but in reality it does not care about enhancing your online experience. This program is used by third parties to generate monetary profit by displaying third-party advertisements. Third-party ads are something you should be wary of because they could be used for malware distribution. To put it simply, you need to remove MusicOptimizerLab if you want to avoid potential computer security issues and other undesirable consequences.
It is certain that MusicOptimizerLab is not a malicious infection. The application cannot enter your computer without your permission. However, you probably did not even notice how it managed to slither into your system as you were focused on something else. That is because this application arrives bundled with other programs. You would not be able to download MusicOptimizerLab from musicoptimizerlab.com even if you wanted to: The download button does not work. Thus, if the official website is not part of the distribution network, it is only natural to assume that the program spreads in other ways.
The main website claims that with MusicOptimizerLab you can "get all the best music softwares and make your comptuer side like a professional audio studio." It also offers you to "mix, optimize and improve all the tools you need to make music sounds better than ever." With this application, you will get "automatic software updates with the newer products in the market." It is also mentioned that all the software products are available for free, but the awkward English in the promotional lines should raise a few concerns. What decent application would be promoted in such a sloppy way? This only proves that there is something not right about this application, and our further research only supports this.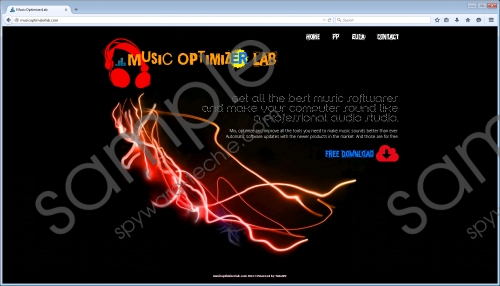 MusicOptimizerLab screenshot
Scroll down for full removal instructions
According to the guys in our tech lab, the application should just show offers and pop-ups that are related to music and music software. However, the longer MusicOptimizerLab remains on your system, the more intrusive it becomes. Eventually, it starts displaying other types of ads, like discount coupons and promotional pop-ups that are embedded with outgoing links. The ad content may differ according to the website you are currently on, but please keep in mind that there is a good chance those links in the ads lead to unreliable websites. Clicking the ads may redirect you to online marketing pages and even malware distribution sites.
Thus, MusicOptimizerLab does not provide you any useful function and, furthermore, even exposes you to potential security threats. The bottom line is that you have to get rid of this program and then scan your computer with the free SpyHunter scanner. A full system scan is a must because it is quite probable that you have installed more unwanted programs along with MusicOptimizerLab. If you do not remove them all now, sooner rather than later you may face severe computer safety problems.
If you need any assistance with the adware removal, do not hesitate to contact us. We are always ready to assist you because we consider your computer's security the utmost priority.
How to Delete MusicOptimizerLab
Windows 10 & Windows 8.1
Right-click the Windows icon at the bottom left of your screen.
Select Control Panel on the drop-down menu.
Open Uninstall a program and remove MusicOptimizerLab.
Windows Vista & Windows 7
Open the Start menu and click Control Panel.
Go to Uninstall a program and remove MusicOptimizerLab.
Windows XP
Click the Start button and go to Control Panel.
Access Add or remove programs and uninstall MusicOptimizerLab.
In non-techie terms:
MusicOptimizerLab is a program one should think twice about having. This application spams you with commercial advertisements and is intrusive enough to open your browser when you have it closed. If this program gets exploited by cyber criminals, it can inadvertently lead you to a dangerous malware infection. Needless to say, you have to avoid that by removing MusicOptimizerLab today. Please follow the guidelines above to get rid of the program.