Do you know what MusicNet Start is?
MusicNet Start is a new browser extension that may pose a threat to your virtual security. This tool is not really new in the sense that it has a number of predecessors, i.e., very similar applications coming from the same family including MoviesNet Search, NetGaming Search, and FilmsNet Start. Our researchers say that this tool is not a dangerous threat but it can still put your system at risk if you are not careful enough. This is why it has been labeled as a potentially unwanted program, or PUP in short. This means that while this PUP does not mean direct threat to your system or your files, you may be exposed to questionable content that could deceive you or infect you with more dangerous threats. As a matter of fact, this PUP can also come on board with malware infections thus causing multiple system security issues. We recommend that you remove MusicNet Start from your computer as soon as possible.
You can find the official webpage at medianetnow.com. This page is very simple and is in fact used to promote five "Top Google Chrome media extensions" as they are labeled there. When you click on the "Add to Chrome" button next to the respective applications, you get redirected to the Chrome web store page at chrome.google.com/webstore/detail/musicnet-start/hajmhmmilgmcmobmkdpncpbnbhljhojb. This page shows that over 21 thousand unsuspecting users have already downloaded this PUP but not one have left a review, which is a bit suspicious.
What is even worse, after you choose to install this tool, you get redirected to private.medianetnow.com/wim/lp/offer/special.php?t=gomusix&ref=unknown&ct=ye61strtrf.116 where you are lead to believe that in order to finish the installation, you also need to install another useless and potentially harmful tool like Untrack Search; but, this extra extension can be any other promoted one, too. In other words, this useless browser extension tries to push you to install another PUP, which is a rather aggressive way to do so and should not be tolerated at all. In fact, you should delete MusicNet Start just for this if you are a security-minded user.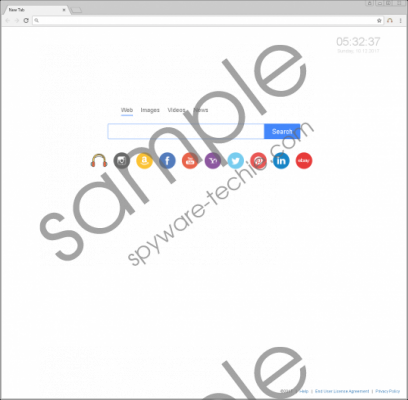 MusicNet Start screenshot
Scroll down for full removal instructions
However, this is not the only way for you to install this PUP. Unfortunately, we have also found it spreading in freeware bundles. This is a way worse method since you could infect your computer easily with other PUPs as well as malicious software installers like adware programs, browser hijackers, Trojans, and fake alerts. You can drop such a package every time you decide to download free files from suspicious file-sharing (torrent and freeware) pages. These usually promote such bundles instead of standalone files, so do not be surprised after you install one. In fact, you need to be extra careful when installing because you may be able to save the day by deselecting the unwanted components. It is possible that you will only know about these if you choose the custom installation option. We advise you to scan your system with a reliable online malware scanner right after you delete MusicNet Start from your browser.
This search page may appear to you as a legitimate search engine since its page looks very similar to reputable ones like Google. This PUP however also shows you the current local time in the top-right corner. Below the search box, you can see a number of rounded thumbnail links leading to popular websites like Facebook, Amazon, and Instagram. What makes this tool different from other featured search websites is that it promotes net.gomusix.com, an online music site, which may expose you to questionable third-party ads when used through this PUP.
You should not use this extension to run web searches because it uses music.eanswers.com, which redirects you to modified Yahoo search results. This means that you could be exposed to potentially unreliable promoted affiliates' ads and links. Clicking on such content is always risky because there is no guarantee regarding the reliability of these third parties. Thus, one click on the wrong ad or link could open a new tab with malicious content or directly drop infections onto your system. If you do not want to experience online scams this way and even lose money from your bank account, you should not hesitate to remove MusicNet Start from your computer.
Fortunately, we also have good news for you: It is quite easy to eliminate this PUP. All you need to do is remove the browser extension from your Google Chrome browser since this is the only browser it works with. Please follow our guide below if you want to do this yourself. However, if you would also like to protect your PC at the same time against all known malware infections, we advise you to install a powerful anti-malware program like SpyHunter.
Remove MusicNet Start from your browser
Google Chrome
Open the menu by tapping Alt+F.
Navigate to More tools.
Select Extensions.
Find the undesirable extension and click on the Trash can icon on its right.
Press Remove in the pop-up.
In non-techie terms:
MusicNet Start is yet another useless Google Chrome browser extension that may expose you to questionable third-party content and thus pose a threat to your system security. This potentially unwanted program may introduce you to potentially unreliable search results by forwarding you to manipulated Yahoo search results pages. This can cause system security issues for you if you were to click on the wrong content. Our researchers have also found that you may install this PUP in questionable ways, which includes installing malware infections as well. Therefore, we believe that it is important that you remove MusicNet Start from your system as soon as you can. If you would like to defend your computer against all kinds of threats, we suggest that you install a reliable anti-malware program as soon as possible.