Do you know what Musicloud is?
Musicloud is a freeware application that is marketed for the French-speaking users. It is supposed to help you expand your online music library. On the surface, there seems to be nothing wrong with the application, but our security experts say that Musicloud is an adware program. This would mean that Musicloud enters target computers in order to promote third-party commercial content. Even if it does provide you with the actual service, the program may turn out to be too obnoxious to keep it on your PC. Thus, it is strongly recommended that you remove this application from your system right now.
Since the program does not try to hide its presence, we cannot say that Musicloud is a dangerous infection. In fact, the application comes with a homepage that offers you to download the program at once. You can access the site at musicloud.io, where you will see two buttons on the front page. You can either play music online via the application or download Musicloud onto your PC. However, when we clicked the download button during our tests, we were not able to download the application. Instead, we were redirected to yet another blank page.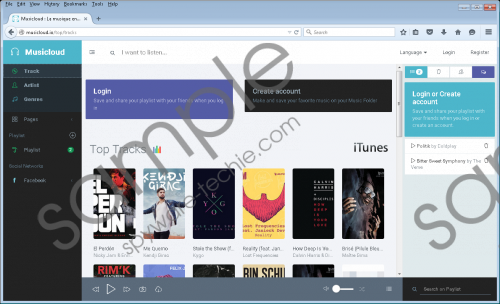 Musicloud screenshot
Scroll down for full removal instructions
Thus, it can be said that the official website does not add up much (if anything at all) to the distribution of this application. Consequently, the most common method of distribution for this application would be bundled downloads. Musicloud clearly comes in software packages with other freeware apps. Whenever you download programs from third-party sites, there is a good chance that you will get the likes of Musicloud on your PC as well. If that is really the case, then it is obvious that the program arrives at your computer uninvited.
If you install the application accidentally, it settles in your computer without any problem. Musicloud is compatible with Windows 8, Windows 7, and Windows XP operating systems, and the application can work just fine on Mozilla Firefox, Google Chrome, and Internet Explorer. Now, the question is whether you really need this application and whether it can provide you with appropriate functions.
The point is that Musicloud is closely related to the WebPlayer potentially unwanted application. Both programs have icons they leave on your desktop once installed, and by clicking those icons you can open the official websites.
We have a problem with Musicloud and other similar programs because they can display commercial third-party content. Disregarding whether the program performs its main functions properly or not, you have to take into consideration the fact that it may expose you to outgoing links that lead to corrupted third-party websites.
The point is that in the worst-case scenario, you might accidentally get infected with malware. On top of that, you would not be able to blame Musicloud for that because the program is not responsible for the third-party content security. Why worry when you can prevent all the potentially harmful consequences by removing Musicloud today?
Simply follow the instructions below to get rid of this application. If you happened to install the program along with other freeware, you definitely need to delete other unwanted programs, too. Thus, scan your PC with the SpyHunter free scanner and make sure you get rid of unwanted applications ASAP.
How to Remove Musicloud
Press Windows key+R together.
Type %AppData% into the Run command box and press OK.
Remove the musicloud folder from the Roaming directory.
Locate a random name folder in the same directory.
Delete it too and scan your PC with SpyHunter.
In non-techie terms:
Musicloud is a potentially unwanted program that may function like adware. This means that with this program running on your computer, you will be constantly exposed to an increasing number of commercial advertisements. Not only will they slow down your browser, but they will also expose you to potential malicious threats. You should remove Musicloud from your computer before it manages to redirect you to malware distribution sites.