Do you know what MusicApp Search is?
MusicApp Search is a suspicious Google Chrome extension that belongs to SuperAPPbox. This company has set up superappbox.com to promote the suspicious add-on, but it is also used for the promotion of FilmsApp Search, which is very similar to the PUP (potentially unwanted program) we are discussing in this report. If you have downloaded the extension from its official website, you might have been introduced to "videoNet Search For Chrome" as well. This additional freeware is forced upon users because the "Skip" button does not work, but you can successfully ignore the offer by closing the page representing the installer. What you cannot avoid is music.eanswers.com, which is a search engine that replaces your regular default search provider if you install the PUP. So, do you need to delete this software, and, if you do, how should you do it? If you are interested in removing MusicApp Search, you need to continue reading.
Although superappbox.com promotes the installer of MusicApp Search, it is actually found on the Chrome app store at chrome.google.com/webstore/detail/musicapp-search/lohmepgiljlbcafcppdhgapgohbhkemp. Unfortunately, it is most likely that Google Chrome users will acquire this suspicious extension via misleading pop-up advertisements or, possibly, software bundles. This is unfortunate because the PUP could be packaged along with all kinds of infections or other undesirable software. This is the main reason our research team does not recommend using third-party sources when installing anything. To check if malware was installed onto your PC along with MusicApp Search, we recommend using a malware scanner. Hopefully, no serious threats will be found. When installing the PUP itself, you should be introduced to it, and you should have the chance to check the Privacy Policy. This statement informs that the extension employs data-trackers to record information that could be used to deliver "targeted content and advertisements." Without a doubt, if you do not want to be flooded with ads, this is the time you look for a better alternative.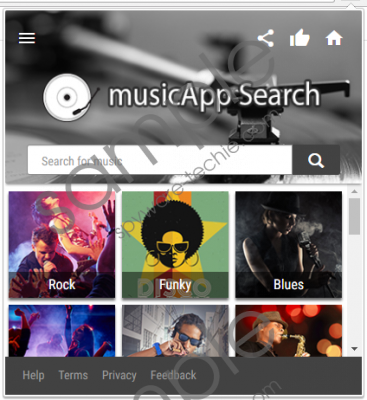 MusicApp Search screenshot
Scroll down for full removal instructions
Google Chrome users are likely to install MusicApp Search because it promises to help them find the music they want to listen to. The service is not very beneficial, and it appears that the PUP was created for the sole purpose of promoting gomusix.com because all search results lead to this site. Another reason the PUP might have been created was to showcase advertisements in the most clandestine way possible. It does that while hiding behind Yahoo Search. If you enter search keywords into the address bar, you activate the suspicious music.eanswers.com, and this search provider redirects to search.yahoo.com. Unfortunately, the results can be modified to include advertisements, and so the search engine is compromised. Yahoo Search has nothing to do with this, and you can blame MusicApp Search for exploiting a well-known search engine to slip in ads and links that users might interact with without even realizing it.
At the moment, only Google Chrome users need to worry about MusicApp Search, but if the PUP becomes compatible with other web browsers, our research team will help you remove it from them as well. Right now, all you really need to do to delete MusicApp Search is eliminate the undesirable extension from the chrome://extensions/ menu. You can follow the instructions below to learn how to do that. Another thing you have to remember is that other infections or unwanted programs might be active. If you do not know if they exist, run a full system scan using a tool you can trust. If you cannot delete the infections that are found yourself, install a trusted anti-malware tool to ensure that your system is cleaned and protected.
Remove MusicApp Search from Google Chrome
Launch the browser and enter chrome://extensions/ into the address bar.
In the Extensions menu identify the undesirable add-on and click the recycle bin next to it.
Select Remove and then restart the browser.
Do not forget to perform a full system scan to check if other threats exist.
In non-techie terms:
Have you downloaded MusicApp Search hoping it could provide you with beneficial services? In reality, all it can do is route you to gomusix.com, and if you like this website, you should simply add it to your bookmarks for easy access. Installing the extension is not recommended because besides promoting this third-party service, it also collects data and showcase advertisements to make a profit. It can even showcase ads after redirecting you to Yahoo Search without your authorization. Overall, however you look at it, deleting MusicApp Search is the best move. Follow the guide above, or, if more threats exist, use a legitimate anti-malware tool to have all unreliable pieces of software eliminated automatically.