File-encrypting infections usually attach unique extensions to the files they corrupted, and .MTXLOCK File Extension is one of them. This extension indicates that MTXLOCK Ransomware, also known as RestoreFile Ransomware, has invaded your Windows operating system. These names derive from the full extension that is ".[RestoreFile@qq.com].MTXLOCK," and you are likely to find it attached to personal documents, private photos, videos, archives, and other files you do not want to lose. According to our research team, this infection is very similar to Matrix9643@yahoo.com Ransomware, and you can learn how to delete this threat using a guide that is available on this website too. Needless to say, in this report, we want to focus on the removal of .MTXLOCK File Extension-related malware. If you do not know anything about file-encryptors and the tactics they use, hopefully, you will find a lot of useful information in this report. If you still need to learn more after reading, do not hesitate to start a discussion in the comments section.
How was .MTXLOCK File Extension Ransomware downloaded and executed on your operating system? That is a good question, and we cannot guarantee that you will get your answer. The thing is that threats like this usually slither in silently, and so victims do not even know when that happens, which creates problems understanding the situation fully. Maybe the threat got in when you downloaded an extension or an application using a secretly malicious installer. And maybe this infection was downloaded by another threat without your involvement at all. Spam emails are also often used for the distribution of this kind of malware. Do you know how MTXLOCK Ransomware got in? If you do, you might have a better chance of deleting this infection manually. That, of course, does not mean that this is the best option or that you should strive to remove the threat manually. The elimination of this threat might not even be on your mind right now if the .MTXLOCK File Extension was attached to highly valuable files. Once files are corrupted, there is nothing you can do yourself, and that is what cyber criminals use to push you into doing something meaningless.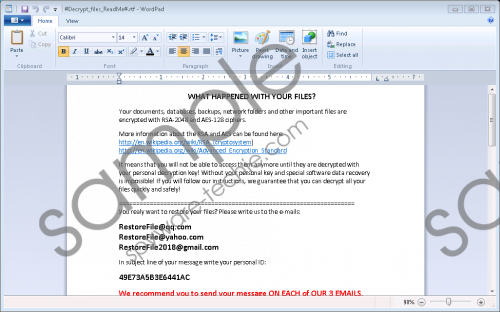 .MTXLOCK File Extension screenshot
Scroll down for full removal instructions
In all directories containing files with the .MTXLOCK File Extension you should find a ransom note file named "#Decrypt_files_ReadMe#.rtf." The message in the file is very long, but there is no valuable information that would help you free your files. The first section within the message talks about the encryption. The second one pushes to email an ID to RestoreFile@qq.com, RestoreFile@yahoo.com, and RestoreFile2018@gmail.com (the recommendation is to email all three). Next, you are given instructions on how to communicate with cyber criminals using BitMessenger in case an email response is not received. These instructions indicate that the BitMessenger address is 2cVeq4HtLaXPGTamXgv5rvwDjypapmy8irR. The last thing that is discussed, is the ransom payment. It is stated that you must pay it in Bitcoins to receive a file decryption key in return. It might sound like a legitimate option, but it is unlikely to be. Even if you communicate with cyber criminals successfully, you are unlikely to have files with the .MTXLOCK File Extension attached to them decrypted.
You have a difficult decision to make regarding your personal files. If you remove .MTXLOCK File Extension from your personal files, they will not be decrypted. A decryption key offered by cyber criminals is unlikely to be given to you even for a certain fee. And free, legitimate decryptors do not work with this malware. So, that means that your files can be salvaged only if copies exist in backups. Hopefully, that is the case; otherwise, you really do not have much choice. Whatever happens, you must delete .MTXLOCK File Extension Ransomware, and that can be a complicated task. While you should have no trouble eliminating the ransom note file, finding and erasing the executable can be challenging, unless you know its exact location. If manual removal is not possible, you should not hesitate to implement anti-malware software. Note that it can protect you, your data, and your operating system against malware in the future, which is why our research team recommends taking this route. Remember that your system will remain vulnerable if you do not protect it even if you successfully delete all threats that are corrupting it now.
.MTXLOCK File Extension Ransomware Removal
Delete all recently downloaded suspicious files (your main goal is to remove the .exe file of the infection).
Delete all copies of the ransom note file, #Decrypt_files_ReadMe#.rtf.
Install and run a trusted malware scanner as soon as you Empty Recycle Bin.
If any threats are listed, you have to make sure that they are eliminated in time.