Do you know what MPC Cleaner is?
If you ever happen to come across an application known as MPC Cleaner make sure to stay away from it even thought it might be advertised as a perfect piece of software that you should have since it should fix critical errors on your PC; thus, making your computer's overall performance much smoother and faster. All these claims are mostly marketing gimmicks targeted at unsuspecting Internet users. In reality, this questionable optimization tool has been classified as a potentially unwanted program as it does not function in the way that it claims as well as it exhibits quite a few other rather alarming features. If you wish to check your PC for errors, we firmly advise you to use a different tool for such a task as MPC Cleaner is not a program that you can trust, in fact, we advise you to delete it as soon as it is found active on your operating system. Do so by using the removal guide that we provide below.
In the majority of cases, MPC Cleaner will launch a full system scan as soon as it enters your operating system whether you like it or not. Such activity can be quite annoying to say the east. What is rather suspicious about this whole process is that the scan is unusually fast, and the list of errors that need fixing is quite extensive. Due to such functionality our malware researchers took upon further investigation and have come across a few dubious features. First of all, the scan itself does not scan your entire system; instead it only checks the places where errors are frequent. Therefore, leaves quite a bit of system estate not scanned that could still be affected in a negative way. Secondly, quite a lot of those errors are nothing more than temporary files and inactive registry keys or values. While they should be removed, you must know that it is not fundamental in order to make your PC work in a quicker manner. Most likely such alleged errors crowd the results list to scare the non-advanced computer user.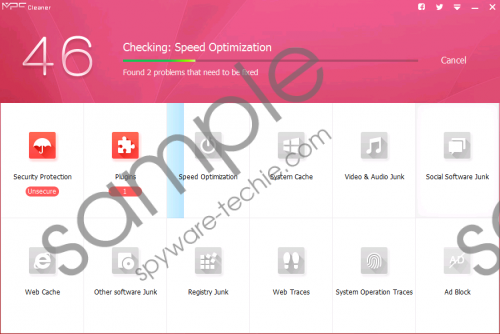 MPC Cleaner screenshot
Scroll down for full removal instructions
Unlike other dubious optimization tools, this one will not urge you to purchase its full version as it will allow you to fix the alleged errors free of charge. While it might sound great, you must know that there is a hidden catch to that. If you fix those so-called errors, you will trigger a silent download of some sort since this potentially unwanted program has registry entries and files active on your PC, that are able to do so. What is even more alarming is that it is virtually impossible to know what kind of program will be downloaded. Even though it is not very likely, there is still a possibility that you could end up with some unknown malware active on your computer. Make sure not to take such a risk as it could have devastating outcomes to say the least. Conduct a complete removal of MPC Cleaner without any second though by using the removal guide that we provide below.
The removal of MPC Cleaner is not complicated whatsoever because you can delete via Control Panel. The tricky part is that you need to be careful and bypass all the tempting offers to keep it active on your PC. Do not get fooled by anything that the uninstaller might present you with and proceed with the procedure. It is important to delete every file, folder, and registry entry linked to this intrusive tool since at times it traces of it could be used to trigger a silent restoration procedure.
How to remove MPC Cleaner from your operating system
Windows 10
Type Control Panel into the search box and select it.
Click Uninstall a program.
Select MPC Cleaner and click Uninstall.
Windows Vista and Windows 7
Tap the Windows key on your keyboard.
Select Control Panel and click Uninstall a program.
Double-click MPC Cleaner.
Confirm that you want to remove it.
Windows XP
Click Start.
Select Control Panel.
Click Add or Remove Programs.
Uninstall the unwanted application.
Windows 8
Move the mouse pointer to the lower-left corner of the screen.
Right-click.
Select Control Panel.
Click Uninstall a program.
Right-click MPC Cleaner.
Select Uninstall.
In non-techie terms:
If you are a user that find manual removal and analysis of the operating system too complicated, make sure to follow the instructions that we provide below. The alternative removal method will help you delete MPC Cleaner in an automatic way without encountering any trouble whatsoever.