Do you know what MoviesWorld New Tab is?
MoviesWorld New Tab is not an extension we would recommend you to have on your browser, so if you are thinking about acquiring it, we strongly recommend reading this report. Our computer security specialists say the application should be classified as a potentially unwanted program (PUP). A PUP is not a malicious program, but it does not mean it can be trusted either. Further, in the article, we will explain why it is considered to be unreliable and what to expect of it. Moreover, at the end of the main text, you will find a removal guide showing how to get rid of MoviesWorld New Tab step by step. Therefore, in case you already installed this PUP, but now regret it you can follow the provided instructions and eliminate it manually. Users who wish to know something else about the suspicious extension can leave comments at the end of this page too.
At the moment of writing, users can get MoviesWorld New Tab from its official distribution site (theappzworld.com) and Chrome Web Store page (chrome.google.com/webstore/detail/moviesworld-new-tab/fhhbjlpgcifaedfojjhomaefomalilab). However, there is also a possibility the add-on could be spread through bundled installers since it is a somewhat popular distribution method with PUPs, adware, browser hijackers, and other suspicious software alike. Applications bundled with other programs are often installed accidentally by users who rush the installation process and do not review all conditions properly. You should know that in some installers you have to pick advanced or custom settings or else you will not see the bundled tools and will not be able to deselect them. Thus, to maintain the system's safety, it would be wise to be more attentive during installation. Besides, it might be useful to have a reputable antimalware tool as it could alert you about potential threats.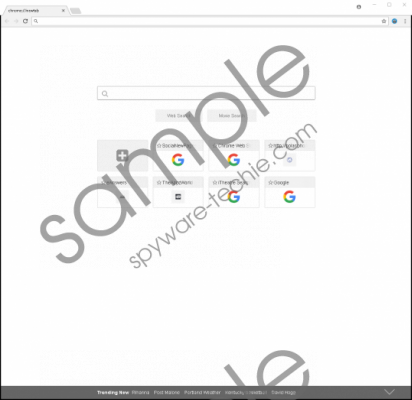 MoviesWorld New Tab screenshot
Scroll down for full removal instructions
Provided, MoviesWorld New Tab gets installed it should replace user's start page and new tab page with a modified Yahoo search engine. Our computer security specialists say there might be a difference between search results displayed by original Yahoo search engine and the custom version. To be more accurate it is possible the results gathered by the modified version could be altered to add advertising content from the PUP's third-party partners. Sadly, since such ads may originate from various third parties, it is not only difficult to say what they might advertise, but also whether they can be trusted. What we mean is, some part of the third-party advertisements could be possibly harmful, e.g., some of them might redirect to web pages showing fake lotteries or surveys, websites offering to download other PUPs, adware, or even malicious programs like viruses, Trojans, etc. Because of these risks we do not recommend keeping MoviesWorld New Tab on your browser, especially when it cannot offer any advanced features.
Those of you who prefer erasing threats and unwanted programs manually could follow our removal guide available below this text; if you wish to get rid of MoviesWorld New Tab manually as well. The steps should not seem to be too complicated, but if you feel they might be too challenging, you could install a reputable antimalware tool instead, set it to scan the whole system and wait till it provides a deletion button. Lastly, users who have any questions or require further assistance with the PUP's removal can leave us a comment at the end of the report.
Erase MoviesWorld New Tab from Google Chrome
Launch the browser.
Click ALT+F simultaneously.
Navigate to Settings and choose More tools.
Go to Extensions and locate MoviesWorld New Tab.
Click the recycle bin button available next to it.
Tap Remove to finish.
Restart the browser.
In non-techie terms:
MoviesWorld New Tab is a browser add-on compatible with Google Chrome only. Another thing users ought to know about is that the application was classified as a PUP (potentially unwanted program). Apparently, it may change user's browser preferences, such as default start page or new tab page with a suspicious search engine. Our computer security specialists say it might be show search results through a modified Yahoo search engine. As a consequence, there is a possibility the results could be modified too to add more advertising content among them. The problem is such ads could come from the software's third-party partners and while not knowing what they might advertise there is a risk some part of them could be possibly malicious, e.g., show fake lotteries, ask to download more unreliable applications, and so on. Because of this, we do not advise keeping it installed, and if you do not think it is worth taking any risks either, we encourage you to follow the removal guide available above or install a reputable antimalware tool and delete the PUP.