Do you know what moviesNet Search is?
In this report, we will talk about a potentially unwanted program known as moviesNet Search. It is a browser extension compatible with only Google Chrome. The description available on the Chrome Web Store page says the application is supposed to provide the user with "a better web search experience," although we are not sure how it is supposed to do so. It seems to us the add-on might be quite annoying as it can replace use's default browser preferences. Plus, it does not seem its provided search engine is somehow better than google.com, search.yahoo.com, or other legitimate search tools. Further, in the report, we will talk more about this potentially unwanted program so if you came here to get to know it better it is advisable to read the rest of the text. For those who came here to learn how to eliminate moviesNet Search manually, we would offer our removal guide located at the end of the article.
One of the places where from which you can download the potentially unwanted program is its official site (medianetnow.com), and the other one is Chrome Web Store page (chrome.google.com/webstore/detail/moviesnet-search/ggiodcppnniahfplgdnldnmfhcbhihee). The given description says moviesNet Search could enhance users browsing by allowing to "find the exact information that you're looking for, with no extra effort needed." However, the application does not appear to be very well received as it has only three stars rating from maximum five. Also, the only two available reviews do not characterize it well as one of it describes the tool as simply "ok" and the other one says "Yes I quess it is ok for what little I KNOW ABOUT IT." Indeed, there is not a lot of information about the extension or its creators unless you read the software's End User License Agreement and Privacy Policy documents.
On the other hand, reading the mentioned papers might even confuse the user even more. Given moviesNet Search is a browser extension and it provides a search engine we find it rather odd that its End User License Agreement mentions particular mobile features. For instance, it says the add-on can "give you the opportunity to sync your mobile device's address book with a desktop app and thereby answer calls and texts from your computer device." If you are offered such features we would advise you to be extra cautious since the potentially unwanted program's Privacy Policy claims if you use "the mobile book address synchronization service" it could record "names, phone numbers and emails from the address book on your mobile device," or possibly even text messages as the same document says "MediaNetNow disclaims any responsibility for people you are texting them and it is your responsibility to inform these factors that their text messages will be restored in our servers."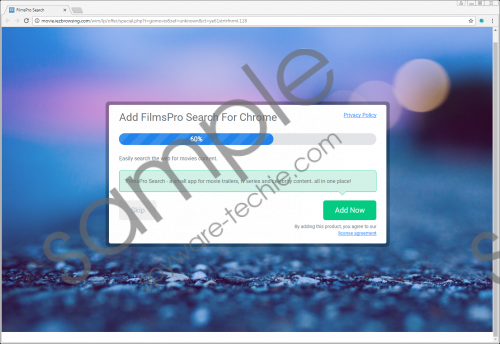 moviesNet Search screenshot
Scroll down for full removal instructions
Furthermore, our researchers say users should be careful with moviesNet Search provided search engine too. It appears to be all search queries might be redirected through movie.eanswers.com/search and then to search.yahoo.com/yts. The user might not notice the first redirection, and with the second one, he may think the results are displayed by Yahoo search engine, although it is not entirely correct. As mentioned earlier, it could be a modified search.yahoo.com version, and so it is possible the application might inject the results with targeted ads based on the information the potentially unwanted program manages to gather. Since the add-ons creators do not take any responsibility for their product or third-party content it is quite possible some of the ads could be potentially dangerous, e.g., they might lead to scam sites, web pages containing malware, and so on.
All things considered, moviesNet Search seems rather suspicious, and as we do not think its provided search engine is any better than the original Yahoo or Google search tools, we do not believe it is worth taking any risks. Therefore, we recommend erasing it before anything goes wrong. Luckily, the process is quite simple and effortless, but if you need any help with the extension's deletion, you could follow the removal guide available below this text. The other way to get rid of it is to employ a reputable antimalware tool, scan the system with it and erase all detections including the potentially unwanted program by pressing the given deletion button.
Eliminate moviesNet Search
Press ALT+F.
Select Settings.
Click More tools.
Select Extensions.
Look for moviesNet Search.
Click the trash bin button near it.
Press Remove.
In non-techie terms:
moviesNet Search is another potentially unwanted program that suggests using a suspicious search engine to surf the Internet. In fact, the research reveals the add-ons presented tool might be nothing more than a modified search.yahoo.com version. In which case, it is quite possible the extension could inject the gathered results with advertising content from the software's third-party partners. Such ads could come from anywhere, and so we would not recommend interacting with them if you do not wish to encounter possibly dangerous content. Naturally, if you care about your computer's safety and do not want to take any chances, it would be safest to find a more reliable search engine and get rid of this suspicious browser extension. Users who need any assistance while deleting it could have a look at the removal guide available above this paragraph.