Do you know what MoviesFriendly Search Toolbar is?
For those of you who spend a lot of time looking for information about films or TV content on the Internet, MoviesFriendly Search Toolbar might sound like a useful browser extension, but according to our researchers, it is nothing more than another potentially unwanted program providing useless features. Besides, users should know the software's provided search tools might show third-party advertising coming from unknown sources, we cannot be one hundred percent sure, but there is such a possibility. We will discuss the application's features further in the text, so if you are not yet familiar with its working manner, we recommend reading the rest of the article. As for users who cannot stand MoviesFriendly Search Toolbar and want to search the Internet with a different search engine, we would suggest using the deletion instructions located below the article.
The potentially unwanted program comes from a web page called friendlyappz.com. It can also be found on chrome.google.com/webstore. Even though the application's rating on Chrome Web Store page looks good (4 out of 5 stars), there does not seem to be any good user reviews. For example, one of the users wrote a complaint; it seems he has to type google.com if he wants to search the Internet with it because MoviesFriendly Search Toolbar placed a different search engine on his browser.
The application does not exactly change users default search engine or homepage, but it instructs the user to type letter "m," place a space and only then write a keyword. Apparently doing so redirects user's search query to a modified search engine called f.gomovix.com/search. What's more, the tool should also provide an additional search box with movie genre categories in a separate pop-up window. It seems to us the user would get the same effect by simply typing "adventure movies" or other preferred genre's title via Google, Bing, or another legitimate search engine. In other words, no matter what search engine you use if you type specific keywords mentioning words like movie or film, movie genres or titles; most of the displayed results will always be related to film content. Therefore, we do not think the features MoviesFriendly Search Toolbar provides are advanced or worth keeping a potentially unwanted program on the system.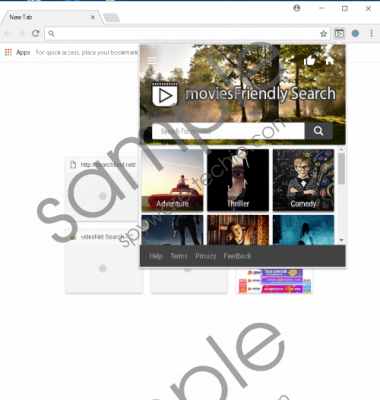 MoviesFriendly Search Toolbar screenshot
Scroll down for full removal instructions
Furthermore, the software's Privacy Policy and User License Agreement documents suggest the tool's creators do not take any responsibility for any third-party content, although it does not specify how such content could be made available to the user. It is possible the provided search engine might show advertising content from the third-party partners. Thus, it could mean the potentially unwanted program's creators do not review ads, and it is possible some of them might originate from web pages containing possibly dangerous content. For this reason, we would advise you to watch out if you end up using MoviesFriendly Search Toolbar's provided search engines, although we believe it would be safer to place a more reputable search engine as your homepage and to do so you might have to get rid of this extension.
If you have removed an extension before you should know the process is not particularly complicated. Nonetheless, if you need any help while deleting MoviesFriendly Search Toolbar from your Google Chrome browser, we offer you our removal guide available below the article. The other way to erase the potentially unwanted program is with a reputable antimalware tool of your choice. In which case, the user should install the preferred tool, set it to scan the computer and wait till it detects the unwanted application and other potential threats. Afterward, the detections could be erased quickly and with no effort as the tool is supposed to provide a deletion button for automatic removal.
Eliminate MoviesFriendly Search Toolbar
Press ALT+F.
Select Settings.
Click More tools and press Extensions.
Identify the unwanted extension.
Press the trash bin button near it.
Choose Remove.
In non-techie terms:
MoviesFriendly Search Toolbar is a browser extension developed for Google Chrome users. Sadly, the tool was classified as a potentially unwanted program because of its suspicious and irritating behavior. It would seem it might provide users with modified search engines and there is a possibility these tools could show questionable advertising content from the third party. Naturally, we advise our readers not to take any chances with this suspicious applications and delete it from their browser. The removal guide located above this text should help you achieve this, although if you would rather use an antimalware tool to deal with the unwanted extension, you could install a reputable security tool instead.