Do you know what Movie Mode is?
Movie Mode is an application that will help you to set the mood and allow you to watch videos more conveniently. It is going to do that by allowing you to dim the background of videos on YouTube. Even though this feature might seem extremely useful for those that watch many videos, you should know that it is not perfect. It has been found out that it might show you advertisements as other similar programs that it has replaced, for instance, Share Anything and Websteroids. These ads will appear on all the major browsers including Internet Explorer, Google Chrome, and Mozilla Firefox. The deletion of Movie Mode is the only solution to stop them, which is why you should not consider whether to do that or not any longer.
You might think that all these advertisements will not cause you any problems; however, the truth is that they might burden your browsing sessions. Imagine that you are browsing some kind of website and then suddenly an advertisement appears – it means that you will have to close it in order to see what is behind it. On the top of this, these advertisements might take you to unreliable websites after you click on any of them. Movie Mode is not software that will guarantee the safety of these web pages where you might end up; thus, you should better hurry to remove Movie Mode if you do not want to invite threats to your system.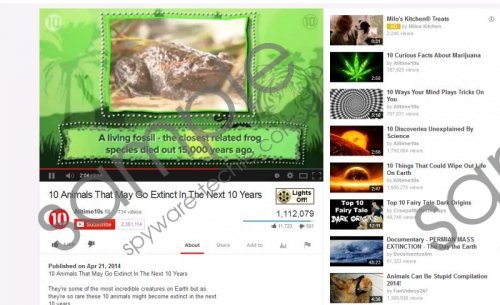 Movie Mode screenshot
Scroll down for full removal instructions
The specialists have also find out that this program will add a button "Lights Off" near the videos on YouTube. If you click it, all the background will be dimmed. In addition, it will run such system services as MovieMode.exe and MovieModeService.exe in the background; thus, if you ever notice any of these features, you should know that Movie Mode has infiltrated your system. You might not notice this process because this adware might come bundled with New Player or you might download it by clicking on fake ads claiming that your Flash player or Java is missing.
Fortunately, you will be able to get rid of Movie Mode easily and quickly. However, make sure that similar programs are not allowed to enter system in the future. For this matter, you should acquire a reliable security tool like SpyHunter and then keep it enabled all the time. Such a tool will delete all the malicious components from your PC and keep it protected 24/7. Thus, it is definitely worth investing in it.
Movie Mode removal
Windows XP
Click the Start button.
When the menu opens, click Control Panel.
Select Add or Remove Programs.
Locate the program on the list, click on it, and then erase it.
Windows 7 and Vista
Click Start to open the Start menu.
Select Control Panel.
Click Uninstall a program.
Right-click on the unwanted application.
Click Uninstall.
Windows 8
Tap the Windows key.
Start typing Control Panel.
Click on it.
Select Uninstall a program.
Right-click on the undesirable software.
Click Uninstall.
In non-techie terms:
Plenty of adware programs lure computer users into downloading and installing them by promising to do various useful activities. However, you should definitely not allow them enter your system because all the commercial ads that such programs generate might lead you to infections. We believe that you will not be joyful about the idea to infect the system; thus, you should always find out whether the program is reliable prior the installation.