Do you know what Movie Master is?
Movie Master is an ambiguous application, to say the least. It promises to enhance video watching within your browser by dimming the desktop while the video is being played. Unfortunately, Movie Master is an ad-supported application – in other words an adware application. Even though it does dim the screen while you are watching a video, it is not worth keeping on your system. It was revealed that adverts provided by Movie Master are not only annoying but could be quite malicious. That means that your PC is in constant danger of infection as long as Movie Master is present on your system. Thus, it is essential to remove Move Master if you are keen to keep your system secure and clean. Use the step-by-step removal guide that is provided below.
If you wish to avoid infecting your computer with Movie Master, or any other internet-based infection, you should know how it is distributed. In most cases, dubious applications are spread via bundled software. Installers filled with numerous applications are usually acquired on suspicious third-party download websites. Thus, avoiding them will significantly reduce the risk of infecting your PC with Movie Master.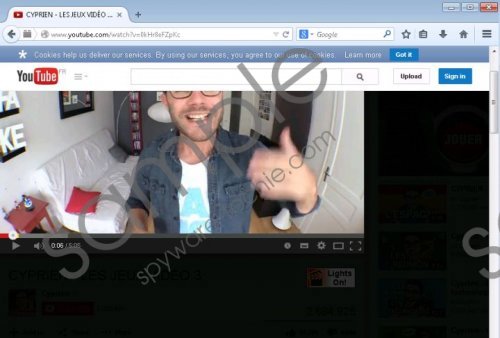 Movie Master screenshot
Scroll down for full removal instructions
Moreover, installing a professional antimalware tool is a must if virtual security is important to you. Such tool will provide overall security for your system and will warn you about dubious websites and potentially malicious downloads. It is important to realize that a reliable antimalware tool should be an essential part of any operating system.
Movie Master relies on browser extensions to display tons of adverts, coupons, and pop-ups while you are surfing the web. The adware program is compatible with Mozilla Firefox, Internet Explorer, and Google Chrome. The extensions are interacting with numerous adware servers, which provide random adverts whether you like it or not. Do not get fooled as these adverts are not useful whatsoever, even worse – they could be malicious.
The research conducted at our internal labs has revealed that some adverts powered by Movie Master contain redirect links. Therefore, there is a possibility that you will be redirected to malicious websites filled with malware. Some of those websites might be running an arbitrary code execution, and that means that it is enough to land on such a website to get your PC infected with some malware. Refrain yourself from clicking on any adverts provided by Movie Master as it is a huge risk. It goes without saying that Movie Master must be removed immediately.
Some users do not realize that adware applications are a major virtual threat that should be removed immediately as they could expose your system to Trojans, keyloggers, or rootkits. Carefully follow our removal guide to delete Movie Master from your PC entirely. Once the manual removal is over we advise you to analyze your system for potentially leftovers of the infection.
How to remove Movie Master from your operating system
Remove Movie Master from Windows 7 and Window Vista
Click the Windows button and select Control Panel.
Now click Uninstall a program.
Select Movie Master and click Uninstall.
Remove Movie Master from Windows 8
Navigate the mouse cursor to the bottom right corner of the screen.
In the Charm bar select Settings.
Now click Control Panel and select Uninstall a program.
Now remove Movie Master by double-clicking it.
Remove Movie Master from Windows XP
Click the Start button.
Select Control Panel.
Now click Add or Remove Programs.
Select and remove Movie Master.
In non-techie terms:
It is important to realize that a seemingly harmless adware application could serve as a gateway to other internet-based infections. Thus, it is just as dangerous as any other infection. Removal is a must in order to restore the normal functionality of your browser. For automatic removal of Movie Master fallow the instructions provided below.