Do you know what Mountainbrowse.com is?
Have you encountered a browser hijacker by the name Mountainbrowse.com? This hijacker does not necessarily corrupt the browsers without any warning – at least not in all cases – and you might have agreed to set it as your new homepage yourself. At the moment, this hijacker is compatible with Chrome, Internet Explorer, and Firefox browsers, but it could take over others as well. If a different kind of browser becomes a victim of this hijacker, please use the comments section below to notify us about that, and we will update the removal guide as soon as possible. For now, we show you how to delete Mountainbrowse.com from the three main browsers. If you want to get rid of this search tool as soon as possible, you might be tempted to move straight to the guide below, but we suggest reading the report first. Of course, you should definitely continue reading if you do not understand why eliminating this search tool is our recommendation.
Although Mountainbrowse.com is similar to a bunch of infamous hijackers (e.g., Searchinvietnam.com or SearchInMe.com), it is unique. The distribution of this hijacker might be varied, but our research team has found that, in most cases, it is spread via software bundles that are represented via pop-up ads. Unfortunately, these pop-up advertisements might be showcased by malware active on your operating system. In that case, you might have to deal with malicious threats before you can focus on the hijacker. Our removal tips below also include an option that might help you delete all threats at the same time. All in all, hopefully, other threats do not exist, and you can pay all of your attention to the hijacker. Of course, many users do not even think about the possibility of it being malicious. Judging by its interface, the search tool is completely harmless. Sure, it presents nothing but a search dialog box and a Privacy Policy. Unfortunately, when you enter keywords into the search box, you are immediately redirected to a third-party search engine, and that is a red signal that some users choose to ignore.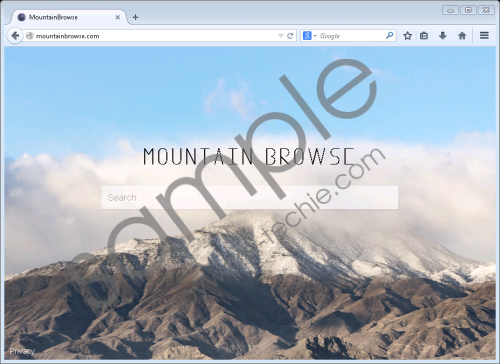 Mountainbrowse.com screenshot
Scroll down for full removal instructions
Some users ignore the fact that Mountainbrowse.com can redirect to a third-party site without any warning because they are redirected to search.yahoo.com. If you have used Yahoo Search previously, you should notice an unusual Safe Finder menu on the left, and this is because your search queries are administered via this search provider. Unfortunately, this means that the results might be tainted. Even the links that seem to represent what you are looking for might actually represent useless ads. On top of that, the companies behind these ads are unknown, which makes them extra suspicious. What if the ad shown to you by this hijacker is actually represented by a schemer who wants to trap you in some scam? Obviously, this is the worst case scenario, but who's to say that you will not encounter unreliable ads? If you wish to browse your web without facing unreliable links, you need to employ a trusted search provider. And if you do not want to see a search provider upon startup at all, you have one more reason to remove Mountainbrowse.com without further delay.
Whatever your reason for removing Mountainbrowse.com is, we recommend getting rid of this hijacker ASAP. It can spy on you, leak information to unknown parties, introduce you to ads, and stop you from finding useful information. Luckily, this threat only affects the homepage, and it is very easy to fix the problem. All you need to do is change the homepage, and the instructions below show how to do that. Of course, jut to be sure that the hijacker is gone, we recommend using a malware scanner to check for leftovers. We also recommend using this tool to check for additional threats that might be present on your operating system. If you are struggling to clean your PC or keep it guarded against malicious threats, utilize an anti-malware tool without further delay.
Delete Mountainbrowse.com
Mozilla Firefox
Open the browser and tap Alt+T (Tools menu).
Select Options to access the about:preferences menu.
Move to the General menu and modify the Home Page URL.
Restart your browser and then scan your PC to check for leftovers.
Google Chrome
Open the browser and tap Alt+F (a menu will pop up on the right).
Select Settings and then move to the On Startup section.
Mark Open a specific page or set of pages and click Set pages.
Overwrite the undesirable URL and click OK.
Restart your browser and then scan your PC to check for leftovers.
Internet Explorer
Open the browser and tap Alt+T (Tools menu).
Select Internet options.
Click the General tab and find the Home Page area.
Overwrite the unwanted URL and click OK.
Restart your browser and then scan your PC to check for leftovers.
In non-techie terms:
Mountainbrowse.com is a browser hijacker, and, despite looking harmless, it is considered unreliable. For one, it can spy on you and leak the collected data to unknown, potentially unreliable parties. Second, it cannot help you browse the web. Although it redirects you to the Yahoo Search engine, the results are modified by Safer Finder, and this is why we do not recommend clicking on any links at all. What you should do is install an anti-malware tool strong enough to delete the hijacker with all accompanying threats and keep your operating system malware-free in the future.