Do you know what Motious.com is?
Motious.com is a questionable search page that offers a few computer hardware reviews apart from the main search tool and, of course, third-party advertising. This page can appear in your browsers after a browser hijacker finds its way to your system. Our researchers say that this browser hijacker is practically identical to Viceice.com, which actually redirects to Motious.com currently. By showing you potentially unreliable third-party ads and modified search results, this malware infection may pose a threat to your system security. Whenever you find a new search page as your new home page and you cannot recall installing it, there is a good chance that you will also find other malware infections on board. This is why we suggest that you remove Motious.com from your browsers as the first step and make sure that you clean all other potentially harmful programs as well from your computer.
Our research shows that this browser hijacker mainly spreads in questionable ways. One possible way for you to infect your browsers with this malware is to download a fake video file from torrent sites. This file is indeed a part of a bundle that contains a fake updater. While watching this fake video, it may stop at one point and ask you to update your driver in order to be able to watch the whole video. However, when you run this attached updater, you will only infect your computer with more malware, such as this browser hijacker. So as you can see, it may travel the web in bundles. But such a package can easily contain a number of different malware threats, including adware programs, browser hijackers, fake alerts, Trojans as well as potentially unwanted programs.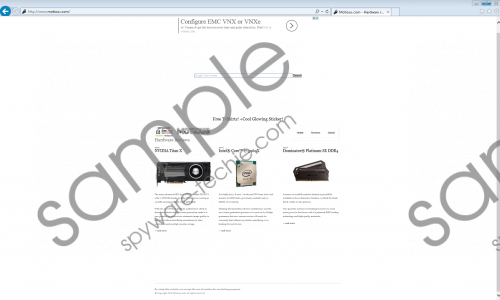 Motious.com screenshot
Scroll down for full removal instructions
Apart from torrent websites, you can be exposed to unsafe third-party installers and advertisements when you visit freeware, online gaming, and pornographic pages. These pages are well-known to host an annoying amount of third-party ads and disguised ads as well. You may not have realized but these pages may have contents that seemingly belong to the page itself, such as download buttons, navigation buttons, plugin or software update notifications, and so on; but these are indeed third-party advertisements in disguise. If you click on these, you can be taken to other malicious pages but you may also drop a bundle on your system. This is why it is not enough for you to only delete Motious.com from your browsers. We also recommend that you find a trustworthy malware scanner, for example, a free online one, and inspect your system to see how many other malware infections may be threatening your PC. Leaving even one single infection on your system could cause further complications.
This search page does not strike the trained eye as a reliable one right at the first sight. In fact, this page looks exactly like the one you would avoid and delete from your browser right away. At the top of the page, you can see a questionable third-party advertisement that could be the first risky bit of content not to click on if you do not want to let further infections onto your machine or open malicious websites on new tabs and in new windows and get entangled with online scams. Below the main search box, you can see a menu to navigate through the different hardware reviews, including PC, bikes, and clothes. While these articles seem to be fine, we still do not see any reason why anyone would use such a page when it clearly can pose a threat.
The search engine itself is indeed a customized Google search. It means that all your queries are forwarded to a customized Google search results page. However, this page may contain potentially unreliable third-party ads and sponsored links. If you click on such questionable content, you may open new tabs with malicious content, directly install such browser hijackers, or drop a bundle of malicious software installers onto your system. If you are not an experienced computer user, you might be easily convinced by schemers that you need an urgent driver update or that your system could be under attack by spyware and therefore you urgently need an offered tool to fix possible errors. These notifications may show up as banner or pop-up ads and by clicking on them you can cause further system security-related issues. This is why we suggest that you remove Motious.com without a second thought.
Our tests in our internal lab show that this browser hijacker may only hijack your home settings in your Google Chrome, Mozilla Firefox, and Internet Explorer browsers. Therefore, we have included step-by-step instructions for you if you feel like eliminating this threat with your own hands. If somehow this would not seem sufficient and this search page would keep on showing up in your browsers, we suggest that you reset them all. Keep in mind that even that may not be enough to make your computer completely clean and safe. Since there could be other malware programs hiding on it, we advise you to employ a trustworthy anti-malware application like SpyHunter if you want real peace of mind while your computer is on. If you keep this security tool always updated and activated, you could have the best protection your PC may deserve.
Motious.com Removal from Browsers
Google Chrome
Press Alt+F and select Settings.
In the On Startup section, click Open a specific page or set of pages.
Click Set pages and add a new home page URL.
Delete the undesirable home page.
Click OK.
Mozilla Firefox
Press Alt+T and go to Options.
Select General on the left.
Press Restore to Default.
Internet Explorer
Press Alt+T and choose Internet options.
On the General tab, click Use default.
Press OK.
In non-techie terms:
Motious.com is a new browser hijacker infection that can appear in your browsers after installing fake updaters via software bundles. This suspicious search page can expose you to questionable third-party content via third-party advertising as well as possibly manipulated search results, which are displayed through a customized Google search results page. Engaging with any content made available by this hijacker can end badly for you. If you do not want to let further infections onto your machine or lose money by being scammed online, we suggest that you remove Motious.com right away. If you are unfamiliar with manual removal methods and you would prefer an automated solution, we advise you to use an authentic anti-malware program.