Do you know what MoonCryptor Ransomware is?
MoonCryptor Ransomware has nothing to do with the moon, but it has everything to do with encryption. When this devious infection enters your Windows operating system, it immediately encrypts files, which is done to ensure leverage. This is needed so that the victim of the threat would pay a ransom. At the time of research, it was impossible to determine the exact ransom that is requested because the page representing the payment was dead. Unfortunately, that does not mean that the infection does not spread or that it cannot encrypt files. If the malicious ransomware has not invaded your operating system yet, continue reading to learn how to protect yourself against it. If it has encrypted data, read to learn what to do next. We also show how to delete MoonCryptor Ransomware.
According to the analysis conducted by our research team, MoonCryptor Ransomware creates a file named "_readmyransom.txt". This, apparently, is the only file created by the infection, which is good news because that means that removing it should not be too hard. The file might have copies in various locations, and the original one is most likely to be the Desktop. The purpose of this file is to introduce you to a ransom payment page, as well as to urge you to pay the ransom. Then there is a window entitled "MOON DECRYPTOR," and it should be launched from the main .exe file. This window also represents a message that basically says the same thing as the TXT file. The only difference is that the "MOON DECRYPTOR" message also gives you a timeframe in which the ransom allegedly needs to be paid. 20 minutes is that timeframe, and it is suggested that one file will be deleted every minute if you go over it.
If you have been introduced to the messages of MoonCryptor Ransomware, the chances are that your files are encrypted. Of course, you should not believe the information delivered by cyber criminals blindly. Instead, you should check if files were encrypted. That is also important to do if you use backups, and you might be able to retrieve files from them. Unfortunately, MoonCryptor Ransomware renames files, which might make it more difficult to identify which ones got corrupted. If you find files with random names and the ".fmoon" appended to them, there is no doubt that a ransomware has managed to corrupt your photos, documents, and other sensitive files. AES 256 and RSA 1024 are allegedly used for the encryption, and these algorithms are very complex and very hard to crack. There have been times when ransomware algorithms were cracked, and legitimate file decryptors were created, but, at this point, that is not the case when it comes to the MoonCryptor infection.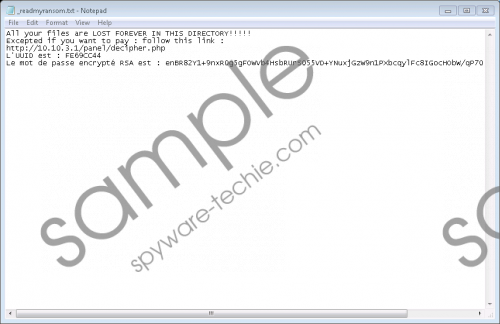 MoonCryptor Ransomware screenshot
Scroll down for full removal instructions
Some experience is required for the removal of MoonCryptor Ransomware because this infection is pretty unpredictable. If you know exactly where to find the executable, all you need to do is delete it. What if you cannot find it? If you are determined to get rid of it manually, you will need to do some serious investigating. What if you are not experienced, and you can make mistakes? In this case – and, in fact, in every case – our recommendation would be to utilize trustworthy anti-malware software. Install it right away, and forget about malicious infections for good.
Delete MoonCryptor Ransomware
Delete all recently downloaded suspicious files.
Delete the file named _readmyransom.txt (could have copies).
Empty Recycle Bin and install a trusted malware scanner to inspect the PC for leftovers.
In non-techie terms:
You should need no explanation as to why removing MoonCryptor Ransomware is important. This malware slithers into your PC illegally, silently encrypts your personal files, and then demands a payment for some password that might not even exist. This infection was created by someone malicious who wants nothing but money, and they have no regard for virtual privacy. Cyber criminals cannot be trusted, and their promises to help you decrypt your files cannot be taken too seriously either. Even if the ransom that is asked in return of a password is small, you do not want to support cyber crooks, do you? Hopefully, you can delete MoonCryptor Ransomware manually, but if that does not work out for you, remember that a legitimate anti-malware tool can destroy this threat in moments.