Do you know what MoodTube is?
We urge users to be cautious when installing unfamiliar software because you might end up installing MoodTube. Under the guise of a useful extension this adware application will infiltrate your PC and start showing ads. Our researchers suggest that you remove this program, because its stated functions do not work and the content it promotes comes from murky third-party advertisers who are apt to promote content of questionable origin. This mildly malicious program is not an immediate threat, but you should get rid of it just to be on the safe side. Please continue reading to find out more.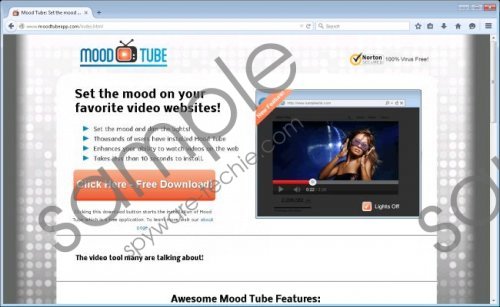 MoodTube screenshot
Scroll down for full removal instructions
MoodTube belongs to a family of adware developed by an unknown entity that likes to mislead users by giving random addresses of its physical mail boxes. We do not know where the actual developer is based and there is no company name to speak of. However, it is easy to identify other software developed by this malware developer. To date we have identified a dozen of its products that include but are not limited to Theater Mode, LightsOut, and WebWatch (hence you should remove them as well). MoodTube is mainly distributed via its promotional website (Moodtubeapp.com), but like its counterparts, it can be found bundled with other software or put up for download as a standalone application on free software hosting sites, such as Brothersoft.com Soft32.com and so on. We stress the importance of cyber security, and therefore, encourage you to download applications from their dedicated pages. Third-party download hosts often have undesirable clandestine additions, such as MoodTube.
Like several of its clones, MoodTube masquerades as a browser extension that has the ability to dim the background while you watch videos on websites, such as Youtube.com Vimeo.com and so on. However, it does nothing of the sort. It has no graphical user interface and has no browser-integrated buttons to enable or disable the function. The setup usually installs a browser extension, but the ads are generated by a randomly named service. It appears that MoodTube is limited to displaying banners, text ads, in-texts, interstitial ads, pop-ups, pop-unders, and some other types of ads. This application does not standout from the rest of the adware you can accidentally get. You may find its advertisements annoying since they might see up to 5 of them at any given time and they can be shown on pretty much any website you can think of.
As previously mentioned, the ads are supplied by unknown entities that we know nothing about. We want to make you aware of the fact that MoodTube might promote links to other adware applications and malicious websites. And there is no way of knowing what its partner's ads will promote or what you may find on a promoted website.
In this day and age cyber security is of utmost importance, because it is so easy to pollute your computer with malicious software and other content that can slow your computer down and cause its system to crash. If you want to prevent MoodTube from exposing your computer to unreliable content, then you should remove, because it does not work as a video player enhancer anyway.
Uninstall MoodTube from your computer
Windows XP
Open the Start menu.
Go to Control Panel.
Select Add or Remove Programs.
Find MoodTube.
Click Remove.
Windows Vista and Windows 7
Open the Start menu.
Go to Control Panel and click Uninstall a Program.
Find MoodTube and right-click on it.
Click Uninstall.
Windows 8 and Windows 8.1
Open the Start Screen.
Type Uninstall in the search box and then go to Settings.
In the search results, click Uninstall a program.
Find MoodTube and click Uninstall.
Windows 10
Type Control Panel in the search bar located on the Taskbar.
Go to Uninstall a program.
Find MoodTube and right-click on it and click Uninstall.
In non-techie terms:
MoodTube is not what you think it is. It is advertised as a browser extension that dims the background page while you watch videos, but does not do that. It actually displays commercial advertisements that no one can confirm as legitimate. In some cases this application might promote malware downloads and dangerous websites, so you should remove MoodTube as soon as the opportunity arises.