Do you know what Monsear.xyz is?
Monsear.xyz is a browser hijacker that, according to our malware research team is identical to Ustarts.xyz, Startab.me, Wowstart.online, and other malicious hijackers. It was discovered that these threats are controlled from Russia, and this is where their creator must be located as well. Though these hijackers have the interfaces of regular search providers, you should not use them for web searching, and there is one reason for that: You are not safe using these hijackers. If you have found this threat corrupting your web browser as well, you must be interested in it and its elimination. You are right if you think that it is best to remove Monsear.xyz from your web browsers. It is most likely that you will need to delete this threat from Google Chrome, but other browsers might be affected as well. We can help you get rid of it regardless of which browser it has taken over.
How has Monsear.xyz manifested itself on your browser? Has it taken over the homepage or the new tab page? If your new tab page was modified, there is a great possibility that you have acquired the suspicious search tool along with an unreliable extension. If that is the case, we advise deleting this extension right away. Hopefully, this will be enough to get rid of the hijacker as well. Whether or not the threat is linked to an extension, we advise inspecting your operating system using a legitimate malware scanner right away. Since the hijacker does not spread on its own, it is likely that you might have attracted other infections or undesirable programs along with it. Luckily, the right malware scanner can help you figure this out in no time. Obviously, you must eliminate all threats that are discovered by a legitimate malware scanner because they could be dangerous.
As we mentioned previously, the biggest reason to delete Monsear.xyz is that you are not safe using it. The truth is that this hijacker is absolutely unpredictable because there is very little information about it. You do not have information about data-tracking tools, data leaking, third parties, and other important things. Unfortunately, it is possible that this threat can record and leak personal information and even assist malicious parties. According to our research, Monsear.xyz could potentially showcase ads as well, and those could open security backdoors. One piece of good news is that you will not have to encounter ads when browsing the web because the search results are "powered by GoogleTM Custom Search," and the hijacker does not modify these search results. Also, the easy-access links to Youtube, Yahoo, Facebook, AliExpress, eBay, Amazon, Instagram, and Pinterest on the home page are legitimate as well. This, of course, does not mean that you can trust the hijacker completely.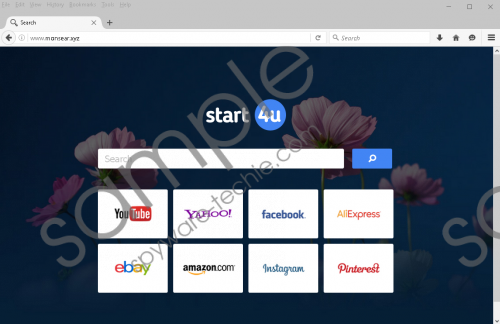 Monsear.xyz screenshot
Scroll down for full removal instructions
You have an array of beneficial and trustworthy search tools to choose from, and Monsear.xyz is not your only option. So, even if you enjoy the services of this strange search provider, we are sure that you can find a much better alternative. We encourage you to delete this hijacker and replace it with the chosen search tool (for default search provider) and start page (you can choose any page you like). The guide below shows how to delete unwanted extensions and modify search tools. If you are using Internet Explorer, you might have to uninstall an application, and you should use a malware scanner to help you identify it. If you are unable to get rid of all threats by yourself, install anti-malware software.
Remove Monsear.xyz from browsers
Mozilla Firefox
Open the browser and tap Ctrl+Shift+A keys to launch Add-ons Manager.
Move to the Extensions menu and Remove the undesirable extension.
Restart the browser and tap Alt+T to open the Tools menu.
Select Options and then move to the General menu.
Modify the Home Page URL to represent the preferred startup page.
Move to the Search menu and Remove the undesirable search provider.
Google Chrome
Open the browser, tap Alt+F, choose More tools, and click Extensions.
Click the recycling bin linked to the unwanted add-on and choose Remove.
In the menu on the left click Settings and move to On Startup first.
Modify the URL representing the startup page and click OK.
Navigate to the Search menu and click Manage search engines…
Eliminate the undesirable search provider and click Done.
Internet Explorer
Open the browser and tap Alt+T keys to launch the Tools menu.
Select Internet options and then click the General tab.
Modify the Home Page URL and click OK.
Tap Alt+T again and choose Manage Add-ons.
In the menu on the left click Search Providers.
Remove the unwanted provider and click Close.
In non-techie terms:
Although Monsear.xyz does not look dangerous, and it displays trustworthy search results, the tool itself is too suspicious and unpredictable to trust. No official information has been revealed about this threat, and so it is impossible to say how the creator of this hijacker is working with third parties and what kinds of measures are being taken to protect your virtual security. In the worst case scenario, this hijacker works with malicious parties, and your virtual security is in danger. Use our manual removal guide right above to delete Monsear.xyz from your browsers and then employ anti-malware software to get rid of any leftovers and protect your browsers in the future.