Do you know what MoneroPay Ransomware is?
MoneroPay Ransomware (also known as SpriteCoin Ransomware) is one of the newest ransomware infections discovered by our team of experienced specialists. It is another crypto-threat that has been developed by cyber criminals with the intention of extracting money from users easier, but it slightly differs from similar infections. It has turned out that it pretends to be the SpriteCoin cryptocurrency miner. Many users believe that they can become rich quickly without putting much effort into this, so they fearlessly download the "cryptocurrency miner" and, as a consequence, find their files encrypted almost immediately. If you are reading this report because you have allowed this infection to enter your computer too, make sure you erase it from the system as soon as possible. You will not disable this ransomware infection by restarting your computer because it creates a Value in the Run registry key so that it could stay active longer. This means that it might strike again and lock all new files. We do not promise that the MoneroPay Ransomware removal will be easy because it has a bunch of components, but it is still a must to get rid of this malicious application because the longer it stays, the more files will become encrypted.
MoneroPay Ransomware was first detected by specialists in the middle of January, 2018, so it has not become a prevalent threat yet. Of course, the situation might change soon, so users cannot be careless. Even though this threat pretends to be the cryptocurrency miner so that it could slither onto users' computers unnoticed, it does not work in the background once it infiltrates computers. Instead, it goes to lock users' files right away and appends the .encrypted filename extension to all of them. Additionally, a black window "Your files are encrypted" is placed over victims' Desktops. It can be closed only by killing the malicious process in Task Manager. This window contains a message. If users read it, they find out what has happened to their files and why they see the window that cannot be moved/closed easily on their screens. Additionally, they find out that they need to pay 0.3 Monero to get files decrypted. Users who send money to cyber criminals make a huge mistake. First, there are no guarantees that you could unlock your files after you make a payment. Second, if all users give malicious software developers what they want, they will never stop developing new malicious applications. Unfortunately, free decryption software was not available at the time of writing.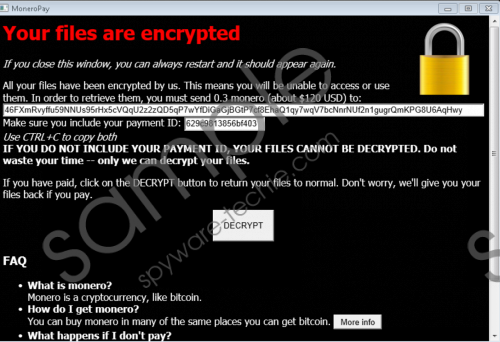 MoneroPay Ransomware screenshot
Scroll down for full removal instructions
Researchers say that users usually allow MoneroPay Ransomware to enter their computers themselves. First, some of them download this infection from http://pagebin.com/xxqZ8VES as the SpriteCoin currency miner. It is distributed as the spritecoin.zip archive containing three files: spritecoinwallet.exe, spritecoind.exe, cryptonight.dll, and boost.dll. What is more, it has turned out that it might be distributed via spam emails. In most cases, ransomware infections are spread masqueraded as documents. Last but not least, researchers say that it can show up on users' computers easily if they use unsafe RDP credentials. If it is already too late for prevention, i.e. the ransomware infection has successfully slithered onto your computer, remove it right away because you could not normally use your computer as long as it stays. Additionally, it will now allow you to create new files – they will all be encrypted right away. There are hundreds of other malicious applications that can illegally slither onto your computer, but it does not mean that it is impossible to prevent them from entering the system. What we suggest that you do to ensure the system's maximum protection is installing reputable security software.
You can close the black window opened on your screen by killing the process that belongs to MoneroPay Ransomware, but it does not mean that it will not appear on your Desktop again. This infection creates an entry in the Run registry key, so it starts working automatically on Windows startup. Because of this, it is necessary to remove all its components to disable it. Specifically speaking, you need to remove the Value from the system registry, four files it has, and, finally, remove all recently downloaded suspicious files.
How to remove MoneroPay Ransomware
Press Ctrl+Shift+Esc.
Click Processes.
Locate the MoneroPay process and kill it.
Close Task Manager.
Press Win+R.
Type regedit.exe in the box and click OK.
Open HKCU\Software\Microsoft\Windows\CurrentVersion\Run.
Locate the MoreroPay Value, right-click it, and select Delete.
Remove four files: spritecoinwallet.exe, spritecoind.exe, cryptonight.dll and boost.dll.
Delete all suspicious recently downloaded files.
Empty Trash.
In non-techie terms:
MoneroPay Ransomware is a nasty infection that will mercilessly lock personal files on your computer if it ever successfully enters your system. Just like other ransomware-type infections, it does that so that cyber criminals behind it could obtain money from users easier. You should not pay money to crooks even if they promise to unlock all encrypted files immediately after getting your money because you cannot know whether this will really happen. Also, the ransomware infection will not be removed from the system even if you send a ransom. No matter what you decide, do not leave MoneroPay Ransomware active.