Do you know what Mole03 Ransomware is?
Mole03 Ransomware is a malicious computer infection that will try to push you into giving away your money. This program was created by cyber criminals who definitely know what they are doing. They will try to push you into giving away your money, especially if you want to retrieve your files no matter what. Whatever you do, you have to avoid paying the ransom because it does not even guarantee you would get your files back. It is important that you remove Mole03 Ransomware and everything associated with it from your system immediately.
The point is that, with this program, you may not have to remove much. When Mole03 Ransomware encrypts your files, the program automatically deletes all of its files and registry entries. So there might be just a few leftover files to take care of. What's more, it might be hard to locate the leftover files on your own, so the best way to get rid of them is to employ a licensed antispyware tool that will do it for you automatically. What's more, a full computer scan will help you locate other potentially harmful files that might be present on your system (although, by that point, it is very likely that they would be encrypted, too).
Mole03 Ransomware is obviously the third ransomware in the series, and it is a new version of the Mole2 Ransomware. This ransomware program belongs to the CryptoMix family, and the previously released versions have public decryption tools. Therefore, you should look for any decryption application available before deleting the encrypted files. Once again, decrypting them with the key you have bought from the criminals is not an option. Do not buy anything from them because you would only help them with whatever they are doing! At the same time, you would encourage them to proceed with their malicious deeds.
The thing that makes Mole03 Ransomware different from its predecessors is its distribution method. While ransomware programs usually travel in spam email attachments, this program uses the Rig Exploit Kit to reach target computers. This exploit kit is the most popular in the market at the moment, and it is known to use gates to redirect users to the malicious infection. It means that right before the infection takes place, users open a specific hacked website that automatically redirects them to the gates (or the exploit kit), and then they get redirected further to the page that hosts malware.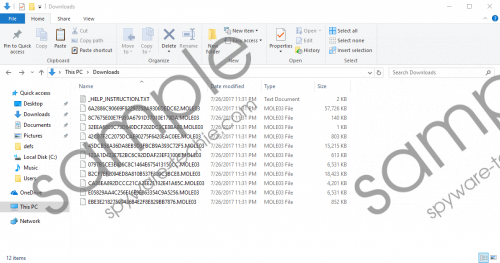 Mole03 Ransomware screenshot
Scroll down for full removal instructions
Our research suggests that the website that got hacked by the cyber criminals and is now being used for malware distribution is located at one-hour.fr. Thus, if you steer clear of this page, you should be able to avoid Mole03 Ransomware, but please bear in mind that it is always better to be safe than sorry, so please stay alert when you browser unfamiliar websites. It is not just about ransomware. There might be many other unwanted and potentially dangerous programs waiting for you in such places.
After the encryption, Mole03 Ransomware will surely tell you that you need to contact the criminals via the Tor network for further instructions. The program's ransom note does not indicate the ransom amount, so you need to contact the command and control center for more information. Of course, that is not something you should do. It is true that the ransomware locks up most of the commonly used files, but that should not push you into giving your money away. As mentioned, there might be a public decryption tool out there, and you could simply restore your files from a backup.
A backup refers to either an external or a cloud drive where you store copies of your files. Sometimes users have a lot of their files saved on their mobile devices, and even in their email inboxes. You should consider all the potential options before giving up.
The point is that, if there is no public decryption tool, you may have to simply delete the encrypted files and start anew, especially if you do not have a file backup. Therefore, you should prepare yourself just in case. And do not forget to protect your system from potential threats but acquiring a licensed antispyware tool. That is also very important.
How to Remove Mole03 Ransomware
Press Win+R and the Run prompt will open.
Type %TEMP% into the Open box. Press OK.
Remove the most recent files.
Navigate to the Downloads folders.
Delete the most recently downloaded files.
Run a full system scan with a security tool.
In non-techie terms:
Mole03 Ransomware is one of the worst computer infections out there. This program encrypts your files and you can no longer open them. Then the program wants you to pay money to get your files back. However, there is chance that those criminals will not decrypt your files. Thus, you need to remove Mole03 Ransomware right now, and then look for other ways to restore your files. If you need more help on the matter, please do not hesitate to contact us by leaving a comment below.