Do you know what Moccini.com is?
Moccini.com (search.moccini.com) is a webpage that will change your homepage, search engine, and New Tab page. This usually happens to those users who install the software called Moccini. This piece of software is a Desktop widget, and it should improve your web browsing experience by allowing you to search and explore sites you love easily. You will really see a bar sliding from the edge of your Desktop with YouTube, Twitter, Facebook, and other icons that should enhance your web experience. Unfortunately, not all the users know that the settings of their Google Chrome and Internet Explorer browsers will be changed, so they often find it surprising when they see the Moccini.com page instead of their preferred homepages, search engines, and New Tab pages after the installation of the widget. We are sure that everything will get back to normal if you find and remove the Moccini extension from your browsers. We will tell you more about the deletion of the undesirable add-on in the following paragraphs of this article.
Research has shown that the Moccini extension is the most prevalent in the U.S and UK. In other words, hundreds of computer users who live there encounter Moccini.com. At first glance, this search engine might seem perfectly decent; however, the truth is that it shares similarities with such untrustworthy search engines as snap.do and search.safefinder.com. Our security specialists also say that you might cause harm to your computer if you use the search box available on Moccini.com to find the information on the web because it is powered by the infospace.com search engine. We believe that it is not worth trusting the search results Moccini.com returns because it is very likely that they will contain untrustworthy links and various commercial advertisements. Users are even informed about that in the EULA: "Users may find advertising or other content on our Service that link to the sites and services of our partners, suppliers, advertisers, sponsors, licensors and other third parties." You might quickly end up on an unreliable third-party website if you keep clicking on these unreliable search results. Also, you might infect you computer with malware heavily because nobody knows what you will find on the websites you will be taken to.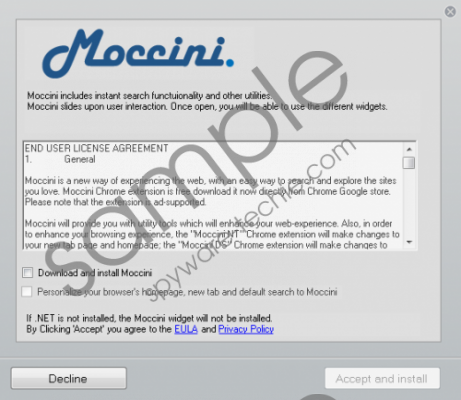 Moccini.com screenshot
Scroll down for full removal instructions
Users who wish to change the settings of their browsers should get rid of Moccini.com right now; however, if you need more reasons to eliminate this website and the extension that promotes it, you should also know that it might collect details that are associated with your browsing habits. It does that to find out more about your preferences and activities you perform on the Internet. Keep in mind that the search engine might gather personal details too, so you should not provide personal information or enter such details into the search box available on Moccini.com.
Before turning to the removal of Moccini.com, we want to explain you why you see this questionable page on your browsers. Of course, there is a possibility that you have downloaded the Moccini widget yourself from its official website or the Chrome Web Store (chrome.google.com/webstore/detail/moccini-nt/ofccobloghdbgehedhcbibjjcpoonplc or chrome.google.com/webstore/detail/moccini-ds/klbhebjgnbigjgeihbgifdhggnhljolo); however, in the opinion of our researchers, it is more likely that the extension promoting the Moccini.com search engine has entered the system without permission. Most probably, it has sneaked onto your computer if you have clicked on a wrong link, an untrustworthy advertisement, or simply have downloaded a software package from torrent or file-sharing website unknowingly.
Do not worry; it is not that hard to get rid of Moccini.com and thus change the settings of browsers (homepage, search engine, and New Tab page). You will eliminate this website from Internet Explorer if you simply remove the widget through Control Panel. In the case of Google Chrome, you will have to remove the extension that belongs to this widget yourself from the Add-ons Manager. Our manual removal instructions should help you. If not, scan your computer with an automatic malware remover, such as SpyHunter. You can easily download its free version from our webpage – click on the Download button you find below the article.
Delete Moccini.com
Windows XP
Click on the Start button.
Select Control Panel.
Click Add or Remove Programs.
Select the undesirable program and then Remove it.
Windows 7 and Vista
Open the Start menu.
Click Control Panel and click Uninstall a program.
Right-click on the unwanted software.
Uninstall it.
Windows 8/8.1/10
Right-click on the lower-left corner of your Desktop.
Select Control Panel and click Uninstall a program.
Right-click on the application you wish to remove.
Click Uninstall.
Google Chrome
Open your browser.
Tap Alt+F.
Click More Tools.
Open Extensions.
Find the extension you wish to remove.
Select it.
Remove it by clicking on the recycle bin button placed next to it.
In non-techie terms:
As there are so many search engines that only pretend to be useful these days, we highly recommend installing security software on the computer. You should also stay away from suspicious links and advertisements you see on torrent, file-sharing, and similar websites. Finally, you always have to be careful with new software because it does not mean that it is fully reliable even though it looks trustworthy at first glance.