Do you know what MobilePCStarterKit is?
Our security research team categorizes MobilePCStarterKit as adware. This means that you have to remove MobilePCStarterKit from your computer if you don't want to be flooded with potentially corrupted commercial content. This application may not be extremely malicious, but adware apps are often exploited by malevolent third parties for commercial content and sometimes even malware distribution. Hence, it is extremely important that you delete MobilePCStarterKit and everything related from your system as soon as possible. Leaving even one adware-related file behind could result in full program regeneration.
We have tried accessing the official website for MobilePCStarterKit via mobilepcstarterkit.com. The site has a very simple design, and it doesn't look like it could offer you to download a reliable program. It only says that with "MobilePCStarterKit you will have all the tools you need to work on a business trip, home or wherever you are." It also says that "this product allows you to download it on your PC or Mobile to earn you time." This tagline is definitely very vague, just like the entire program that is hardly useful, which is all the more reason for you to remove MobilePCStarterKit at once.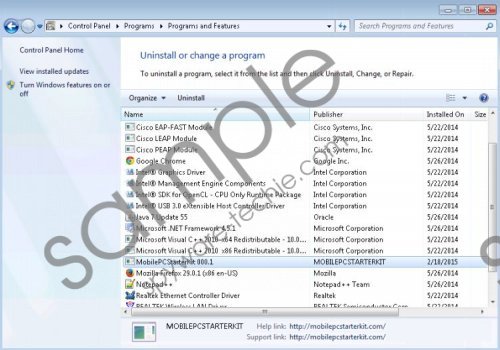 MobilePCStarterKit screenshot
Scroll down for full removal instructions
Naturally, the official website is not the only distribution source that promotes MobilePCStarterKit. It is very unlikely that users access the site and download the app willingly because there are far better apps and tools developed for this purpose. However, if you haven't opened the official website, then it means MobilePCStarterKit arrived in a software package, and you have more adware programs to remove! If you have recently downloaded freeware or shareware applications from a third-party file sharing site, chances are that you downloaded and installed MobilePCStarterKit along with some random app you have been searching for.
Our research shows that unlike most of the adware applications MobilePCStarterKit does not employ any browser extensions to collect data on what websites you visit. The application has a service that runs in the system background. You can find the service in the list of running processes in Windows Task Manager under the name of mobilepcstarterkit_widget.exe. What's more, although MobilePCStarterKit offers to download often-used apps instantly, the number of apps supported by this widget is limited, and it basically includes such popular apps as Skype, WinRAR, VLC, and so on.
On top of that, MobilePCStarterKit will track your web browsing habits to display customized commercial content. This content is your biggest security concern because it could easily be embedded by unreliable third parties. Thus, it would be in your best interests to terminate MobilePCStarterKit at once.
Uninstall the application via Control Panel, and if you think there are more unwanted programs on your computer, scan the system with the SpyHunter free scanner to be absolutely sure. Do not leave a single unreliable file or application on-board.
Remove MobilePCStarterKit
Windows 8 & Windows 8.1
Drag the mouse cursor to the bottom right of your screen.
When the Charm bar appears click Settings and go to Control Panel.
Select Uninstall a program and remove MobilePCStarterKit.
Windows Vista & Windows 7
Open the Start menu and go to Control Panel.
Click Uninstall a program and remove MobilePCStarterKit.
Windows XP
Click the Start menu and select Control Panel.
Access Add or remove programs and uninstall MobilePCStarterKit.
In non-techie terms:
MobilePCStarterKit is an adware application that does not provide you with any kind of useful function. You must delete MobilePCStarterKit from your system to make sure that the application does not get misused by cyber criminals to infect you with dangerous security threats.