Do you know what Mixxen is?
Mixxen is an application that offers a working radio player; however, our malware researchers do not recommend installing it onto your Windows operating system. Once installed, the program will present advertisements promoting the services of unknown parties. This activity is risky, so it should not be surprising that we recommend having Mixxen deleted. If you do not remove the application, you will have to face random advertisements periodically presented on all web pages that you visit. If you do not understand why this is dangerous, you should read this report. If you do, you will also learn how to remove the undesirable software from your operating system.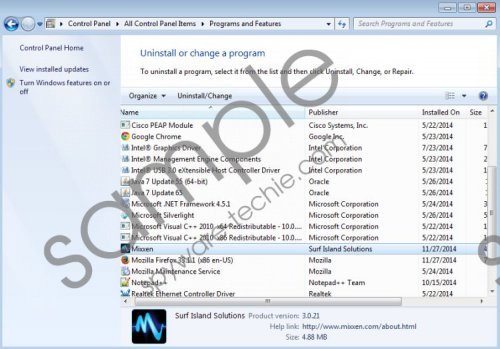 Mixxen screenshot
Scroll down for full removal instructions
The suspicious Mixxen has been created using the Injekt engine. This engine has been employed for the creation of various advertisement-supported programs, which is the first signal that you need to be cautious about this radio player. Furthermore, the developer of the ad-supported program is Surf Island Solutions. Have you heard of this company before? You probably have not, because this name has been created to represent Mixxen. Another red flag signaling about the removal of the program is the fact that Mixxen is a clone of Mobius Radio. We have already reported this program and explained its removal. Other applications that you should be careful with are Zombie Alert, Meteoroids, and Blasteroids. Whether you have downloaded these apps yourself (e.g., from mixxen.com) or they were installed packaged with other programs, you should remove them from your PC without any hesitation.
Are you sure you have identified all programs that require removal? If you are not, you can install a malware scanner that will examine your operating system and will present all apps that you should delete. Use legitimate security tools to delete Mixxen and other active threats or undesirable programs if you do not know how to remove them yourself. Needless to say, reliable security software should be active on your PC at all times, which is why this option is the most logical one. If you are not interested in installing security software and you want to remove Mixxen manually, you can refer to the removal guide below. Keep in mind that the guide is designed to delete Mixxen, not other threats.
Delete Mixxen from Windows
Delete from Windows 8:
Tap the Windows key on the keyboard to access the Metro UI menu.
Right-click on the screen, select All apps, open the Control Panel, and click Uninstall a program.
Locate the application you wish to remove from your PC, right-click it, and select Uninstall.
Delete from Windows Vista and Windows 7:
Open the Start menu (click the Windows logo on the Taskbar) and select Control Panel.
Click Uninstall a program and right-click the application you wish to remove.
Select Uninstall and scan your PC to make sure that no other threats require removal.
Delete from Windows XP:
Move to the left of the Taskbar and click Start to open the user menu.
Open the Control Panel and double-click Add or Remove Programs.
Go to Change or Remove Programs and Remove the undesirable program.
In non-techie terms:
The advertisement-supported application Mixxen may seem legitimate and useful; however, we can assure you that there are far less suspicious and risky applications that can help you listen to the online radio. We recommend removing Mixxen from your PC, because it presents suspicious ads and collects information about you. If your operating system is barely operable, it is most likely that much more dangerous threats are active. In this case, you should refer to the removal guides below.