Do you know what MixPlugin is?
If you ever happen to come across a program known as MixPlugin, do not take any chances with it under any circumstances. The only thing that should be done about it, if it is found active on your PC, is its complete removal. It is imperative to do so since malware experts at Spyware-Techie.com have classified this program as one more adware program that is only capable of causing tons of disruptions almost every single time you decide to surf the web. What is unfortunate is the fact that a rather large number of users are manipulated into obtaining this intrusive piece of software since its developers use deceiving marketing techniques. Often users are tricked into thinking that this program is useful as they come across claims stating that this program should be utilized in order to get the quickest access to new music, TV series, and movies. All such statements are false, to say the least; instead of improving your overall online experience this adware will do the opposite of that by constantly interfering while you are browsing the web. Do not waste your time and delete MixPlugin right now by following the instructions that we present below; otherwise, your online experience will continue to be ruined on a daily basis.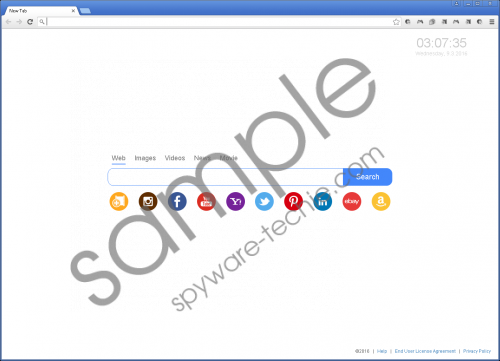 MixPlugin screenshot
Scroll down for full removal instructions
MixPlugin is capable of altering your online experience for the worse in a few once. As soon as it enters it does two things – it implements a question third-party browser extension and changes your default new tab page. The intrusive extension of this adware is the main reason your web browser will get filled up with tons of unwanted ads, pop-ups, and coupons, whether you like it or not. Such activity is possible due to the fact that the invasive extension is in constant contact with a number of adware servers which are notorious for being the main source of all intrusive and unwanted web content presented to you while you are surfing the web. It goes without saying that such intrusive activity will cause tons of disruptions at times even making web browsing a virtually impossible task. While such presentation of dubious content is the most prominent feature of this ad-supported program, there is something much more suspicious about it. Along the described activity, MixPlugin will also modify your new tab page. It is important to note that you should bypass the search field within the new tab page as it could present you with dubious search results. Upon deeper investigation, we have discovered that sometimes you might be provided with a result that could be hosting a redirect link. This is a dangerous instance as by clicking on it you could find yourself on dubious sites; for instance, you could be taken to a fake online store, which was crafted by cyber crooks for one purpose only – to steal your credit card data. In other cases, you could end up on a site that might turn out to be hosting malicious software. It should be more than obvious that both instances could have devastating outcomes, to put it mildly. Do not take any risks with MixPlugin and execute its complete removal. If you fail to do so, you will leave your operating system at constant risk of being infected.
Even though it is possible to obtain this invasive ad-supported program from Chrome store, it is critical to highlight the fact that in quite a few cases MixPlugin comes as a part of a software bundle. Such means of distributions are very common among malware distributors and also impose virtual security threats. If unfortunately, you happen to already have this adware program fully functioning on your operating system, it is imperative to check your PC for other questionable software. Run a detailed analysis of your computer and be sure to delete any unwanted programs along with MixPlugin. If you want to reduce the risk of infecting your PC in such a way, there are a few preventative steps that you can take. First and foremost, make sure to have a professional antimalware tool on your computer at all times as it provides overall system security. In addition to that make sure to bypass all third-party download sites since they are infamous for being the primary providers of bundled installers.
The whole removal procedure of MixPlugin should be executed with extra caution. This is important since just a few leftover files and registry entries could be used in a rather invasive way. In some cases, just a few such leftovers could be more than enough for this adware to function or to be silently restored. To avoid such situation, we highly recommend analyzing your whole operating system for potential leftovers linked to MixPlugin right after you are done with the manual removal.
How to delete MixPlugin from your computer
Google Chrome
Launch your web browser.
Click the Menu button.
Select Settings and click Extensions.
Click the Recycle Bin icon next to MixPlugin extension.
Select Remove to confirm your choice.
In non-techie terms:
It is imperative to delete MixPlugin as a whole as could be a major virtual threat. If you believe that manual removal and analysis of your computer is too complicated, do not worry. Our team of malware experts has crafted an alternative removal guide that will help you terminate it in an automatic way. It is provided below and should be conducted immediately.