Do you know what mixGames Search is?
Our research team says that mixGames Search is a potentially unwanted program. As such, the application probably cannot cause anything catastrophic, but it comes with a certain set of features that you would not like. In other words, the application may enter your system accidentally, and it could interfere with your usual web browsing or other daily routine. Please scroll down to the bottom of this description for the manual mixGames Search removal instructions. Albeit the application cannot destroy your system, you should not tolerate a program you did not want to have in the first place.
There are quite a few ways for this application to enter your computer. And most of it is associated with your web browsing habits. That is actually important not only in this one case, but almost every single time we have to deal with potentially unwanted programs, adware, browser hijackers, and so on. It would be possible to avoid so many undesirable applications if users were a little bit more attentive about what they install on their computers and where they download those programs from. Please bear in mind that downloading programs from third-party sources can only increase your chances of dealing with mixGames Search and other similar apps.
Another way to install mixGames Search on your computer would be clicking commercial ads that pop up on your screen. Our research team suggests that while some ads may simply spring up when you open particular websites, it is also possible that they are displayed by unwanted software that was installed on your computer some time ago. If that is the case, then you should probably run a full system scan with a security tool of your choice. Just to see how many unwanted programs you have on-board, and to remove them as soon as possible.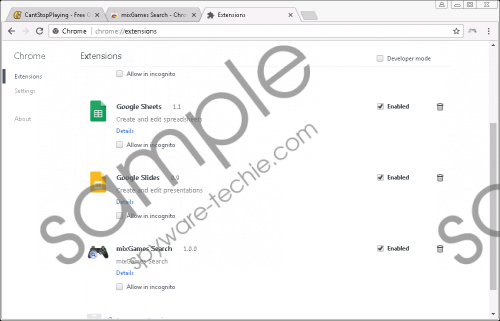 mixGames Search screenshot
Scroll down for full removal instructions
Some users may consider this potentially unwanted program a browser hijacker. That is because upon installation the program modifies your browser's settings. The browsers it affects are Chrome and Firefox. When mixGames Search is added to your browser, you will see that your default search provider will change to games.searchalgo.com. The program will also add extensions to the aforementioned browsers. Will that search provider be reliable? That is very doubtful. The fact that the program changes your browser's settings without your permission is enough of a wake-up call. The app might have certain features you do not like, and that is probably the reason you are reading this description.
However, there are also other side effects of this program, and you probably are not aware of them. There is a very good chance that the application will collect information on your web browsing habits. Most of the programs that add extensions to your browser do that. That is because they need data about your likes and preferences so that they could generate custom commercial content. While our data does not suggest that mixGames Search spam users with a lot of commercial content, the possibility is always there.
Now, what may happen if someone exploited mixGames Search for their own objectives? That scenario is not too common, but it happens from time to time. The truth is that cyber criminals could make use of this app and many other freeware programs to promote their own content. Since freeware apps do not review the third-party content they promote, they could accidentally end up displaying malicious content that leads to websites associated with malware distribution. That is why you should never tolerate potentially unwanted programs even if they do not look dangerous at all.
You can remove mixGames Search from your computer by removing the extensions and changing your default search engine. You can also simply reset your browser's settings to default if you do not want to change everything step by step.
Finally, you should seriously consider acquiring a licensed antispyware tool to protect your computer from similar threats in the future. However, our research team says that unless you change your web browsing habits, you may continue encountering such programs in the future. So if you need tips about what you should pay attention to when you browse the web, please leave us a comment below.
How to Remove mixGames Search
Chrome
Press Alt+F and click More tools.
Open Extensions and remove MixGames Search.
Click Settings on the left pane.
Under Search click Manage Search engines.
Set a new default search engine and remove mixGames Search from the list.
Click Done.
Firefox
Press Alt+T and click Add-ons.
Open Extensions and remove Music Start.
Click the search icon on the search box at the top right.
Click Change Search Settings.
Choose your default search engine under Default Search Engine.
Highlight mixGames Search and delete it from the list.
In non-techie terms:
mixGames Search is an annoying application that modifies your settings without your permission. It might be associated with malevolent third parties, and it could be exploited by malicious purposes. It is your responsibility to remove mixGames Search from your computer and your browser as soon as possible. Please do not hesitate because the longer you wait the more damage this app may cause.