Do you know what Mischa Ransomware is?
Mischa Ransomware is a problematic Trojan infection that not only encrypts user files but also ruins Windows operating system. Even though the malware's creators promise to unlock your files, your system might remain damaged. Moreover, there is no guarantee that these cyber criminals will decrypt your files and given that the ransom is rather huge, it is a great risk, and you should consider such option with care. If you do not worry about the encrypted data, you should get rid of the ransomware and fix your system. Although we must warn you that this process might be complicated, so you should follow the removal guide provided below the text. However, it is better to read the whole article, so you would fully understand how this malware operates.
Victims of Mischa Ransomware should be users who carelessly open suspicious email attachments. Our specialists managed to find that the infection is spread through malicious executable files. Such data could look like a PDF document, but it is actually an executable file that installs the malware after you launch it. Clearly, you can easily avoid such threats in the future if you stay away from suspicious data that comes from unknown sources.
After you launch the malicious file, the malware should modify the Master Boot Record (MBR) and restart your computer. When the black screen appears, you should see a fake system check (CHKDSK). It will say that there are errors in your system, and they must be repaired. Also, it alerts that this process could last for several hours and that it is better to allow it to be completed. To scare users even more, the ransomware's creators added a line that says "WARNING: DO NOT TURN OFF YOUR PC! IF YOU ABORT THIS PROCESS, YOU COULD DESTROY ALL OF YOUR DATA!" Actually, you should unplug your power cable immediately, because it is the only chance to save your data from encryption. It appears to be that while the fake system check seems to be happening the malware is encrypting your data. If you wait till the scanning is over, you will see a skull in a green background. Also, there should be a note that says "Press any key", and if you do it, a ransom note will appear.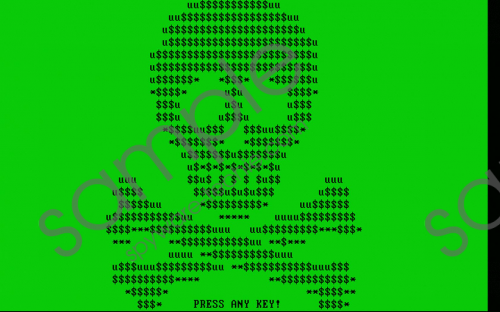 Mischa Ransomware screenshot
Scroll down for full removal instructions
The note will say that your files are encrypted with a strong encryption algorithm. As the malware originators claim themselves, your data should be encrypted using the RSA-4096 and AES-256 methods. Also, it says that you should download the Tor browser and visit the listed web page that should have the rest of the instructions, which will demand a little bit more than 2 Bitcoins. If you convert it to US dollars, the sum will be about $923. Compared to other infections of the same type, Mischa Ransomware is asking quite a lot. You should keep it in mind that there are no guarantees, so your files might not be decrypted even after you transfer the money. Also, it is possible that someone will share with a decryptor on the Internet, but that might not happen very soon. In any case, you should decide on your own which option is best for you.
If you want to get rid of Mischa Ransomware, you will have to repair the MBR first, and then you should reinstall your Windows operating system. If you follow the instructions below, it will tell you how to fix the Master Boot Record. The second step should remove the malicious file that you downloaded to your computer. Of course, it is better to check if it is really gone after you reinstall Windows. Sadly, you cannot fix the damage that the ransomware made with an antimalware tool. Although if it would have been installed before you launched the malicious file, the antimalware tool could have removed the infection. Thus, you should consider getting a trustworthy security tool as it could protect your computer from such threats in the future.
Delete Mischa Ransomware
Repair the Master Boot Record
Windows 7/Windows 8/Windows 10
Insert Windows installation CD.
Press F8 as you boot your system.
Wait till Windows Recovery Menu appears.
Select Troubleshoot and choose Advanced options.
Select the Automatic repair option that will allow you to use Bootrec.exe tool.
Click on Command Prompt.
Type the listed commands one after other:
bootrec /RebuildBcd
bootrec /fixMbr
bootrec /fixboot
Exit
Reboot your system.
Windows XP
Insert Windows installation CD.
Boot your system from the CD.
When the options appear press any key to boot into the CD.
As the Welcome to Setup note appears, press R key to launch Recovery Console.
Press 1 if Windows XP is the only operating system on the hard drive.
Type the Administrator password and press Enter.
Type fixmbr and press Y key and then Enter to confirm.
Click Enter and wait till MBR is repaired.
Remove the Windows CD, type exit and press Enter to restart PC.
In non-techie terms:
Mischa Ransomware is a malicious program that damages Windows and encrypts user data. The ones who created the malware demand users to pay almost one thousand US dollars in bitcoins. Even if you make the payment, no one can assure you that the encrypted data will not remain locked. If you do not think that your files are worth the asked price, you should eliminate the ransomware. Since it damages MBR, you will have to fix it by rewriting your Windows. If you do not know how to repair the MBR, you can do that with the instructions above this text.