Do you know what Mircop Ransomware is?
Mircop Ransomware is one more malicious program that must be avoided at all times as having it active on your computer will most likely have devastating outcomes, to put it mildly. This is so because the intrusive program in questions is capable of locking the majority of your personal files on your hard drive. In our article, we provide further information about the malicious capabilities of this ransomware along with a few imperative virtual security steps that will allow you to avoid Mircop Ransomware or any other devious program at all times. If unfortunately, you already have this intrusive piece of software active on your PC, make sure to delete it in its entirety as it is the only way to regain the full security of your operating system.
At the very same time that Mircop Ransomware enters your PC, it will start doing its dirty work in a silent manner. Thus, even if this ransomware is already active on your personal computer, you might be even aware of that because it will notify you about its presence only after it is done encrypting your personal data. The warning message will inform you that your personal files have been encrypted, and you will need to pay a huge ransom of 48.48 bitcoins, which is approximate of $25000. This warning message is set as your default desktop image. It must be stated that you must not pay for the decryption procedure as it will most likely be a waste of huge sum of money as creators of this malware are not obliged in any official way to provide access to your data. It is also critical to highlight the fact that your files were encrypted with an RSA encryption method, meaning that a manual removal without having a unique key is virtually impossible. If all of this is not enough, you should also know that the ransomware in question can initiate unauthorized connections to the Internet, which could have potentially malicious outcomes as it could trigger a silent download of some unknown malware. Thus, by having this malicious program fully active on your computer, you will most likely lose the majority of your personal data as well as you will leave it at risk of being infected with some other potentially harmful program. If you are keen on keeping your PC safe and secure at all times, you must execute a complete removal of Mircop Ransomware as soon as it is found up and running on your computer.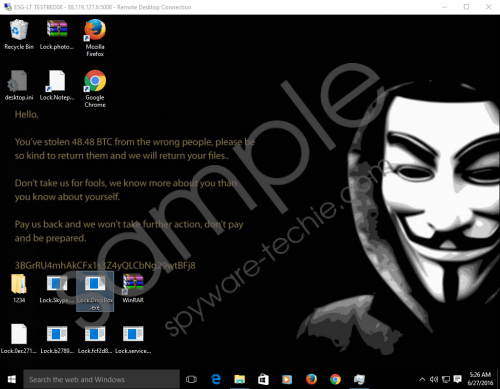 Mircop Ransomware screenshot
Scroll down for full removal instructions
It goes without saying that you must take preventative steps to avoid Mircop Ransomware or any other dubious application from entering your personal computer. First and foremost, make sure to install a professional malware detection and removal tool as it is your best bet to keep your PC safe and secure at all times. Such a tool can detect any devious or malicious content on your PC or the web and warn you about it in advance as well as it can get rid of it in an automatic manner. Additionally, you need to start practicing safe browsing habits. This means that you need to be aware from what site you obtain your software; by downloading your software from official vendor's websites, you will significantly reduce the risk of acquiring a software bundle stuffed with suspicious and potentially malicious programs. Also, you should never download any devious e-mail attachments since Mircop Ransomware is often distributed in such a manner. By taking these simple steps, you will make your personal computer fully secure at all times.
Make sure to follow the removal guide that we present below carefully since you must remove everything linked to it to restore the virtual security of your PC. To be sure that the removal procedure has been successful you will need to execute an extensive analysis of your personal computer for traces associated with Mircop Ransomware. If you find anything related to it do not hesitate and delete it as they could still be enough for the ransom ware in question to continue its dubious functionality.
How to remove Mircop Ransomware from your PC
Open your File Explorer.
Go to C:\Users\[your username]\Downloads.
Locate the malicious .exe file of Mircop Ransomware and delete.
In non-techie terms:
If you are used that finds manual removal too complicated, do not worry. below we present an alternative removal guide, crafted by malware experts at Spyware-Techie.com, which will allow you to delete Mircop Ransomware in an automatic manner.