Do you know what Ministerstvo vnútra virus is?
Ministerstvo vnútra virus is the warning that you may find on your screen if you live in Slovakia and do not use a reliable anti-spyware tool. Ministerstvo vnútra virus is distributed by the Trojan Urausy which you have to remove in order to be able to use the computer properly.
The Trojan alters the Registry and displays a bogus message which claims that you are dealing with Ministry of Interior of the Slovak Republic, Slovakian police, International Police Association (I.P.A) and European Cybercrime Centre (EC3). All these institutions are real; however, they are presented to scare you into thinking that the content of the warning is legitimate.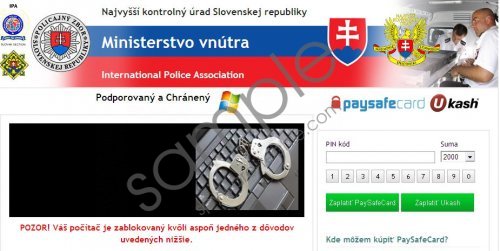 Ministerstvo vnútra virus screenshot
Scroll down for full removal instructions
Below you will find some excerpts from the warning:
POZOR! Váš počitač je zablokovaný kvôli aspoň jedného z dôvodov uvedených nižšie.

Boli ste porušenie «autorského práva a súvisiacich» (Video, Hudba, Software) a nedovolené použitie alebo distribúciu obsah chránený autorskými právami, a tým porušil článok 128 trestného zákonníka Slovenskej Rubliky.

Výška pokuty je SKK 2000 alebo €100.

Môžete zaplatiť pomocou PaySafeCard alebo Ukash.
If the foregoing statements are familiar to you, keep in mind that the same statement but in different languages are presented by other variants of Ministerstvo vnútra virus, for example, Australian Federal Police Virus, Politiet Norge Virus and others. Whatever variant you take, you will find that you are expected to give your money up. Do not waste your time looking for a kiosk to change your money to a Paysafecard or Ukash voucher because it is enough to remove the virus from the system to have the PC unlocked.
Not sure how to do it? Automatic malware removal is by far the most convenient and user-friendly way to terminate all types of malware. We advise that you implement a reliable spyware removal tool so that you do not need to browse within the system to detect malicious files. Find our instructions below which will help you delete the infection.
How to remove Ministerstvo vnútra virus
Windows Vista/7
Restart the computer.
Wait for the BIOS screen to load and start tapping the F8 key.
Use the up/down arrow key to highlight Safe Mode with Networking.
Press Enter.
Go to http://www.spyware-techie.com/download-sph and download our anti-spyware tool.
Launch the installer and once you install the application, scan the PC.
Windows XP
Restart the computer.
Tap the F8 key as soon as the BIOS startup screen loads.
Use the up/down arrow key to select Safe Mode with Networking and press Enter.
On the dialog box, click on Yes.
Go to the Start menu.
Launch Run.
Type msconfig and press OK.
Under the Startup tab, click on the Disable All button and select Apply.
Download SpyHunter.
Reboot the computer.
Run the installer and remove the infection afterwards.
Windows 8
Press the Windows key to access your Start Screen.
Click on the Internet Explorer tile.
In the address box, type http://www.spyware-techie.com/download-sph and press Enter.
Click on Run to install the application.
Remove Ministerstvo vnútra virus and restart the PC.
In non-techie terms:
Ministerstvo vnútra virus is a ransomware scam whose ultimate goal is to deceive you into paying a release fine of 100 Euros or 2000 Slovakian Korunas. Do not pay the fine as you can get rid of the virus without wasting your money. Install a reliable anti-spyware tool and remove the virus. The sooner you terminate the infection, the sooner you can use the PC as usual.
Aliases: Ministerstvo Virus.