Do you know what Ministerio del Interior de Uruguay virus is?
This malicious program is a ransomware application that wants to fool computer users into thinking that they are serious cyber criminals and thus their desktops have been locked by the Uruguay police forces. However, the scam is obvious so it is important that you remove Ministerio del Interior de Uruguay virus from your computer as soon as possible otherwise you will not be able to operate your computer. Use the instructions below this article to unlock your PC and then scan your system with SpyHunter free scanner to check for any other infections.
You are bound to find Urausy Trojan in your system or any other similar infection, because these Trojans distribute Ukash Virus group ransomware applications. As you can obviously see, Ministerio del Interior de Uruguay virus is one of these infections and it follows the footsteps of Policía Nacional de Uruguay Virus.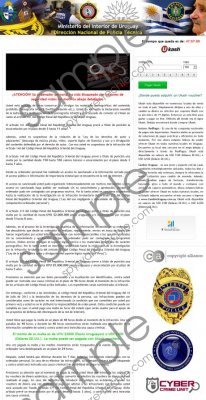 Ministerio del Interior de Uruguay virus screenshot
Scroll down for full removal instructions
Just like the rest of the ransomware infections, Ministerio del Interior de Uruguay virus blocks you from accessing your desktop and then displays a fake notification that accuses you of having been involved in child pornography distribution. Needless to say, that child pornography distribution is a serious crime, but Ministerio del Interior de Uruguay virus cannot know anything of your internet activity, because it is a program created by cyber criminals and it does not cooperate with the law enforcement authorities.
¡ATENCIÓN! Su ordenador personal ha sido bloqueado por razones de seguridad vistos los motives abajo detalldos.

Usted está acusado de mirar/conserver y/o divulger los materials pornográficos del contenido prohibido (Pornografía infantile/Zoofilia/Violación etc). Usted ha infringido la Declaración mundial de la lucha contra la divulgación de la pornografía infantile y está acusado de cometer el crimen en razón al Artículo 161 del Código Penal del República de Ecuador.
You can see an extract of the notification that is displayed by Ministerio del Interior de Uruguay virus on your screen. Apart from the crimes you have supposedly committed, the malware also lists various punishments that you will "have" to go through if you fail to transfer a USD $100 fine within 48 hours via Ukash.
The infection wants you to believe that if you wire the money, your computer will be unlocked and the criminal case will not be initiated against. Either way, there would be no criminal case whatsoever, because the message on your screen is a scam, and you need to unlock your PC yourself, if you are going to remove Ministerio del Interior de Uruguay virus for good.
How to restore desktop access
Windows 8
Press Windows key and click Internet Explorer.
Click Run on the download dialog box and install SpyHunter.
Run a full system scan.
Windows Vista & Windows 7
Restart the computer and press F8 repeatedly.
Select Safe Mode with Networking and press Enter.
Access http://www.spyware-techie.com/download-sph and download SpyHunter.
Install the program and scan your PC.
Windows XP
Follow the steps above 1 and 2.
Click Yes on the confirmation dialog box.
Download SpyHunter.
Open Start menu and click Run.
Enter "msconfig" into the Open box. Click OK.
Select Startup tab on System Configuration Utility.
Uncheck all programs on the list and click OK.
Reboot the PC in Normal Mode.
Install SpyHunter and scan your computer.
You can always post a comment below to ask anything about Ministerio del Interior de Uruguay virus or how to remove it.
In non-techie terms: Ministerio del Interior de Uruguay virus is a computer threat, that pretends to be a representative of law enforcement authorities. Remove from your computer right now and protect it from similar infections.
Aliases: Ministerio Uruguay virus.