Do you know what MiniEdition TT is?
MiniEdition TT is a potentially unwanted application that works like a browser extension. The application works only with the Chrome browser, but you might download the installer file on your computer nevertheless. It is strongly recommended that you remove MiniEdition TT from your browser because the program could expose you to potentially corrupted content, and your cyber security should be one of your top priorities. It is not complicated to get rid of this extension, so check out the manual removal instructions below to delete it. However, if you have more questions about the matter, do not hesitate to ask.
First, we have to emphasize that there is more than one way to install this extension on your browser. After all, if there were only the official distribution channel out there, users probably would not have that many problems with this extension. However, as you can probably tell, the program clearly comes bundled with third-party applications, and users end up adding it to their browsers without even realizing it. To tell you the truth, it is a very common distribution method that is used by most of the potentially unwanted programs, adware apps, and even browser hijackers.
Luckily, we can name several freeware applications that are part of the MiniEdition TT extension's distribution network. During our research, we have found that this program comes bundled with Amigo, Mail.ru, and Yandex applications. These programs are of Russian origin, so the chances to get this extension increase if you spend a lot of time on Russian websites. We do not mean to say that you access particular Russian websites on purpose; perhaps you got redirected there after you clicked some pop-up on a gaming website or something like that. The bottom line is that you have to remain careful whenever you find yourself on unfamiliar grounds.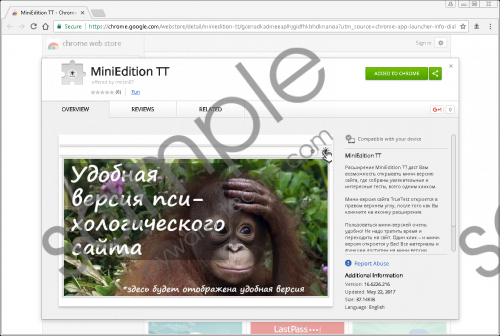 MiniEdition TT screenshot
Scroll down for full removal instructions
Aside from the third-party apps that bundle this extension, you can also find MiniEdition TT on the Chrome Web Store. It has a section there, and it even comes with an extensive description, although it is entirely in Russian. So unless you speak the language, it is highly unlikely that you would add this program to your browser. The description, on the other hand, says that the MiniEdition TT extension will allow you to open a mini version of a site where you would find exciting and interesting tests with "just one click." To be honest, the description that does allow us to know what exactly this extension can be used for. It just promises that it would improve your web browsing experience.
However, aside from the question whether it can really provide anything useful or not, you have to know that this extension can collect your information. Of course, it is not a Trojan, and it cannot log your keystrokes, but it may employ tracking cookies to track your browsing history for online marketing purposes. For instance, MiniEdition TT might support third-party advertising, and the advertisements would be based on your browsing history. This way, there would be a bigger chance that you would click those ads, but before you do any of that, please remember that programs that display third-party ads are not responsible for their security.
Hence, the application presents certain security liabilities you should not overlook. What's more, MiniEdition TT might be just one of the few unfamiliar applications installed on your computer. Especially, if it came bundled with other freeware programs, you are bound to have an entire variety of potential security threats. So when you get down to removing MiniEdition TT, you should take care of the rest of the apps, too.
You can delete MiniEdition TT via your browser's settings; it is not difficult at all. For other programs, do not hesitate to run a full system scan with the SpyHunter free scanner. Should you have potentially harmful applications on-board, the full system scan will definitely detect all of them, and you will be given the option to remove them.
While it is possible to terminate most of the unwanted applications manually, automatic removal is always a lot faster and more efficient. What's more, you would also be able to protect your PC from other intruders with the security tool of your choice.
How to Remove MiniEdition TT
Open the Chrome browser.
Press Alt+F and click More tools.
Open Extensions and delete the app from the list.
In non-techie terms:
MiniEdition TT may not look dangerous at all, but if this extension entered your computer when you had no plans to use it, you should seriously considering removing it right now. While you are at it, you should also invest in a security tool that would safeguard your PC against similar threats. Please bear in mind that even the smallest issue has the potential to grow into something big and nasty. So please be sure you run regular system scans with a licensed antispyware program.