Do you know what MiniBar is?
MiniBar is an application that often slithers into your system behind your back. It is not a malicious infection, as it does not destroy your system, nor does it try to steal your money. Nevertheless, if a program manages to enter your computer without your knowledge, that is enough to raise several security concerns. Therefore, any security-minded user would want to remove MiniBar immediately. The manual removal of this application is somewhat tricky because it cannot be uninstalled via Control Panel, but, even so, there are ways to get rid of the application, so there is no need to panic.
During our research, we were not able to locate the main website for this application. It is very likely that the program is usually distributed via third-party websites, bundled with other software. This also suggests that users often have the chance to deselect installing this application, but they fail to do so because they breeze through the installation steps. As a result, you have MiniBar and other unwanted applications running on your system, slowing down your browser, and collecting information on your web browsing habits. You may not even notice that at first, and that is why we strongly suggest running regular system scans with a reliable antispyware application.
When MiniBar is installed on your system, it usually adds an extension to your default browser. The browser in question is usually Google Chrome, Mozilla Firefox, or Internet Explorer. The Edge browser is not supported. With the extension up and running, you can expect this application to monitor your online activity. Usually, potentially unwanted programs collect such information for monetary purposes. It is very likely that the program will eventually expose you to corrupted content, with the intention of helping its creators make a profit. It is more than obvious that you should avoid such consequences.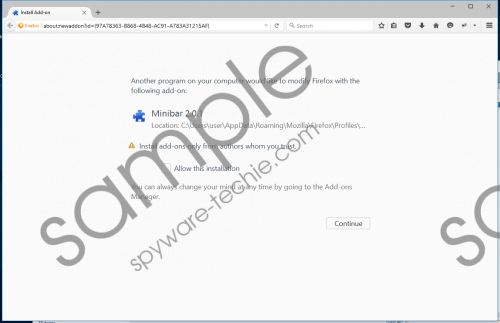 MiniBar screenshot
Scroll down for full removal instructions
The thing about MiniBar and other similar applications is that they are not harmful by nature. Yet they are so vulnerable to third-party exploitation that they cannot be left to their own devices. Our research team says that having this application on your PC is more of a tell-tale sign that there might be more dangerous programs on-board. However, it is not a good idea to ignore MiniBar. Please get rid of this program as soon as possible, and then perform a full system scan with the SpyHunter free scanner to locate other potential threats.
As mentioned, it is not possible to remove MiniBar via Control Panel. You will have to modify your browser settings manually, and then delete the program files following the instructions provided below this description. It should be enough to terminate all the files associated with the program. However, if you feel that there are more unfamiliar and potentially harmful programs you need to deal with, you should seriously consider investing in a powerful computer security tool.
If you are not an experienced computer user, it is best to leave the system security to the professionals. An automated antispyware tool will delete all the unwanted programs in a flash, and you will also be able to safeguard your system from other unwanted intruders.
How to Remove MiniBar
Windows
Press the Windows key + R and the Run command prompt will open.
Type %PROGRAMFILES(x86)% into the Open box and click OK.
Delete the Minibar folder from the directory.
Press Win+R again and type %LOCALAPPDATA%. Hit Enter.
Delete the Minibar folder from the directory.
Internet Explorer
Press Alt+T and click Manage add-ons.
Remove Minibar from Toolbars and Extensions.
Mozilla Firefox
Press Alt+T and click Add-ons.
Disable and remove Minibar from Extensions.
Restart your browser.
Google Chrome
Press Alt+F and click More tools.
Open Extensions and remove Minibar.
In non-techie terms:
You need to remove Minibar from your system because this application is a potential computer security threat. The program can be exploited by malevolent third parties for corrupted content distribution and unsolicited information gathering. For an alternative software removal method, you are always welcome to try out the secondary set of instructions below. Do all you can to protect your PC from harm.