Do you know what Mikoyan Ransomware is?
Malware experts working at Spyware-Techie.com have discovered a newly developed malware roaming the web lately. It goes by the name of Mikoyan Ransomware. If you ever happen to encounter it, be sure stay away from it at all costs. That is paramount since the malicious program in question can encrypt your personal files in a quick and silent manner. As you can imagine such functionality can cause disastrous outcomes, to say the least. Since in the majority of cases users infect their PC with this malware because they lack knowledge regarding virtual security, we provide a few critical preventative steps that you should take. In this report, you will also find further information regarding this malicious application's overall functionality along with its detailed removal guide. Make sure to use the instructions below to terminate Mikoyan Ransomware as soon as it is found up and running on your personal computer.
During our analysis, it has been discovered that Mikoyan Ransomware is based on the .NET 4.0 Framework, meaning that it is fully compatible with all currently active Windows' versions; therefore, being aware of the fact that it is roaming the web is critical. Another important thing that our researchers found out is the fact that this ransomware uses the Hidden-Tear project as its basis. This means that it is closely related to other malicious applications such as Redants Ransomware, Kripto64 Ransomware, and Kindest Ransomware. Therefore, just like its counterparts the malware in questions starts doing its dirty work as soon as it successfully enters your operating system. It quickly scans your hard drive for data ant starts the encryption procedure. Manual decryption is impossible because your personal files are locked using a powerful AES-256 cipher. As it turns out this malware locks data located in the Downloads folder. Each file encrypted by it receives a .MIKOYAN extension. After your files are no longer accessible, you will see a warning message that informs you about what has happened. It also demands a ransom of 1 Bitcoin in return for a decryption key that you need to unlock your data. While it might seem like a way to solve your problems, be sure to avoid making any kind of payment to the cyber crooks. This is important since there is no legal obligation on behalf of the developers of this malware to actually provide you with the needed key even if you happen to pay up. Thus, you might lose a large sum of money as well as your personal data. Make sure to execute a complete removal of Mikoyan Ransomware as soon as it is found active on your personal computer.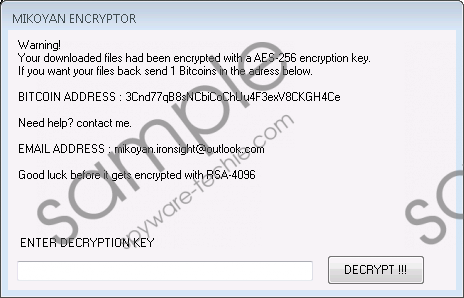 Mikoyan Ransomware screenshot
Scroll down for full removal instructions
Mikoyan Ransomware is spread in quite a few devious ways. Thus, having a fully secure operating system at all times is critical. We highly advise you to take a few simple yet very effective preventative steps to improve your overall virtual security. It is paramount to have a professional antimalware tool active on your personal computer at all times. That is so because such a tool can detect and delete any potentially dangerous program in a fully automated manner. Alongside such a tool, you must also browse the web carefully. Firstly, we highly advise you to avoid all suspicious third-party download websites since they often host setup files filled with questionable or otherwise devious software. You can significantly lower your chances of coming across a suspicious installer by obtaining a program you wish to have active on your PC from its official vendors' website only. Keep in mind that cyber crooks also use misleading advertising techniques to lure users into downloading and installing their devious products. Therefore, we advise you to always learn as much as possible about any program that you wish to have active on your PC. These seemingly simple precautionary steps in addition to a reliable antimalware tool will help you maintain a fully secure system at all times.
Be sure to delete Mikoyan Ransomware as soon as possible since keeping it active on your personal computer can have devastating outcomes. It is critical to terminate every single bit linked to this malware if you wish to stop its malicious functionality altogether. Keep in mind that just a few leftovers of Mikoyan Ransomware could be used in devious ways. For example, traces associated to this malware could be used for its restoration. In other cases, those leftovers might be enough for it to continue its malicious functionality. Avoid finding yourself in such a situation, by performing an in-depth analysis of your personal computer for anything related with Mikoyan Ransomware once you are done with the removal guide that we present below.
How to remove Mikoyan Ransomware from your computer
Open the File Explorer.
Go to C:\Users\(your username)\Downloads.
Select a malicious .exe file and tap Delete and your keyboard. Keep in mind that the name of this file is random.
Right-click your Recycle Bin and then select Empty Recycle Bin.
In non-techie terms:
If you happen to be a user that finds manual removal a bit too difficult, do not worry. Malware experts at Spyware-Techie.com have crafted an alternative removal guide. By following the instructions that we present below, you will be able to delete Mikoyan Ransomware in a fully automated manner.