Do you know what MicroworksPC is?
If you find very annoying best offer advertisements in your browsers labeled "ads by sponsor," there is a good chance that MicroworksPC has managed to crawl onto your PC. Our researchers have classified this application as an ad-supported program, i.e., adware. The presence of this infection on your computer can indicate that there may be other malware threats present as well. A lot of users do not take adware programs seriously and think that "these are just innocent ads," and they simply close them. We are here to tell you that this may not be the best solution. The flow of ads will not stop just because you keep closing these ads. As a matter of fact, the more time this adware spends on your machine, the more information it may collect about you, and the more exposure it can cause to unsafe web content. Our researchers say that you should delete MicroworksPC immediately if you do not want to let more threats onto your PC.
The first suspicious trait about this application is that you cannot download it from its own promotional website, microworkspc.com. On this site you can find information that this tool is 100% free, ad-supported, and enhances your browsers' performance somehow, but instead of Download buttons, you actually find two buttons and two links to a page that explains how you can uninstall this application. Is this not strange? In fact, this is not the first website we have seen with such features or the lack thereof. Obviously, this website serves only one purpose and that is to keep up appearances. In other words, if users find MicroworksPC mysteriously on their PC and they run a web search or visit this site they would think that this is a legitimate application.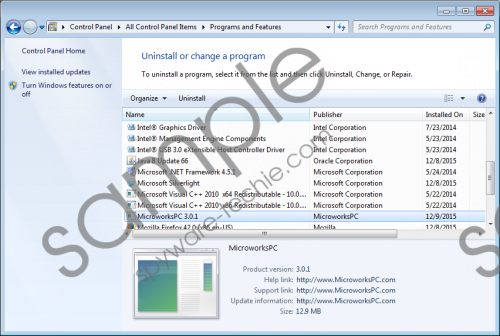 MicroworksPC screenshot
Scroll down for full removal instructions
The sad truth is that this adware may be distributed in freeware bundles and may be downloaded through fake software updater pop-up ads or could also be dropped onto your PC by Trojans. Most users infect their computers with malware through malicious third-party ads and spam e-mails. You should stay away from unreliable freeware, torrent, gaming, and pornographic websites because these pages are filled with potentially dangerous advertisements. These ads are often disguised as well in order to trick the unsuspecting users. One click on the wrong link or button can result in your download of MicroworksPC or a bundle packed with other threats on top. Try to always use reputable and official websites as your source for downloading free software. You also need to be very careful when opening your e-mails and clicking on links in the body or attached files. It is possible that criminals can fool you into opening their spam with an important-looking subject line. But you should be very cautious when you click on attachments because you can easily end up with MicroworksPC on your computer. The best way to make sure that you have a clear picture of the level of infection on your system is to scan it with a reliable online malware scanner if you do not have a decent, up-to-date anti-spyware tool. But before you do so, you should remove MicroworksPC.
Our research has proved that this adware is identical to MintcastNetworks, so it is in no way a new invention. Instead of mysteriously enhancing your browsers' performance, we have found that this adware simply ruins your browsing experience, including online shopping. The fake best offers do not only take up unnecessarily a lot of space on your screen, but clicking on them is not at all advisable. The reason is simple: You cannot trust them. Cyber criminals may take advantage of the low security standards of this program and may inject their own corrupt links into ads in order to redirect you to their malicious websites. Landing on such sites never ends well. The best case could be that you drop a few dangerous malware threats onto your system. But you may well lose your identity or your money after being scammed by criminals on a fake webshop page, for instance. Having this adware on board may also mean that none of the legitimate third-party ads on reputable websites can be trusted either. This adware may simply hijack those, too. That is why we say that you should not hesitate to act and you should delete MicroworksPC from your computer.
Let us tell you finally the solution or cure for this malware infection. Since this application has a well-working uninstaller, you are in the luck. After running this uninstaller via Control Panel, no leftovers should remain on your system. You can use our guide below this article if you are unfamiliar with this process. We recommend that you make sure that all your drivers and programs are always up-to-date because that can help protect your system against cyber criminals. However, the best and most effective protection is indeed the installation of a reliable anti-malware application.
MicroworksPC Removal from Windows
Windows 8, Windows 8.1, and Windows 10
Press Win+X and pick Programs and Features.
Click on the uninstaller and press Uninstall.
Windows Vista and Windows 7
Press Win+R and type in Control Panel. Press OK.
Select Uninstall a program.
Click on the uninstaller and press Uninstall.
Windows XP
Access the Start menu and go to Control Panel.
Pick Add or Remove Programs.
Click on the uninstaller and press Remove.
In non-techie terms:
MicroworksPC is an annoying program that may put your virtual security at risk through the potentially unreliable third-party advertisements and best offers it may show on your screen. It is most likely that this adware infection enters your computer with other malicious software installers. These infections can all introduce you to harmful web content and online scams; therefore, their presence is undesirable to say the least. In fact, we suggest that you remove MicroworksPC and all other threats from your computer if you want to restore security. If you are not the manual type, you should consider installing a reliable malware removal tool, such as SpyHunter, which will automatically take care of all your security issues as well as protect your PC from further attacks.