Do you know what Microsoft Windows Ukash Virus is?
Microsoft Windows Ukash Virus is a new version of the cunning Achtung! ihr computer wurde gesperrt virus from the vast group of Ukash or Paysafecard viruses. The malignant ransomware infection is all about tricking your money out of your own hands, and this time Windows users all around the world could become victims of the deceptive infection. If Buma Stemra virus from the same faction was only a threat to the Dutch and the Cuerpo National De Policia Virus was targeting the Spanish computer owners, the new virus takes the lead of the International Police Association Virus. Therefore, you will need to delete Microsoft Windows Ukash Virus whether it is presented in English, Portuguese, French or any other language.
The deceptive ransomware is built out of multiple components, which can slither into a computer through any security loophole or crack. It is these files that are responsible for initiating malignant processes and hiding them from termination and ultimate virus' removal. All malignant components work to disrupt your computer's running, lock down the entire operating system and present a notification stating:
Your computer is blocked.
You see this window because you have software subject to licensing installed on your computer. Or your license has expired.
Many computer users all around the world use illegal Windows systems, which is highly dangerous to their personal data security and does not measure up to the support that is provided alongside the authentic software. Regardless, whether your Windows license is illegal or not, you should not believe that the accusations are legitimate. You should also dismiss any threatening warnings about $1000 fines or corrective labor punishments, because law enforcement authorities have nothing to do with the ransomware. Therefore, ignore such threats as: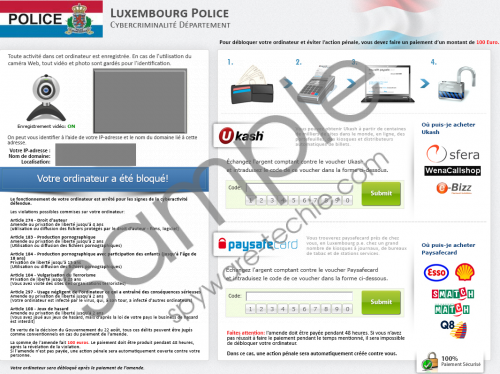 Microsoft Windows Ukash Virus screenshot
Scroll down for full removal instructions
In case you fail to do it within the next 24 hours, your computer will be blocked and your personal data will be transferred to court.
The cost of the license is 100 pounds.
In non-techie terms:
Once Microsoft Windows Ukash Virus' fictitious message pops up on your screen, the only thing you should do is have the infection deleted and your PC cleaned from other malware. Paying the ransom may have no affect on the lock-down; therefore, you should not waste your money and unlock the system using the steps below. If you follow them correctly, you will be able to implement automatic removal tools or delete Microsoft Windows Ukash Virus manually.
Windows Vista/7:
Restart the infected PC and press F8 at once.
Use arrow keys on the keyboard to select Select Safe Mode with Networking and press Enter.
Open any browser and download SpyHunter from this page: http://www.spyware-techie.com/download-sph
Install the application and start a scan.
Windows XP:
Reboot the PC and press F8 while it is restarting.
Log into Safe Mode with Networking.
Click on the Start button and launch RUN.
Enter "msconfig" in the box and press OK.
Find the Startup tab and disable all startup programs.
Download SpyHunter.
Restart the PC in Normal Mode and install the application.
Aliases: Windows Ukash Virus.