Do you know what Microsoft Has Detected A Porn Virus Scam is?
Microsoft Has Detected A Porn Virus Scam is indeed a so-called technical support scam that is mostly categorized by researchers as a fake alert. This fake alert consists of a couple of annoying pop-up messages that claim that your system has been infected by some porn virus but a well-known Trojan infection (Zeus) is also mentioned. Of course, you are told that "immediate response required," which is supposed to push you hard enough so that you would start dialing the given phone number that is claimed to be toll-free. We have seen lots of similar threats in the past months, including "Google Chrome Warning Alert Scam," "Critical Security Warning! Scam," and "Warning: Windows Has Detected a Malicious Virus Scam." Their goal is always the same: To sell you a probably worthless security tool or service. The only real threat is the malware that redirects you to this fake Microsoft error page and the ones that may have crawled onto your system along with it. Of course, it is also possible that your system had been infected before and that is why you were able to infect it again with such malware. Still, the most important step now is to remove Microsoft Has Detected A Porn Virus Scam from your PC and then, to eliminate all other potential and malicious threats hiding on your system.
This fake alert should show up on your screen when you are redirected to "alertwinver.in/8921" or any similar alternative page. This page does not seem to be functioning anymore. This could be a temporary shutdown but it is also possible that the crooks behind this attack had to move their page. What is more important now is to understand how you can end up on such a page in the first place so that you can avoid similar exposure in the future. There is always some kind of redirection involved that is responsible for these pop-up messages. Redirection can be triggered by clicking on the wrong link or third-party advertisement but it can also be done by malware infections, such as adware programs and browser hijackers as well as certain potentially unwanted programs. If you have infected your computer recently with any of these, it is quite possible that you can find the guilty one on board. However, if you simply were on the wrong page and clicked on the wrong ad, well, it is possible that you only need to kill the browser window in order to delete Microsoft Has Detected A Porn Virus Scam from your PC.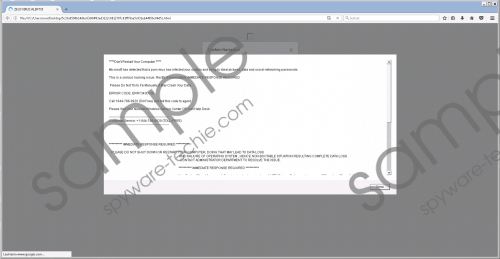 Microsoft Has Detected A Porn Virus Scam screenshot
Scroll down for full removal instructions
However, if your computer is actually infected, you should know that a lot of times it happens via free software bundles. It is possible that you want to download a free program and choose the wrong file-sharing page to do so. Unfamiliar suspicious torrent and freeware pages are among the mostly dangerous sites that can promote malicious software bundles as well as unsafe third-party ads that can also drop such bundles in the background or redirect you to malicious page like the one that displays this fake alert. You should also avoid any website that looks suspicious with its flashy ads (e.g., banner and pop-up ads). These sites usually include online gambling, gaming, file sharing, and porn-related pages. If you may have visited such pages recently, we advise you to delete Microsoft Has Detected A Porn Virus Scam right away and then, to scan your PC with a reliable online malware scanner to find all other threats that may need your immediate attention.
The fake pop-up messages that come up on this fake Microsoft error page can be quite misleading and convincing for unsuspecting and inexperienced computer users. No wonder why crooks target these people with such fake warnings. The main idea behind this attack is to convince you that there has been some sort of system error or virus attack on your system and you could lose sensitive information (passwords, account details, and so on) unless you call the provided telephone number, "+1-844-786-8920," which is supposed to be toll free. You are also provided with an error code, "ERR7343DYJ6," which you are asked to use when making the call to identify your issue. Of course, all these fake alert pop-ups may seem to be authentic and real, we do not claim otherwise. However, Microsoft would never contact you this way about any system issues. You need to know that only cyber criminals would do so in order to sell some worthless security tool to you or a service you would pay for even more money. This is all about your money, of course. Therefore, we advise you not to fall for such a trick. Instead, learn how you can remove Microsoft Has Detected A Porn Virus Scam right away from your PC.
Since this fake alert can be caused by any adware program or other malware threats, we suggest that you scan your list of installed applications first in the Control Panel. Uninstall all suspicious programs you find there but always double-check online not to remove important system applications. If you do not want to risk that, we advise you to install a reliable anti-malware program like SpyHunter. A proper, up-to-date security tool can make your virtual world safe again and you do not need to do anything else but keep your programs and drivers always updated.
Microsoft Has Detected A Porn Virus Scam Removal from Windows
Windows XP
Access the Start menu and choose Control Panel.
Pick Add or Remove Programs.
Click on the uninstaller and press Remove.
Windows Vista / Windows 7
Open the Start menu and select Control Panel.
Go to Uninstall a program.
Click on the uninstaller and press Uninstall.
Windows 8 / Windows 8.1 / Windows 10
Tap Win+R and type control panel. Click OK.
Click on the uninstaller and press Uninstall.
In non-techie terms:
Microsoft Has Detected A Porn Virus Scam is a fake alert that uses a couple of pop-up ads on a malicious webpage to try to trick you into calling a supposedly toll-free telephone number to help fix your "serious" system security issues. This fake warning claims that a porn virus has infected your computer and it also says that a dangerous and infamous Trojan called Zeus has also been detect due to some missing files error. Our researchers say that all these claims are fall and the only infection you need to worry about right now is that one that may be responsible for redirecting you to this malicious page. This could be an adware program, a browser hijacker, or even a potentially unwanted program since all these infections may be able to use redirections. Another option is that you simply click on the wrong ad or link on a questionable website. All in all, we advise you to remove Microsoft Has Detected A Porn Virus Scam from your computer right away. If you would like to protect your computer from similar and even more dangerous malware threats in the future, we suggest that you start using a powerful anti-malware program as soon as possible.