Do you know what MetroWhiz Toolbar is?
Noticing MetroWhiz Toolbar in your browsers does not necessarily mean that you remember installing it; in fact, it is more likely that this browser extension has crawled onto your system under questionable circumstances. Although you may be the traveler who would not mind travel-related quick links on a bar, such as maps, time schedules, and routes as well as a search engine as your homepage, new tab, and also your default search engine, we advise you against it. As a matter of fact, this new toolbar and search engine combo is not new to us at all; it is a new clone in the so-called Mindspark family that has given us dozens of questionable tools, including ConvertDocsOnline Toolbar and Formfetcherpro Toolbar. Our researchers have categorized this extension as a potentially unwanted program (PUP) just like all other bad toolbars coming from this infamous family. Since this PUP can come on board along with malicious infections, it is quite likely that right now it is not your biggest concern. Yet, it is important to understand the potential risks this PUP may present to you. We recommend that you remove MetroWhiz Toolbar from your browsers before you start eliminating all other threats.
There are basically two ways in which you can download this extension: officially and in suspicious ways. You can find the official page at metrowhiz.com, which is very similar to all Mindspark product pages. This is a very simple page with limited information on this PUP, which looks more like a landing page and not a website. If you click on the "Free Download" button, you can directly install this tool. It is also possible to install it via the Chrome web store, chrome.google.com/webstore/detail/metrowhiz/chehalmnfknmekckahpjefmplpaipcco. However, if you see this page first, it is possible that you would not even want to install this PUP as the one and only user who serves as the download statistics is not really convincing to say the least; not when it is regarding a tool that has been around for half a year already. But these facts may not be enough for you to want to delete MetroWhiz Toolbar so let us move on.
The real problem is, when you install this PUP without noticing it because it usually means that you have installed a freeware bundle recently and you did not pay close attention to the installation screens or you did not read the license agreement. It is always tricky and risky to install software bundles even if it is a legitimate one because you can always add potentially unwanted applications to your system. These may not pose a real and direct threat but can be totally useless to you without any benefits whatsoever.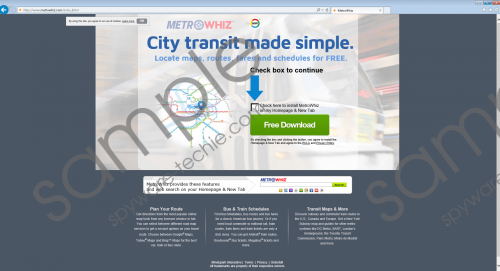 MetroWhiz Toolbar screenshot
Scroll down for full removal instructions
However, when you install a bundle that actually contains malware infections on top of PUPs, you could seriously increase the vulnerability of your system. Such a bundle may contain adware programs, browser hijackers, Trojans, and fake alerts as well. The most likely way for you to infect your computer with such a package is to download free programs from shady torrent and freeware pages, or to click on unsafe third-party content on suspicious page. The third option is that your PC is infected and that is how you are exposed to unreliable third-party ads. All in all, it is essential that you run a reliable malware scanner after you delete MetroWhiz Toolbar.
This PUP is not really different from any previous bad toolbars from this family. In fact, they look more or less the same the only difference being the featured quick links or thumbnail links. This featured search page offers you links to travel-related third-party sites, such as greyhound.com. We must mention here that this toolbar is totally useless because you can use the bookmarking function of your browsers any time you want to have a website one click away. But this is not the only reason why we think that you should remove MetroWhiz Toolbar. You cannot trust its promoted search engine, search.myway.com, either. Using this search engine takes you to a manipulated Google search results page where you could be presented with questionable third-party ads and links. If you do not want to cause further virtual security issues, you should not hesitate to delete MetroWhiz Toolbar.
Depending on which of your browsers are "infected" with this PUP, you need to apply different methods to eliminate it. In the case of Google Chrome and Mozilla Firefox, you can simply remove the extension or reset these browsers if you want to make sure that no threat remains that can be related to these browsers. Please keep in mind that resetting means that your browsers will be set to factory default. In the case of Internet Explorer, you can use the uninstaller via Control Panel. Please use our guide below if you need assistance. Should you want to defend your PC against all known threats, you may want to start using a trustworthy anti-malware program like SpyHunter.
MetroWhiz Toolbar removal from Internet Explorer
Windows XP
Click Start and select Control Panel.
Open Add or Remove Programs.
Click on the application and press Remove.
Windows Vista, Windows 7, Windows 8, Windows 8.1, and Windows 10
Press Win+R and enter control panel. Press OK.
Pick Uninstall a program.
Click on the application and press Uninstall.
MetroWhiz Toolbar removal from other browsers

Mozilla Firefox
Tap Alt+H to open the Help menu.
Navigate to Troubleshooting Information.
Click Refresh Firefox.
In the confirmation window, click Refresh Firefox.
Google Chrome
Tap Alt+F to open the menu.
Go to Settings.
Click the Advanced link at the bottom of the page.
Click the Reset link at the bottom.
Press Reset.
In non-techie terms:
MetroWhiz Toolbar may show up in your main browsers uninvitedly after you install a free program. This new featured search page is indeed a newcomer in the notorious Mindspark family of potentially unwanted programs. Although this browser extension may appear to be useful and even innocent, you should know that it may display questionable search results that could pose a threat to your virtual security. Additionally, this extension may infiltrate your system in a freeware bundle that could pack several malicious threats as well. This could mean serious exposure to malicious third-party web content, which may put your system at risk if you should engage with such content. Therefore, we recommend that you remove MetroWhiz Toolbar right away along with all other possible threat sources you may be able to identify on your computer. If you want to make sure that your system is clean and also stays that way, we advise you to install a professional anti-malware program.