Do you know what Metal Maker is?
Metal Maker is an adware program developed for the single purpose of displaying low grate commercial ads. Nevertheless, the displayed ads are being provided by third parties, rendering the program unreliable, so you should definitely remove it. It must be mentioned that this infection only infects computers using Internet Explorer, and Firefox as the newest versions of Chrome block this program from installing. From the very outset, we can say that this application is dangerous. Therefore, this article is dedicated to provide information about this infection that will encourage you to remove it.
By definition adware is an advertising-supported software that automatically renders advertisements in order to generate revenue for its developers. Adware apps often use the pay-per-click system that generates revenue, which depends on how many clicks a certain ad receives. So, the advertisements are made to be very appealing, but often misleading. After clicking an ad, you might get redirected to an infected website that could infect your computer with malicious applications that will be very difficult to remove.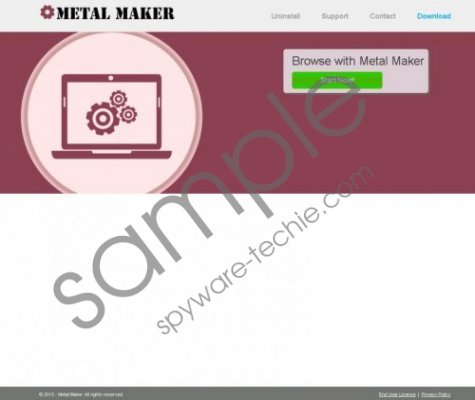 Metal Maker screenshot
Scroll down for full removal instructions
Metal Maker is capable of displaying advertisements in various shapes and forms. Usually, they come as pop-ups, coupons, in-text ads, and so on. However, the application does more than just displays irritating ads. Metal Maker is known to collect information about the user's browsing habits in order for the developers to make changes to their advertising campaigns. Oftentimes, they collect information such as browser settings, browsing history, search queries, IP addresses, and so on. In some cases the adware might be programmed to record keystrokes that will reveal your logins and passwords. Therefore, you should not hesitate and remove it as soon as you can.
Lastly we must mention the origins and distribution methods used to spread this infection around the web. Metal Maker has been developed by an infamous adware developer called SuperWeb LLC. Metal Maker does have a website but the app can't be downloaded from it. So, the infection is distributed using software bundles, which can be found on the most fell known freeware distribution websites.
All in all, Metal Maker is a program that you should remove, because it might be a serious threat to the security of your system. The program collects information about the users of the infected computers and sends it back to the developers for analysis and market research. This is an infringement of privacy right that should not be tolerated. Furthermore, the ads it displays are unreliable and might infect you with malware. Therefore, we recommend that you remove Metal Maker at your earliest convenience
How to remove Metal Maker from your operating system
Windows 8/ Windows 8.1
Open the Start Screen.
Type Uninstall in the search box and then go to Settings.
In the search results, click Uninstall a program.
Find Metal Maker.
Click Uninstall.
Windows 7/Windows Vista
Click Start.
Select Control Panel.
Click Uninstall a program.
Find Metal Maker.
Click Uninstall.
Windows XP
Open the Start menu.
Click Control Panel.
Select Add or Remove Programs.
Find Metal Maker.
Click Uninstall.
Remove the Metal Maker browser extension
Internet Explorer
Press Alt+X.
Click Manage Add-ons.
Click Toolbars and Extensions.
Click Remove Metal Maker and click Close.
Mozilla Firefox
Press Ctrl+Shift+A.
Click Extensions.
Click Remove Metal Maker.
In non-techie terms:
Metal Maker is an adware program developed by SuperWeb LLC that displays commercial advertisements. Our researchers recommend that you remove it as the content that the adware promotes is unreliable and even dangerous as it can infect your computer with malicious applications that will be difficult to root out. Furthermore, Metal Maker collect information about the users browsing habits which is a violation of privacy right. Therefore, those who are infected should remove it ASAP.