Do you know what Merry X-Mas Ransomware is?
Merry X-Mas Ransomware is a harmful computer infection despite the festive name it has. It enters computers to lock users' files. Just like other ransomware infections that used to be popular some time ago, e.g. Spora Ransomware, Roga Ransomware, and Popcorntime Ransomware, there is no doubt that it performs the encryption process to get money from users. Users are told that they have to pay money to get files back, but they get more specific information only when they write an email to comodosec@yandex.com. This email address is provided in the ransom note left by Merry X-Mas Ransomware after locking all valuable files. It will try to convince you that it is the only way to get files back. Also, cyber criminals behind this ransomware infection tell users that "any attempts to return your files with the third-party tools can be fatal for your encrypted files" to make sure that they do not try to decrypt files using alternative methods. Do not believe any word you see on the ransom note and do not go to make a payment to cyber criminals by any means because it is unclear whether you will receive that decryption tool after sending money. You have understood us correctly – transferring the required amount of money does not necessarily mean that you could decrypt your files.
Merry X-Mas Ransomware starts working immediately on the computer once the malicious file is opened by a user. More specifically, it goes to encrypt users' files the first thing after the successful entrance. Unfortunately, it locks documents, pictures, music files, videos, and a bunch of other valuable files by appending a new extension. As a consequence, it will not be hard to find out which of the files are encrypted and which are left as they are. Our team of experienced specialists has found that Merry X-Mas Ransomware encrypts users' personal files, but, luckily, it does not encrypt any system files, meaning that the Windows OS will not be ruined and you could continue using your PC after the entrance of this infection. Once this file-encrypting threat finishes locking files, it then drops a file merry i love you bruce.hta on Desktop. It contains a ransom note. As has already been mentioned, it only informs users that files are all encrypted and they will receive the decryptor only after transferring the required money. The amount of money and instructions on how to make a payment will be provided after writing an email to cyber criminals. If you are sure that you are not going to send money to crooks, there is no point in writing an email too. Do not worry; it does not mean that there is no way to recover files without the special tool cyber criminals have. For example, users can recover their files from a backup (only if it is located outside the computer). Also, free data recovery tools that can be downloaded from the Internet might help you too. Finally, specialists should be able to create a decryption tool one day. They will kindly share it with the victims of Merry X-Mas Ransomware, so do not rush to purchase the decryptor.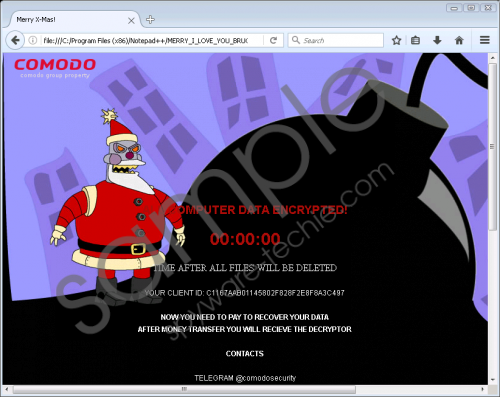 Merry X-Mas Ransomware screenshot
Scroll down for full removal instructions
Since the infection rate of Merry X-Mas Ransomware is not very high, it is hard to say how exactly this ransomware infection is distributed. In the opinion of our researchers, this infection enters computers without permission. Unfortunately, users are the ones who initiate that by opening an attachment from a spam email. Yes, it is very likely that this computer infection is distributed through spam emails mainly. Fortunately, it does not create new files and does not make modifications in the system registry once it enters the system, so it should not be that hard to get rid of it.
What you need to do to erase Merry X-Mas Ransomware from your PC is to delete the malicious file downloaded and opened recently. Below-provided instructions will help you to remove it, but if it happens that you cannot find this file, use an automatic malware remover to find and erase it from your PC.
Delete Merry X-Mas Ransomware
Press Win+E.
Check %TEMP%, %APPDATA%, %USERPROFILE%\Downloads, and %USERPROFILE%\Desktop.
Delete the malicious file you find.
Remove merry i love you bruce.hta from Desktop.
In non-techie terms:
A number of other threats might be performing activities without your permission. They will, of course, stay on your PC if you delete Merry X-Mas Ransomware manually, so if you are eager to remove all other computer infections too, it would be smart of you to scan your computer with an automatic malware remover. Both Merry X-Mas Ransomware and other threats will be erased from your system if you do that.