Do you know what Mediatab.tv is?
Mediatab.tv may show up in your Google Chrome browser as your homepage, new tab, and default search provider, and you may not even realize it at first. This search page looks totally innocent and offers you links to online TV-related and other popular websites apart from the search tool. Since there is a good chance that you did not install this extension knowingly, you may find other malicious threats on your system as these rarely travel alone. This browser hijacker can generate income for its creators by promoting potentially unreliable third parties. In other words, by using this tool, you could be exposed to questionable content, which always means that there is a possibility to click on an ad or link that might take you to malicious websites or drop other threats. All in all, we recommend that you act now and remove Mediatab.tv from your computer.
Although we have not found an official promotional website for this extension, it can still be found in the Chrome web store: chrome.google.com/webstore/detail/mediatabtv-streaming-sear/himfhebcckichhmfhakibncfghepkclb. It is worth mentioning that just because you find an application in this or any other online stores, it does not mean it is reliable or useful. Once users report it as potentially harmful, Google will look at it and if found "guilty as charged," this hijacker will also be blocked and removed just like many of its predecessors.
What can cause multiple system security issues is that you may also install this browser hijacker as part of a free software bundle. You may have visited a suspicious torrent or freeware site to download a free program but ended up installing a bundle and you may not even have realized it. But you can also drop a malicious bundle filled with malware infections like hijackers, Trojans, adware programs, and more, if you click on corrupt third-party advertisements. This can happen when you are viewing suspicious websites or land on an unfamiliar one, and click on third-party banner or pop-up ads. The chances of being exposed to such malicious content is naturally increased when your computer is infected with malware like adware. As you see, one click on the wrong content and you could let several threats loose on your system. If you are planning to use a secure computer, we suggest that after you delete Mediatab.tv, you use a reliable malware scanner to find all questionable and malicious programs on board.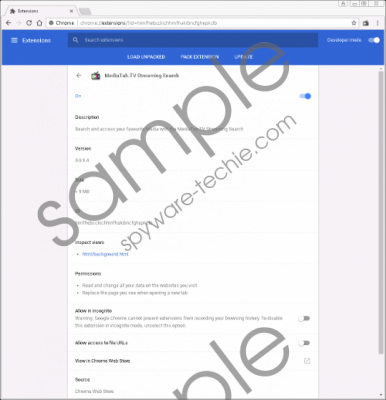 Mediatab.tv screenshot
Scroll down for full removal instructions
This malware infection modifies your Google Chrome browser to promote its search page, search.mediatab.tv. This is why you find it as your homepage, new tab, and default search engine as well. You may find third-party ads on the main page, below the thumbnail links. These ads may promote keen.tv, but they can also be used to promote any other potentially unreliable third party, too. However, the most questionable part is the search itself. This search engine uses Yahoo results to mislead you. These results could be manipulated and may contain promoted content, such as ads and links. If you click on unreliable ones, though, you may let malware infections onto your system or get redirected to malicious pages and get scammed. If you would like to avoid such consequences, we believe that it is important that you remove Mediatab.tv from your browser.
Finally, we can tell you something positive about this useless browser hijacker: You can get rid of it quite easily. Please follow our guide below this report if you want to do this manually. But you cannot forget about the rest of the threats that may be hiding on your computer. If you leave even one single potentially unwanted program operating on your PC, you leave the door open for more threats to enter. We believe that the best solution is to install a trustworthy malware removal application, such as SpyHunter, as soon as possible to automatically defend your computer against all possible threat sources.
Remove Mediatab.tv from your browser
Google Chrome
Press Alt+F and choose More tools.
Navigate to Extensions.
Locate the unwanted extension and click the Remove button.
In the confirmation window, press Remove.
In non-techie terms:
Mediatab.tv is a new questionable Google Chrome extension that has been labeled as a browser hijacker by our researchers and most of other malware specialists, too. This tool seems like an innocent extension that offers you thumbnail links to TV-related websites (e.g., keen.tv) and social media sites apart from the main "attraction," the search engine. This search page is set as your homepage, new tab, and your default search provider as well. The real problem is that this hijacker can show you questionable third-party ads and possibly compromised links on manipulated search results pages. If you do not want to let further malware infections onto your system or end up scammed out of your money, you should remove Mediatab.tv from your browsers immediately. Keep in mind that there could be other threats on board, so if you plan to keep your PC clean in the future, we suggest that you install a reliable anti-malware program.