Do you know what MediaNewPage is?
If you wish to have a program entirely dedicated to all your online streaming related activities, we do not advise you to use a program that is known as MediaNewPage. Our research team advises you to do so as it has found out that this application exhibits a few rather invasive features, which consequently were the main reason it has been classified as on more potentially unwanted program that should be avoided at all times. Unfortunately, quite a few users already have it active on their PC since the developers of it often tend to distribute their questionable application in rather suspicious ways. Read the rest of our report to find out how MediaNewPage works and why we recommend executing its complete removal as soon as it is detected active on your operating system. Along such imperative information, we provide a comprehensive removal guide crafted my malware experts at Spyware-Techie.com so it could be used even by users with no advanced computer knwoledge.
Even though at first sight MediaNewPage might seem like a legitimate tool that should provide you with an easy and simple access to various video content online for free, you should know that this program will only actually redirect to legitimate streaming sites such as Hulu or NetFlix; thus, you will not avoid paying for the streaming services. While such functionality might seem only annoying you must be informed that this potentially unwanted program, could make your online experience a miserable one, to say the least. As it turns out, the devious application in question is able to make changes to default settings of popular web browsers such as Google Chrome and Mozilla Firefox. The changes made are of default home page and search engine. One of the most annoying things about these modifications is the fact that you, the user, will not be informed about them in any kind of way. If that was not, enough these alterations will make surfing the web a rather bothersome task since you will be forced to start your each browsing session on a new dubious third-party site presented by this dubious program as your home page. Also, you every online search quarry will go through a newly appointed search engine whether you like it or not. It goes without saying that MediaNewPage does not exhibit any beneficial features for which you should leave it active on your PC. Use the removal guide that we present below to delete every single bit of this potentially unwanted program once and for all.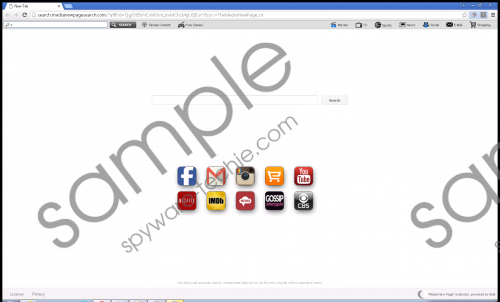 MediaNewPage screenshot
Scroll down for full removal instructions
One more unfortunate thing about MediaNewPage is the way it is distributed. Even though there is a possibility to obtain it from its official website, you must be aware of the fact that in a rather large number of cases this potentially unwanted program could be spread via software bundles, mostly hosted on dubious third-party download sites. Thus, avoiding them could help you to significantly lower the risk of infecting your operating system with some questionable program in such a way. Also, we would like to note that it is important to check your entire operating system for other suspicious software especially if you have this potentially unwanted program active on your computer, and you did not perform its installation consciously. Additionally, if you are keen on keeping you overall system fully secure and functioning at all times you must have a professional malware detection and removal tool on your PC because it provides overall system security at all times; thus, it can warn you about any suspicious installers or websites in advanced.
The removal procedure of MediaNewPage should not be delayed and must be executed with extra care as it involves manual registry system tweaking. Make sure not to skip any steps or rush the procedure as a single mistake could result in an incomplete removal of this potentially unwanted program; thus changes made to your web browser by it could remain intact. To be on a safe side, we highly advise you to run an in-depth analysis of your PC for potential leftovers linked to MediaNewPage; if any are found they should be removed immediately.
How to remove MediaNewPage from your computer
Click the Windows button.
Type regedit into the search field.
Tap Enter on your keyboard.
Go to HKEY_CURRENT_USER\Software\Microsoft\Internet Explorer\DOMStorage.
Remove registry keys entitled medianewpagesearch.com and search.medianewpagesearch.com.
Open your File Explorer.
Go to C:\Users\User\AppData\Local\Google\Chrome\User Data\Default\Extensions.
Remove the folder called hneaaghedghjobekmljhlpkcdfekfgpi.
Go to C:\Users\User\AppData\Local\Google\Chrome\User Data\<your user name>\Extensions.
Find and remove the folder called hneaaghedghjobekmljhlpkcdfekfgpi.
Go to C:\Users\User\AppData\Roaming\Mozilla\Firefox\Profiles\<unique Mozilla user ID>\extensions.
Select and remove the file named MediaNewPage-the-extension1@mozilla.com.xpi.
Go to C:\Users\User\AppData\Roaming\Mozilla\Firefox\Profiles\<unique Mozilla user ID>\searchplugins.
Remove files called medianewpage-engine-two.xml and medianewpage-engine.xml.
In non-techie terms:
Some users might, unfortunately, find manual removal too complicated. If you happen to be one of those users, do not worry. Our malware experts have crafted an alternative removal guide that we provide below. Follow these instructions carefully and you will be able to delete MediaNewPage from your PC in an automatic manner.