Do you know what Mbed Ransomware is?
You clearly have a hunch what Mbed Ransomware is because of the name. And you're not wrong – this program is a ransomware infection. It means that this program will lock up your files, and it will expect you to transfer a ransom payment for the decryption key.
Should you pay for the decryption? Not really. You need to remove Mbed Ransomware instead, and then explore all the other file recovery options. If you think you need help with malware removal, please feel free to drop us a comment below.
If you follow cybersecurity news, you probably are already tired of all these reports on ransomware infections. It seems that the onslaught of these threats is never-ending. It's not far from the truth, really. Mbed Ransomware also comes from an ever-growing family of dangerous infections called the STOP Ransomware family. We think we document at least a program each day. For instance, just recently we talked about Start Ransomware, Grod Ransomware, Seto Ransomware, and now we have to deal with Mbed Ransomware. The good thing is that we know what to expect from this program because it is practically identical to its predecessors.
At the same time, it also means that users get infected Mbed Ransomware through the same distribution channels. For the most part, ransomware programs come bundled with spam email attachments. Some users might get confused now because, surely, spam emails do not force anyone to open them, right? User has to be willing to engage with the spam email content. So why would anyone want to open a spam email message?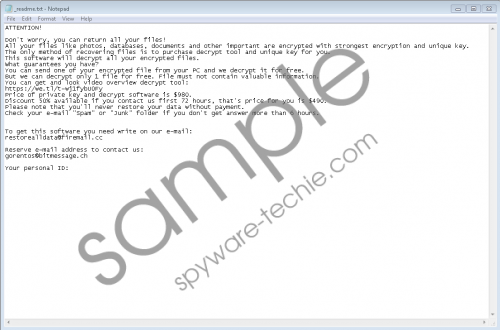 Mbed Ransomware screenshot
Scroll down for full removal instructions
Users happen to open spam emails when they are too tired to discern between a fake message and a genuine one. Also, spam emails often employ an urgent message that tries to convince users to open the attached file. It might look like the file is an online shopping invoice, a message from a potential business partner, or some financial report. Whichever it might be if you weren't expecting that email, you should double-check whether the sender is reliable. Also, you should scan the received file with a security tool. If a security tool of your choice doesn't detect anything suspicious, you can then proceed with opening the file.
On the other hand, if you fail to stop Mbed Ransomware from entering your system, you will go through the all the steps of ransomware infection. During the encryption, the program will scramble the information within your files, and thus, the system will no longer be able to read them. Also, all filenames will have an additional extension. For example, file.jpg would change into file.jpg.mbed after the encryption. Of course, this doesn't give you any kind of leverage apart from being able to tell which files were affected by the encryption.
Mbed Ransomware also displays a ransom note that is practically the same as throughout all the other infections in this family. The ransom note says this:
Don't worry, you can return all your files!
All your files like photos, databases, documents and other important are encrypted with strongest encryption and unique key.
The only method of recovery files is to purchase decrypt tool and unique key for you.
This software will decrypt all your encrypted files.
<…>
Price of private key and decrypt software is $980.
Discount 50% available if you contact us first 72 hours, that's price for you is $490.
If you think this price is a good deal, you'd better think again. Paying is never and option. And while there is no public decryption tool available at the moment, you should clearly go through other file recovery options.
We always say that the best file recovery method is file backup. It means that you would have to have saved copies of your files in an external hard drive or a cloud drive beforehand. Unfortunately, not every user has this privilege, so if you cannot restore your files from backup, you should just focus on removing Mbed Ransomware for good. Also, please do not forget that sometimes you have to resort to building your data library anew. To avoid that, it is vital that you employ all the security measures possible.
How to Remove Mbed Ransomware
Press Win+R and type regedit. Click OK.
Go to HKEY_CURRENT_USER\Software\Microsoft\Windows\CurrentVersion\Run.
On the right side, right-click and delete the SysHelper value.
Press Win+R and type %LocalAppData%. Click OK.
Delete a folder with a long random name.
Press Win+R and type %WinDir%. Click OK.
Go to System32\Tasks and delete Time Trigger Task.
Use SpyHunter to scan your computer.
In non-techie terms:
Mbed Ransomware is a dangerous program that will block you from opening your files. This program wants your money, but you should never give it to these criminals. It is rather easy to remove Mbed Ransomware for good, but it might be challenging to recover all of your files. Therefore, you have to learn more about prevention. You have to recognize malware distribution signs, so that you could avoid similar intruders in the future.