Do you know what Maxwebsearch.com is?
Maxwebsearch.com is a browser hijacker that is set as your default homepage and search engine. Browser hijackers perform browser modifications behind your back in order to generate hits to a specific webpage. The bigger the traffic, the more revenue users inadvertently help a browser hijacker generate. Maxwebsearch.com does exactly the same – it constantly exposes you to affiliated websites by redirecting you to these pages or by displaying commercial advertisements embedded with third party content. Either way, computer security experts recommend removing Maxwebsearch.com from your computer, because that is the 1st step in ensuring your system security.
Sometimes Maxwebsearch.com is considered to be a copy of Websearchy.com browser hijacker. However, some researchers may come to such conclusion, because Maxwebsearch.com and Websearchy.com both get installed via Yahoo! search as an image. From there we can see that Maxwebsearch.com is not a genuine search engine, because it uses a customized version of Yahoo! search.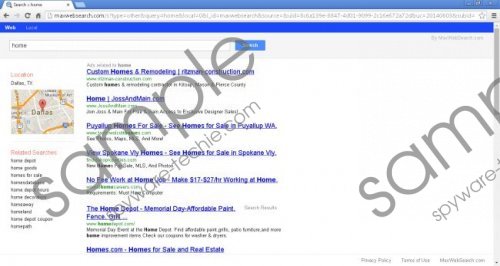 Maxwebsearch.com screenshot
Scroll down for full removal instructions
It is very unlikely that you will be able to download Maxwebsearch.com installer file directly, unless you click some stray direct download link on a third party website. According to our lab team, Maxwebsearch.com is most often distributed bundled with freeware, mostly as Optimum installer bundle.
When Maxwebsearch.com is installed onto your computer it comes with a browser protector application that constantly urges you to change your default homepage and search page back to Maxwebsearch.com. There are no browser extensions added, but you will find this browser hijacker extremely intrusive, because it constantly displays commercial advertisements generated by affiliated third parties thus trying to redirect you to unreliable websites.
Although Maxwebsearch.com cannot do any harm on its own, you have to take into consideration the fact that browser hijackers never travel alone. This infection is obviously related to a number of other freeware applications and adware programs, and browser hijackers are often used to distribute adware, potentially unwanted software and even malware.
Therefore, it is necessary to remove Maxwebsearch.com from your computer if you want to ensure that no harm is inflicted on your system. It is not hard to delete this browser hijacker manually, but it is always recommended to invest in a powerful antimalware to ensure that your PC is safeguarded against similar infections in the future.
Also, after manual removal you need to scan your PC to check for other potentially unwanted applications. As it has been mentioned before, Maxwebsearch.com does not come alone, so there is a high chance that Maxwebsearch.com was installed onto your PC together with other suspicious applications.
How to remove Maxwebsearch.com
Windows 8
Drag your mouse cursor to the bottom right of your desktop.
Wait for Charm bar to appear and then click Settings.
Open Control panel and go to Uninstall a program.
Highlight Maxwebsearch and click Uninstall.
Windows Vista & Windows 7
Open Start menu and go to Control panel.
Click Uninstall a program and remove Maxwebsearch.
Windows XP
Click Start menu button and navigate to Control Panel.
Select Add or remove programs and uninstall Maxwebsearch.
Remove Maxwebsearch.com from your browser
Internet Explorer
Press Alt+T and click Manage add-ons.
Click Search providers on the left.
Set a new default search engine and remove Maxwebsearch.com.
Press Alt+T and click Internet options.
Click Use default under General tab and press OK.
Mozilla Firefox
Click the search engine icon on the left of Firefox search box.
Select Manage search engines on drop-down menu.
Remove Maxwebsearch.com from the list and click OK.
Press Alt+T and go to Options.
Click Restore to Default under General tab and press OK.
Google Chrome
Press Alt+F and go to Settings.
Select Open a specific page or set of pages under On Startup.
Click Set pages.
Delete Maxwebsearch.com, enter a new homepage address and click OK.
Select Manage search engines under Search.
Set a new default search engine, delete Maxwebsearch.com and press Done.
If you are still having trouble with Maxwebsearch.com, check out the second set of manual removal instructions below this description.
In non-techie terms:
You will be redirected to Maxwebsearch.com when you get infected with a browser hijacker. It is important that you remove Maxwebsearch.com ASAP otherwise this infection will expose you to even more dangerous threats.