Do you know what Maximum Maker is?
There are many advertising-supported applications available on the web and Maximum Maker is one of them. Specialists claim that this program is very prevalent nowadays, which means that it can enter your system at any time. If this has already happened, you will notice its entry in Control Panel. On top of that, you will start seeing various annoying advertisements on your screen. Yes, Maximum Maker is just an adware program, so it is not worth expecting that it will "boost your browsing potential to the max", as it claims on its official website maximummaker.com. Have you already detected this program on your computer? If so, make sure that you remove it from the system as soon as possible because it is completely useless and it will keep bombarding you with its annoying advertisements. If you do not know how to do delete Injekt-based adware from the system, we are ready to help you, but you will have to read through this article.
Maximum Maker should not be kept on the system because this program is completely untrustworthy and it is just going to show advertisements. This adware program itself is not dangerous, but it is completely useless and displays dangerous advertisements. These commercials are dangerous because they can redirect to other untrustworthy websites. Maximum Maker will definitely not protect you from malicious software, which means that you can find anything on the websites you will be redirected to. What is more, adware might also perform activities behind your back (e.g. connect to the Internet). Unfortunately, the majority of users do not even notice that for a long time.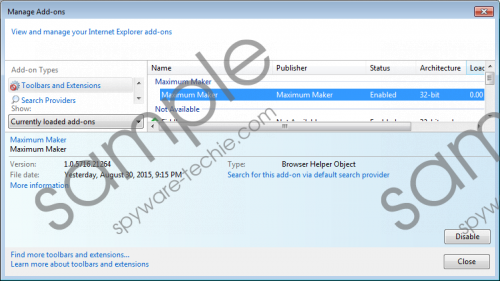 Maximum Maker screenshot
Scroll down for full removal instructions
It is unlikely that you have downloaded Maximum Maker from its official website because it is impossible to download it from there - the Download button is missing. Our specialists believe that this program might have slithered onto your computer together with other undesirable programs. If you have recently downloaded some kind of application from a third-party website, it is not surprising at all that Maximum Maker is installed on your PC. You should know that adware programs are very sneaky and they use unique tactics to enter the system. In order to protect your PC from adware and other malicious applications, you have to install a security tool. Keep in mind that it is very difficult to protect the system from malware, so we recommend investing in security software rather than trying to protect your PC yourself.
Maximum Maker can be erased via Control Panel. Unfortunately, other undesirable programs that have slithered onto your computer together with it will stay. They might attract malicious applications, slow down your computer, and perform other unwanted activities. Therefore, we recommend erasing them as well. In order to detect and remove them in the blink of an eye, you should scan your system with an antimalware scanner, such as SpyHunter.
Remove Maximum Maker
Windows 10/Windows 8
Tap the Windows key + R in order to launch RUN.
Enter Control Panel and click OK.
Click Uninstall a program.
Find the undesirable program and right-click on it.
Click Uninstall.
Windows 7 and Vista
Open the Start menu.
Select Control Panel.
Click Uninstall a program.
Right-click on the suspicious application.
Click Uninstall.
Windows XP
Click on the green Start button.
Select Control Panel and click Add or Remove Programs.
Locate the adware program and select it.
Click Remove.
In non-techie terms:
In order to protect your system from other Injekt-based adware programs, e.g. Deals Avenue, Assist Point, and Positive Finds, you should not only install an antimalware tool, but also surf the Internet with great care. In other words, you should never visit suspicious websites. On top of that, you should always download programs from their official websites.