Do you know what Max Driver Updater is?
Max Driver Updater is regarded as potentially unwanted program that you can remove due to one simple reason: it does not do anything even though it looks as if it does. We suggest that you visit the application's download website and read the provided information. You will notice that whoever wrote that information lacked the most basic English grammar skills. Clearly, that is not a good sign of a reliable program. So if you are thinking about installing Max Driver Updater we encourage you not to. If you already have it installed then use our removal instructions located at the end of the articles. However, we invite everyone to read the full article, as it will help you understand the nature of all PUP's.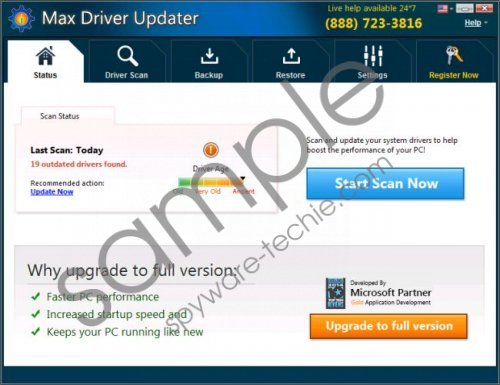 Max Driver Updater screenshot
Scroll down for full removal instructions
Potentially unwanted programs come in various shapes and sizes. Some come as media players and registry cleaners; others come as web browsers or driver updaters. These kinds of applications are difficult to spot to the untrained eye. However, we will try to explain PUP's by analyzing Max Driver Updater. Applications such as this one are basically useless by their very nature. In this case Max Driver Updater claims to update your PC's drivers, but it will not do that until you buy the application. Can you trust it? No, you simply cannot. It is likely that you will pay a hefty sum for an application that will claim to have experienced some sort of download error or something similar. That would be very convenient indeed for maintaining an image of legitimacy. However, we do not claim that that will certainly happen. The program also features a customer support hot-line number, but you should not use it, because you will receive a large phone bill at the end of the month.
Now, if installed, Max Driver Updater will scan your computer and find all of the outdated drivers. For added emotional effect all of the drivers will be rated "Ancient(the highest age rating)". As mentioned, it will not update your drivers until you purchase the full version. And if you do, there is no guarantee that all of the drivers will be updated. At any rate, if you choose to purchase the full application you will be redirected to its main website where you will have to enter your personal details and choose your payment method.
Max Driver Updater has been published by a company called CSDI based in Paris, France. You know that the publishers have put this application for download on a website, called Maxdriverupdater.com where the application can be downloaded as a standalone. However, we have received unconfirmed reports that it may also be bundled with malicious applications, and distributed on websites that distribute pirated material. And we must also mention that Max Driver Updater itself can download adware application by running its own update process.
We think that it is clear that Max Driver Updater is a potentially unwanted program that might not update your computer's drivers if you purchase it. A reliable application would at least grant you 30 trail days, but the developers want your money first. In our experience, these kinds of applications almost never work. We recommend that you just remove it using our manual removal guide and just download the necessary drivers manually.
Remove the unwanted program from your computer
Windows 8 and Windows 8.1
Open the Start screen located at the bottom left side of the screen.
Type Uninstall in the search box and then go to Settings.
Click Uninstall a program in the search results.
Locate Max Driver Updater and click Uninstall.
Windows 7 and Windows Vista
Click Start located at the bottom left side of the screen.
Select Control Panel and click Uninstall a program.
Locate Max Driver Updater and click Uninstall.
Windows XP
Open the Start menu located at the bottom left side of the screen.
Click Control Panel and select Add or Remove Programs.
Locate Max Driver Updater and click Remove.
In non-techie terms:
Max Driver Updater is a potentially unwanted application that might not provide you the service that you expect. The application will perform a scan of your computer, but will not update your computer's drivers until you purchase a license key. The developers want you to put your money upfront, but the developers provide no guarantees that they will honor their part of the deal. So it is up to you to decide if you want to keep it or get rid of it.